Car Donation Oakley, California
Become a Champion of Needy Breast Cancer Patients in Your City!
If you have an old worn-out car that's just gathering dust while hogging up space in your garage, you probably wish to dispose of that vehicle in a way that would make you happy and proud. What if we told you that you can have your wish granted when you donate that vehicle to us at Breast Cancer Car Donations?
By turning over that vehicle to our Oakley, California car donations program, you'll become a champion of the needy breast cancer patients in your city. We'll use it to improve their chances of overcoming the devastating disease.
Breast Cancer in Oakley, California
Oakley is a vibrant city nestled in the East Bay region of the San Francisco Bay Area in Contra Costa County. As of July 2022, Oakley had an estimated population of 44,688, of which 49.1% were listed by the U.S. Census Bureau as female.
Breast cancer is a significant health concern in Oakley as well as in other communities in California. It is the most commonly diagnosed cancer among women in the state.
According to the California Breast Cancer Research Program, nearly 200,000 California women are living with breast cancer. More than 4,200 women die of the disease every year — that's more than 11 women dying from the disease every day.
What's even more distressing is that some Californian women are impoverished and don't have health insurance coverage. Breast cancer patients from this segment of the population face tough challenges in accessing necessary medical treatments, medication, and other healthcare services. Due to the financial burden associated with medical expenses, they often have to deal with delayed diagnosis, limited treatment options, as well as inadequate support services, survivorship, and long-term care.
How Your Oakley, CA Car Donation Will Impact Lives
Breast Cancer Car Donations works with reputable IRS-approved 501(c)3 nonprofits to address the specific needs of needy breast cancer patients by improving their access to health care and enhancing their overall health outcomes.
When you make a car donation in Oakley, California, you help us fight breast cancer and save lives in your city and surrounding areas. We'll auction off your donated vehicle and use the proceeds to support the life-saving programs and services of our charity partners.
These nonprofits use the funding that we give them to provide uninsured and indigent breast cancer patients in your city with financial assistance to help cover the costs of their treatments, doctor consultations, hospital fees, medications, follow-up care, and other essential healthcare services.
They also provide other services such as:
Easy access to local healthcare facilities for underprivileged individuals so they can get free breast cancer screening and diagnosis.
Follow-up care for breast cancer survivors, including laboratory work, annual mammograms, and physician visits five years after remission
In addition, our charity partners continually undertake campaigns to promote breast cancer awareness and provide prevention, education, and counseling services to the public.
How Your Oakley, CA Car Donation Will Benefit You
You'll be greatly rewarded when you donate a vehicle to Breast Cancer Car Donations. You can count on us to make everything easy for you.
Here are some of the biggest perks you'll get when you take part in our Oakley, CA car donations program.
You'll receive the maximum tax deduction in the next tax season.
You'll get free vehicle pickup and towing.
Our donation process is simple and our customer service is superb.
We'll take care of all the logistics and the paperwork concerning your donation.
Quit paying for an unwanted vehicle's insurance coverage, registration, storage, maintenance, and repairs.
Experience the ultimate pleasure and satisfaction of doing an exemplary deed that can help save lives.
3 Simple Steps to Donate Your Car and Save Lives
STEP 1: Contact us to get started.
Getting involved in our Oakley, CA car donation program is incredibly easy. You can call us through our toll-free 24/7 hotline at 866-640-5069 or fill out our secure online donation form.
It will only take you a few minutes to provide us with some basic information, such as your contact details and a brief description of your vehicle, including its make, model, year, current mileage, and overall condition. If you have misplaced your vehicle's title, one of our title specialists can assist you in obtaining a new one quickly.
STEP 2: Schedule a convenient pickup of your car.
Once we've verified the information you provided, we'll contact you and arrange a pickup date for your vehicle. We'll assign a licensed towing company to do the job. The best part is that the towing service is absolutely FREE!
What's more, you can choose the most convenient date, time, and location for the pickup. If you prefer a quick disposal of your vehicle, we can pick it up and haul it away within 24 to 48 hours after your call. If you can't be present during the pickup, let us know where we can find your keys and title, and we'll take it from there.
STEP 3: Reap the benefits of your donation.
After we've picked up your vehicle, our team will auction it off on your behalf. While you relax at home, awaiting the 100% tax-deductible sales receipt of your car, we handle the entire process, including all the paperwork. Within 30 days after your vehicle has been sold, we'll mail its sales receipt to you. You'll need this document when filing your itemized federal income tax return for the upcoming tax-filing season to claim your tax deduction.
We welcome almost all types of vehicles, even damaged ones that are no longer running.
For more information about Breast Cancer Car Donations, head over to our FAQs page. If you have any questions or concerns, feel free to call us anytime through our toll-free hotline at 866-540-5069. You may also write to us here.
Help Breast Cancer Sufferers in Oakley, CA, Today!
Your vehicle donation can make a massive difference in the lives of the hapless breast cancer sufferers in Oakley, CA. We'll use it to help save their lives. Call Breast Cancer Car Donations at 866-540-5069 or fill out our secure online donation form now!
or Call Us Now at 866-540-5069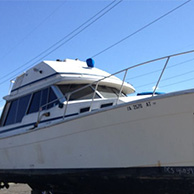 Excellent customer service!