San Clemente, California Car Donations
Donate Your Vehicle and Save Lives!
San Clemente, California Car Donations: The Amazing Things That You Can Do to Help Breast Cancer Victims
Breast cancer is the most common form of cancer in women in the United States, next to skin cancers. One in eight American women will develop breast cancer during her lifetime.
In the United States, there are over 3.1 million women who have a history of breast cancer, including those who are presently being treated and have finished treatment.
Certainly, these data are alarming. This disease has clearly made its mark on the lives of many. But there is a way to help and support the victims in their battle against breast cancer.
By donating a car or any other vehicle to our San Clemente, California auto donations program, you will be making a huge impact on the lives of women who suffer from breast cancer as well as their families.
About San Clemente, California
The city of San Clemente is part of Orange County, California. It is located on the California coast in the middle of Los Angeles and San Diego at the southern part of the county.
The City is best known for its amazing ocean, hills, mountain views, and its Spanish colonial type of architecture.  But even more amazing than these natural attractions are the wonderful benefits that your car donations will give to our less fortunate fellow citizens who are stricken with breast cancer.
It's no wonder that San Clemente is a popular tourist destination with its stunning beaches and sunny weather. Many people enjoy surfing, swimming, bodyboarding, hiking, whale watching, fishing and diving in this seaside community. Other attractions include the San Clemente Pier and Avenida Del Mar. It's also home to a local cancer treatment center, the Leonard Cancer Institute at Mission Hospital on Medical Center Rd. The MemorialCare Breast Center is also nearby on Gateway Pl. 
In 2018, there were about 4,700 cancer deaths in Orange County, CA. Moreover, this disease significantly affects the elderly. For example, people ages 75 to 85 had the most cancer deaths per 100,000 in 2018. 
How Your Car Donations Will Be Used
We at Breast Cancer Car Donations are the proud partners of two of the country's most trusted non-profit organizations – the American Breast Cancer Foundation (ABCF) and Women Involved In Nurturing, Giving, Sharing, Inc. (WINGS). These charities work tirelessly to help underprivileged Americans in their battle against breast cancer.
When you decide to donate your old and unwanted vehicles to our San Clemente, California car donations program, you help provide funding for comprehensive breast health services that are delivered to all individuals regardless of age, gender, race, cultural or socioeconomic background. Specifically, these non-profits:
Help uninsured and underserved individuals gain access to medical screening, diagnosis, and treatment of breast cancer

Provide financial assistance to breast cancer patients, survivors, and their families

Fund research on more effective breast cancer treatment and cure

Boost information campaign to educate the public on the causes, prevention, and detection of breast cancer
Your Rewards as Car Donor
People struggling with breast cancer in your city are not the only ones who will benefit from your car donations. Your generosity and compassion for fellow citizens who are suffering from this dreaded disease will not go unrewarded. Here are some of the perks you will receive as a donor to our San Clemente, California vehicle donations program:
Receive a 

hefty tax deduction

 for your donation.

Avoid the difficulties of selling your car.

No need to bother with paperwork – we do that for you.

Save money by not paying any more for car repair, registration, and insurance.

We'll pay for the pick-up and towing of the vehicle you're donating.

More space in your backyard or garage to house your new car.

Give yourself a deep sense of personal satisfaction for supporting a noble cause
The Types of Vehicles You Can Donate
We accept numerous types of vehicles in our San Clemente, California car donations program. Even if the vehicle you're donating has not run for years, we would still gladly accept it as your donation. The only vehicles we cannot process are those that have been abandoned and without titles or proof of ownership. We simply cannot sell vehicles without titles. However, if you can't find the title to your vehicle, don't worry. Call us and we'll help you secure a replacement title.
Here is a partial list of the vehicle types we accept for donation:
Vans or minivans

Trucks

Buses

Cars

Motorcycles

RVs

Jet skis

Yachts

Snowmobiles

Golf carts

Farm equipment

Boats

Non-commercial airplanes
The Easy Way You Can Donate a Car for Charity
We offer you a convenient and quick way to donate your car in our San Clemente, California car donations program.
To begin your donation process, contact us at 866-540-5069 or fill out our online donation form. Tell us a few details about the vehicle you're donating – the year you purchased it, its model, brand, and VIN.
You can then schedule the fast and free pick-up of your vehicle at your earliest convenience. We'll immediately arrange for a licensed towing company in your area to pick up and tow your vehicle. We will give you a donation receipt that releases you from all liabilities on your car, giving you the right to cancel and stop paying for your car insurance and registration.
Within 30 days after we sell your car at auction, we'll send you your 100 percent tax-deductible sale receipt, indicating your donated vehicle's final selling price. This will serve as the basis of your tax deduction claim when you file your itemized federal tax return.
Let Your Preloved Car Be a Beacon of Hope!
Make a life-changing decision today. Call us at 866-540-5069 and take part in our San Clemente, California car donations program. Let your preloved car become a beacon of hope to the struggling breast cancer patients in your city. Donate this car now! We serve the entire Los Angeles and San Diego metropolitan areas.
or Call Us Now at 866-540-5069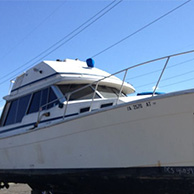 Excellent customer service!