Palm Springs, California Car Donations
Donate Your Vehicle and Save Lives!
Palm Springs, California Car Donations: Help Save Lives – and Get Rewards for Your Good Deed!
Thanks to your Palm Springs, California car donations, one indigent breast cancer patient can finally get the full range of treatment needed to ensure her survival – the kind of treatment she and her family cannot afford. Imagine the joy on the woman's face upon knowing that you helped save her life!
When you donate a car for charity to Breast Cancer Car Donations, you can actually save not just one human life but many others who are battling the deadly disease. The proceeds from the sale of your car donation will be used by our dedicated non-profit organization partners to help uninsured and underserved breast cancer patients gain access to medical screening, diagnosis, and treatment.
Our two non-profit partners – the American Breast Cancer Foundation (ABCF) and Women Involved In Nurturing, Giving, Sharing, Inc. (WINGS) – will also use the funding to provide financial assistance to breast cancer patients, survivors, and their families.
The will also use the funds to find new ways to detect and diagnose early signs of the disease and search for new options in treating the disease.
Hence, what you may consider as an old trashy car can actually spell the difference between life and death for breast cancer patients.
Palm Springs: California's Playground of the Rich and Famous
Palm Springs California is a sun-drenched desert oasis destination for many people who want to have their time away from the hustle and bustle of city life.
Today more than 48,000 people live in Palm Springs, nearly half of whom are females.
Musicians and artists are drawn by the inspiration that nature brings in Palm Springs. Events such as Modernism Week, Coachella, Palm Springs International Film Festival, and Stagecoach Music Festival are held in Palm Springs annually.
Palm Springs boasts of unique museums such as the Architecture and Design Center and Sunnylands. In the summer months, pool parties are held everywhere. Even during winter time, some residents would hold cocktail parties by the pool.
Its warm desert weather has made Palm Springs as the playground of the rich and famous, in particular, Hollywood stars. Since the birth of the U.S. film industry, movie stars have been flocking to Palm Springs, making it one of their favorite getaways.
Unfortunately, breast cancer victims could not fully enjoy the good life in Palm Springs because of their condition. But with your vehicle donations, they have a chance to beat breast cancer and live normal lives again.
Our Easy and Simple Car Donation Process
Saving lives has never been easier. We made our Palm Springs, California car donations process as quick and simple as possible for the convenience of our donors. The process consists of just three easy steps:
First:
You can either fill out our online donation form or call us at 866-540-5069. Tell us details about your car and your contact information. If you opt to call, you can ask whatever questions you have in mind. We will set a convenient schedule for your car's pick-up.
Second:
We haul away your car for free. We will give you a donation receipt that will release you from any liabilities on your car. This means you can now cancel and stop paying for your car's registration and insurance coverage.
Third:
We will sell your car at auction. Within 30 days after your car gets sold, we will send you by mail your tax-deductible sale receipt that shows your car's final selling price. If your car was sold for more than $500, you can claim that exact amount as your tax deduction. If $500 or below, you have the option to base your tax deduction on your car's fair market value not exceeding $500 if the latter is higher than its selling price.
Rewards Galore for Your Car Donation
No deal could be better than this. When you take part in our Palm Springs, California vehicle donations program, you not only get the chance to do something wonderful for others, you also get the opportunity to dispose of your old car for free and with little effort on your part. To top it off, you even get to receive rewards for your car donation, including a potential top tax deduction!
Here are the rewards that will come your way when you donate a vehicle to our car donation service:
We pay for your vehicle pick-up and towing.

Get a handsome tax deduction.

Avoid the hassle of selling.

No need to bother with the paperwork.

Save money on repairs, other payments.

Unclog your garage or backyard.

Support a worthy cause that brings out the best in you.
Grab This Win-Win Situation!
Considering all the good stuff that will come your way once you decide to join our Palm Springs, California car donation program, it becomes as clear as a Palm Springs daylight that donating a car to Breast Cancer Car Donations is a win-win situation that you would want to be in.
Call us at 866-540-5069 now to start your Palm Springs, California car donations process! We serve the state of California, including nearby communities such as Banning, Cathedral City, Desert Hot Springs, Indio, La Quinta, Palm Desert, Rancho Mirage, and Yucca Valley.
or Call Us Now at 866-540-5069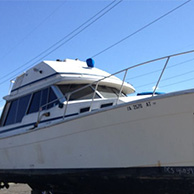 Excellent customer service!