Texas Car Donations
Donate Your Vehicle and Save Lives!
Texas Car Donations are Efforts Made for the Happiness of Others
Car donations in Texas to support the fight against breast cancer are more than just getting rid of rusty old vehicles that you rarely or don't even use. It's a significant contribution that gives Texans who are fighting breast cancer a better chance of surviving the disease. Moreover, donating your car will give you that deep sense of fulfillment, knowing that you have provided assistance to others.
We at Breast Cancer Car Donations support well-known nonprofit organizations by managing Texas car donations on their behalf so that they can direct their focus on what matters most – saving lives. When you donate your vehicle, you can be sure that 100% of the proceeds will go to the funds being generated to support the work of these nonprofits:
American Breast Cancer Foundation (ABCF)

 — Their fundraising efforts are geared towards the early detection and diagnosis of the disease. Their mission is to provide financial assistance for breast cancer screenings and diagnostic tests for underprivileged individuals.

Women Involved in Nurturing, Giving, Sharing, Inc. (WINGS) 

— It's an organization that's passionate about bridging the gap between diagnosis and treatment. Through their efforts and those of yours, the uninsured women in Central and South Texas will receive comprehensive breast health services.
Your Texas car donations will not only help the sufferers gain an advantage in their fight to beat breast cancer. It's also the most convenient way for you to unload the heavy burden of keeping an unwanted vehicle.
The Lone Star State
The Lone Star State got its moniker for how it fought its way to gain independence from Mexico from 1825 to 1836. After succeeding in this quest, the original flag under the Mexican rule was changed to the lone star, clearly labeled "Texas."
Texas is the second largest state in the U.S. in terms of area and population. 49 percent of its residents are females. Statistics show that one in eight of these women will develop invasive breast cancer over the course of her lifetime.
Texans are known to be a people with an indomitable spirit that is impossible to defeat. Despite the painful blows of breast cancer, those who are affected by it will be equipped to face the disease with unshakable hope. And it all begins with the simple decision of donating your car.
How to Get Started
Because we value our donors, Texas car donations have designed a car donation process that's quick and easy for you. Before your 30 minutes are up, you're done! Here's how you do it:
Fill out our online donation form or call us at 866-540-5069.
We just need your vehicle's basic information such as the year, make, model and a few other details.
Schedule your vehicle pick-up
Now that we got your car's basic information out of the way, you can give us your preferred time, date, and location for pickup. We will arrange for a local towing company to promptly show up at your doorstep on the scheduled date. You don't even have to be there when they haul away your car!
Receive your tax-deductible receipt
After we sell your car at auction, we will mail you a tax-deductible receipt, verifying the actual sale price of your vehicle. You'll need to file this with your tax records so you could claim your tax deductions after you made your Texas car donations.
Vehicles We Accept
We're not picky! Breast Cancer Car Donations will most likely accept any vehicle that you may have in mind — regardless of its condition.
If you have more than one vehicle that you would like to donate, tell us about it! We love multiple Texas car donations! You may find this list of commonly accepted vehicle types helpful:
Minivans

SUVs

ATVs

Buses

Motorized Wheelchairs

Riding Lawnmowers

Tractors

Jet skis

Yachts

Campers

Snowmobiles

Trucks
YOUR Car Donation Benefits
Texas car donations don't come any easier than this! If you're still on the fence about donating your car, then checking out these benefits may help you decide to hand that clunker over to us!
We'll pay for fast pickup and towing!
Don't hold on to your car because of towing costs and the hassles that go with it! If you donate your car to us, you won't have to shell out a single dime to free up your garage space! It'll be our pleasure to do this for you free of charge!
Claim a charitable tax deduction!
If your donated vehicle was sold for less than $500, you can claim the actual selling price or its fair market value up to 500 percent. On the other hand, if it was sold for more than $500, you can claim the exact amount for which it was sold. To claim your tax deduction, it's important that you itemize your deductions on your tax return.
Avoid the risks and costs involved in selling!
Aside from the fact that it's difficult to predict when an offer will come your way, you will also subject yourself to a vulnerable situation with strangers in private-party sales. Plus, it takes too much effort and time to run ads, screen offers, take calls and negotiate with potential buyers.
Old Is NOT Useless
Let's face it. Your old car is not going anywhere anymore. It has seen better days and now those days are over.
However, old is not synonymous with useless. Put that jalopy to good use and donate it! Your car donation will fund groundbreaking research and many other life-saving services that would put breast cancer under the feet of its survivors.
Call 866-540-5069 and get free towing services for Texas car donations!
Donate a Car to Texas Breast Cancer Nonprofits Today!
Looking for more information about donating in a particular area of Texas? Click on one of the cities closest to you from the list below.
Ready to learn more? Fill out the form below to donate!
or Call Us Now at 866-540-5069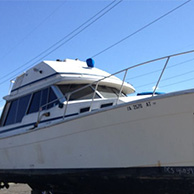 Excellent customer service!