Mesquite, Texas Car Donations
Donate Your Vehicle and Save Lives!
Save Lives Without Pulling Out Your Wallet!
There is really no need for you to pull out your wallet and give cash to help people and save lives. You don't even have to spend even a dollar to do so! What you just need to do is to call us at Breast Cancer Car Donations and participate in our Mesquite, Texas, vehicle donations program. By donating a beat-up car that you want to dispose of anyway, you will be saving the lives of many women and some men in your city suffering from breast cancer. We serve the entire Dallas area, including (but not limited to) nearby communities such as Garland and Plano.
When you donate a car for the benefit of destitute breast cancer sufferers in your city, these people will look up to you as their hero. They will be thankful and indebted to you for life for helping them fight the disease.
The proceeds from the sale of your vehicle donations will go to our two reputable non-profit organization partners — the American Breast Cancer Foundation (ABCF) and Women Involved In Nurturing, Giving, Sharing, Inc. (WINGS). These two non-profits are devoted to providing assistance to uninsured and underserved breast cancer patients.
These two charities use the funding we give them to provide financial support and medical assistance to needy breast cancer patients and to sponsor charity and outreach programs for the benefit of city residents seeking screening tests, diagnosis, and possible treatment for the disease in case of positive findings.
Your car donation will also fund important breast cancer research that will hopefully lead to a better understanding of the devastating disease, leading to more effective ways to prevent, diagnose, treat and cure it.
The funds that you will help generate will also be used to spread public awareness of the symptoms of the disease. This is highly important since early detection of breast cancer leads to more effective treatment and greater survival rate of patients.
About Mesquite, Texas
The premiere attraction in this city in Texas is the Mesquite Championship Rodeo. The event both captures and showcases the full Texas cowboy experience. Another is the Mesquite Arts Center that has over 16 arts groups. The city also hosts the Mesquite Community Theater, the Mesquite Symphony Orchestra, and the Mesquite Community Band.
Some of the historic sites in Mesquite include the Texas Queen, a double deck paddle wheeler that can serve as a perfect place for a lot of special events, and the Florence Ranch Homestead, a restored historic ranch built in the late 1800s.
Benefits for Car Donors
Donating a car to our Mesquite, Texas, donations program will do you good in so many ways. Not only will your donation help breast cancer sufferers in your city, you will also help yourself! Here are the benefits that await you once you decide to donate a car for breast cancer to us:
Receive a 

hefty tax deduction

 for your donation.

We'll pay for the pick-up and towing of the vehicle you're donating.

The donation process only takes a few minutes of your time.

No need to bother with paperwork – we do that for you.

Save money by not paying any more for car repair, registration, and insurance.

Avoid the difficulties of selling your car.

More space in your backyard or garage to house your new car.

Support a worthy cause that will give you a deep sense of personal satisfaction.
Our Quick and Easy Car Donation Process
Making Mesquite, Texas car donations is quick and easy, allowing our donors to save time and effort. There are only three easy steps to get your car towed at zero cost to you:
Step 1:
Give us a call at 866-540-5069. Provide us your contact information and a few details about the vehicle you're donating like its make and model, mileage, and vehicle identification number. Another option would be for you to fill out our online donation form.
Step 2:
Once we have verified the information you provided, we will make arrangements with an affiliate tow company from your area to pick up your car. The towing fee is on us, and you don't have to pay for anything. The tow truck will pick up your vehicle on your preferred date, time, and location. We will hand you a donation receipt, a document that releases you from all liabilities on the car you donated, allowing you to de-register your vehicle, dispose of your license plates properly, and cancel your insurance coverage. Keep the receipt since you may need it for tax purposes.
Step 3:
After we auction off your car, we will send you your 100-percent tax-deductible receipt by mail, indicating your donated vehicle's final selling price. This will serve as the basis of your tax deduction claim when you file your itemized federal tax return.
The Types of Vehicles We Accept for Donation
We accept various types of vehicles in our Mesquite, Texas car donations program. You don't have to think twice before donating your vehicle to us because we accept all vehicles donated to us with only very few exceptions. Your car's condition doesn't matter. Even if it has not run for years, we would still gladly accept it as your donation.
The only vehicles we cannot process are those that have been abandoned and without titles or ownership. We cannot sell vehicles without titles. However, if you can't find the title to the vehicle you're donating, don't worry. We can help you find a replacement title.
Here is a partial list of the vehicle types we accept for donation:
Cars

Vans or minivans

Trucks

Motorcycles

RVs

Toy haulers

Jet skis

Yachts

Snowmobiles

Golf carts

Buses

Tractors

ATVs

Farm equipment

Non-commercial airplanes
Donate a Car for Cancer Now!
Are you now fully convinced on the merits of making Mesquite, Texas car donations? If yes, contact us right now at 866-540-5069. Donate your car for cancer and help the suffering breast cancer patients in your city now!
or Call Us Now at 866-540-5069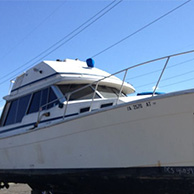 Excellent customer service!