Texas Golf Cart Donations
Donate Your Vehicle and Save Lives!
Get Breast Cancer Patients Back on Their Feet Through Texas Golf Cart Donations
The lives of thousands of women with breast cancer can be saved through our Texas golf cart donations program. How's that even possible?
When you participate in our program by donating a golf cart to us at Breast Cancer Car Donations, you will play a crucial role in getting breast cancer patients back on their feet.
Aside from the physical pain inflicted on patients, breast cancer also brings emotional and psychological damages to its victims and their loved ones as well. Those who are in the advanced stages of the disease see their situation as hopeless and end up gripped with anxiety, depression, and even suicidal thoughts.
When you donate to us, however, you give them the reassurance that everything will turn out well in the end.
How Your Golf Cart Donation Will Help Breast Cancer Patients
By collaborating with Breast Cancer Car Donations, you also work with reputable nonprofit organizations that are devoted to providing life-saving assistance to victims of the still mysterious disease. These are the American Breast Cancer Foundation (ABCF) and the Women Involved in Nurturing, Giving, Sharing, Incorporated (WINGS, Inc.
The proceeds from the sale of your golf cart donation will be used by these nonprofits to provide financial assistance to indigent breast cancer patients, survivors, and their families. They also support individuals needing breast cancer screening, diagnosis, and treatment by connecting them with facilities that give them the services and resources they need. Thanks to your contribution to our Texas golf car donations fundraiser, breast cancer patients in Texas can finally get treatment that can hopefully save their lives.
Aside from delivering breast health services, we also use the funds arising from your golf cart donation to fund research on more effective breast cancer management and treatment.
We also use the funds to boost our information campaign to educate the public on the causes of breast cancer, how to lessen the chances of getting it, and how to detect it early enough to increase the chances of success in treating it.
How Our Donation Process Works
Choosing to work with us is a decision you won't regret. Here at Breast Cancer Car Donations, we treat our donors as best we can. Our quick and stress-free donation process clearly shows this.
Don't have enough time to look for affordable towing companies in your area? Does the idea of handling paperwork bother you? With us, you won't be dealing any of these anymore!
Just let us know that you've made up your mind to take part in our Texas golf cart donations program. After that, feel free to sit back and leave everything else to us!
Reach us by either calling us at 866-540-5069 or by filling out our online donation form. Provide us certain details about yourself and the golf cart you're donating. We will then schedule its pickup based on your preferred date, time, and place.
We'll assign a licensed towing company to haul off your golf cart at no cost to you. You'll receive a towing receipt that releases from all liabilities on your vehicle.
Once your golf cart is in our hands, we sell it at auction. Within 30 days after it is sold, you'll receive from us by mail your 100-percent tax-deductible sales receipt. The amount shown on the receipt will serve as the basis of your tax deduction claim when you file your itemized federal income tax return. You can claim as your tax deduction either the exact amount printed on the receipt or your golf cart's fair market value not exceeding $500 if it was sold at a price lower than $500.
That pretty much sums up our donation process! Does the sound of free towing service and tax deduction make you want to join us? Call us today at 866-540-5069!
If you want to get to know more about Breast Cancer Car Donations, check out our FAQs page.
Perks to Enjoy at Texas Golf Cart Donations
When looking for a golf cart donation program in Texas, it's only reasonable to choose one that provides you a number of benefits. This is why we see to it that you receive all the rewards that you deserve to get for your charitable contribution. Here are some of the benefits you'll get when you take part in our Texas golf cart donations fundraiser:
Receive a huge tax deduction.
Get rid of an unwanted golf cart without spending a single dime.
Enjoy the quickness and convenience of our donation process.
Enjoy the freedom from paying needlessly for your golf cart's maintenance, registration, and insurance.
No need to find ways of selling or advertising of selling your golf cart to potential buyers
No need to deal with paperwork.
Free pickup and towing.
Get the opportunity to work with well-known breast cancer nonprofits.
Additional space for your garage.
Feel the joy of knowing that your golf cart donation will play a huge role in saving the lives of breast cancer patients
Other Vehicle Types We Accept for Donation
Do you have other unwanted vehicles you wish to donate? Go ahead and donate them to us! We at Breast Cancer Car Donations accept nearly all types of vehicles such as cars, trucks, SUVs, pickups, motorcycles, RVs, ATVs, riding lawnmowers, snowmobiles, motorized wheelchairs, tractors, farm equipment; fleet vehicles such as buses, passenger vans, cargo vans, boats, jet skis, and non-commercial aircraft. We welcome all these vehicle types whether they're in good running condition or not.
Are you having uncertainties about your vehicle's eligibility? Have a chat with us at 866-540-5069, and we'd gladly address all your concerns. 
It's Time to Make a Difference
Breast cancer has snuffed countless lives in our country and continues to do so. It's time we turn the tables and reverse the trend. You can help achieve this by participating in our Texas golf cart donations program. Call us now at 866-540-5069 and make your golf cart donation!
or Call Us Now at 866-540-5069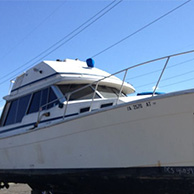 Excellent customer service!