Arlington, Texas Car Donations
Donate Your Vehicle and Save Lives!
Arlington, Texas, Car Donation: Join the Fight Against Breast Cancer and Get Rewards
Besides skin cancer, the most common type of diagnosed cancer among American women is breast cancer. Based on the American Cancer Society's latest estimates for breast cancer in the United States for 2018, about 266,120 new cases of invasive breast cancer will be diagnosed in women this year while about 63,960 new cases of non-invasive breast cancer (called carcinoma in situ or CIS) will also be diagnosed.
The Society's latest report states that about 40,920 American women will die from breast cancer this year.
It notes that the average risk of a woman in the United States developing breast cancer sometime in her life is about 12 percent, which means that there is a one in eight chance she will develop breast cancer.
It points out that there are currently more than 3.1 million breast cancer survivors in the United States, including women still being treated and those who have completed treatment.
We at Breast Cancer Car Donations are among the various organizations that are trying to save the lives of more breast cancer victims. You can help increase their survival rates by taking part in our Arlington, Texas, vehicle donation program. We serve the entire Dallas – Fort Worth – Arlington area, including (but not limited to) nearby communities such as Grand Prairie. By participating in our vehicle donations campaign, you will also reap rewards, including hefty tax deductions.
Arlington: The Entertainment Capital of Texas
With a population of 365,000, Arlington is situated near the Dallas-Ft. Worth Metroplex, which has a workforce of two million people. It is home to the University of Texas at Arlington, a 30,000-student institution with a distinguished engineering college.
Leading companies such as the National Semiconductor Wafer Plant and General Motors call Arlington home. The city's private school district offers students an exceptional education.
Named after Robert E. Lee's house, Arlington is referred to as the entertainment capital of Texas due to its Six Flags Over Texas Relaxation Park as well as Hurricane Harbor Water Park.
The city has a good number of cultural facilities, and it is within the more prominent urban Dallas-Ft. Worth area. Recognized symphonies and ballets are famous in the area.
For the outdoor fanatic, Arlington boasts of 82 public recreational regions inside the metropolis. The biggest is River Legacy Parks, which incorporates 1,300 acres on the Trinity River right into the heart of Arlington.
The nightlife in Arlington is relatively diversified and typically offers something for every individual. From cinema to ballet to music to cuisine, activities abound.
Breast Cancer Statistics in Texas
In its Female Breast Cancer Fact Sheet released in June 2016, the Texas Department of State Health Services notes that the current prevalence rate for breast cancer was 108 new cases per 100,000 women in Texas. Approximately 71 percent of women age 40 years and over had a mammogram over the past two years. Around 56 .7 percent of women age 40 years and over had a medical breast examination in the last two years.
For every 100,000 women in Texas, roughly 20 died from breast cancer. For every 10,000 women, approximately three breast cancer hospitalizations happened yearly in Texas. Overall hospital costs for breast cancer hospitalizations were around $255 million, the report states.
For 2018, the American Cancer Society estimates that 18,260 new cases of breast cancer and 2,880 deaths are expected in Texas in 2018.
Compelling Reasons to Donate a Car for Cancer in Arlington, Texas
Be it a new riding lawnmower or a worn-out pickup truck that you would like to donate, once you participate in our Arlington, Texas program, you will perform an essential function in providing assistance to underserved breast cancer patients, spreading breast cancer awareness, and boosting breast cancer research.
Here are some of the benefits you would gain from taking part in our Arlington, Texas program:
You uplift the lives of women afflicted with breast cancer.

You will receive from us your tax-deductible receipt to support your tax deduction claim.

All strategic planning is handled by us.

You are cleared of any responsibility regarding your car's repair, registration, and insurance coverage.

We pick-up your vehicle with absolutely no charge.
How Our Arlington, Texas, Process Works
Our organization operates together with other top non-profit organizations to encourage people to join the fight against breast cancer. Our car donation process is easy, simple, and convenient. It basically consists of three steps:
Contact us by calling or completing our 

online donation form

 and give us all the basic information related to the vehicle you are donating.

Let us pick up your vehicle at a time, date, and place most convenient for you. We will hand over a donation receipt that will enable you to cancel your car registration and insurance. We will not charge you for anything.

After we auction off your vehicle, we will send you by mail your tax-deductible sales receipt, a document that will support your 

tax deduction

 claim when you file your itemized federal tax return.
You can be certain that all the proceeds from your donation will be passed on to our charity partners so they could pursue their various breast cancer programs.
Support the Battle against Breast Cancer
Donating your car to our charity is a most effective approach to support the battle against breast cancer. If you're ready to donate your car, contact us at 866-540-5069 and enjoy a well-structured donation experience from start to finish. Donate today!
or Call Us Now at 866-540-5069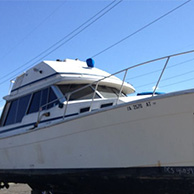 Excellent customer service!