Grand Prairie, Texas Car Donations
Donate Your Vehicle and Save Lives!
Grand Prairie, Texas Car Donations: Turn Your 'Useless' Vehicle Into a Source of Hope for Breast Cancer Victims
Are you planning to sell or simply get rid of your old car, camper, boat or motorcycle? DON'T! Donate it to our Grand Prairie, Texas car donations program instead! In doing so, that "useless" vehicle in your garage or backyard could help extend the lives of breast cancer patients and boost the fight against the devastating disease.
We at Breast Cancer Car Donations are here to try and bring down the alarming numbers of breast cancer cases and deaths in Grand Prairie and elsewhere in the country. Did you know, according to the National Breast Cancer Foundation (NBCF) that one in eight women in the United States will be diagnosed with breast cancer during her lifetime? Also, every two minutes, a woman is diagnosed with the disease and in every 13 minutes, one woman will die because of it.
Let us do what we can to help ease the pain and suffering of people dealing with breast cancer in Grand Prairie. Donating to our car donations program in the area will take just a few minutes of your time but could extend the lives of breast cancer patients so much longer than that, perhaps even lead to complete remission of the disease.
'What Do I Get From My Car Donation?'
There are plenty of reasons why it is better to donate your unwanted car than sell it. Let's explore the many things that your generous car donations can do.
Doing Grand Prairie, Texas car donations is easy!
We provide you a very easy and quick way to donate your car because we value your time. All you need to do is just give us a call at 866-540-5069 or fill out our online donation form. We are just going to ask for a few details about yourself and the car you're donating as well as your preferred schedule for pickup.
Towing services will be at no cost whatsoever!
The towing truck we hired will pick up your car for free on the pre-arranged date, time, and place. If ever something comes up and you can't make it during the time of pickup, it's fine with us. We'll take care of everything, including issuing you a towing receipt that will relieve you of any liabilities on the car you're donating, allowing you to cancel and stop paying for its registration and insurance coverage.
Receive tax benefits for your kind donation!
After your car gets towed, we will send it to an auction house to sell it. Once the car is sold, we will send you by mail your tax-deductible sale receipt within 30 days. You can use this to get your top tax deduction.
Save time and effort from selling your car!
Save yourself from the hassles of advertising, listing, and negotiating deals and the security risks involved when trying to sell your car to strangers. When you donate your car to us, we will take it off your hands and it will no longer be your problem. You are also safe with us because we are a well-known and trusted non-profit organization.
Participating in our Grand Prairie, Texas car donations lets you save money. You don't need to pay maintenance, insurance, and registration fees anymore.
A sense of fulfillment for helping people with breast cancer!
The main purpose of your car donation is to help people who are suffering from breast cancer. Achieving that purpose will fill you with a wondrous sense of fulfillment that's beyond measurement.
Where the Proceeds Go
The proceeds from your Grand Prairie, Texas car donations will go directly to two well-known breast cancer non-profit organizations — the American Breast Cancer Foundation (ABCF) and Women Involved In Nurturing, Giving, Sharing, Inc. (WINGS).
Your car donations will enable them to sustain their programs that are geared towards helping people with breast cancer and their families. You will also contribute to their continuing breast cancer research work. Your car donations will assist them in finding more potent options in detecting and treating the disease in its early stages. You will give them much-needed support in their quest to boost the survival rates of people dealing with this horrid disease.
The Vehicles That We Accept for Donations
It is very rare that we turn down an offered donation to us at Breast Cancer Car Donations. We usually accept donations of all types of vehicles, whether new or cold. Even if the vehicle you're donating is all messed up or has not run in years, we would still gladly accept it.
We only say no to abandoned vehicles or those with no titles since proof of ownership is a prerequisite for selling. If you've lost the title of your car, don't worry. We will help you get a replacement title as soon as possible. Just give us a call and we won't disappoint you.
We love multiple Grand Prairie, Texas car donations because more needy breast cancer patients would benefit from them.
You may find this list of acceptable vehicles helpful:
Common vehicles – cars, SUV's, trucks, vans, and minivans
Motorcycles – sports bikes, scooters, and mopeds
Water vehicles – all types of boats, jet skis, and yachts
Specialty vehicles – non-commercial planes and helicopters, farm equipment, golf carts, snowmobiles, and motorized wheelchairs
Fleet vehicles – vehicles that are operated by car rentals, taxicabs, and public utilities
Ready to Donate? Let's Go!
Are you ready to donate your old and unwanted car to support a truly worthy cause that gives you benefits as well? Contact us at 866-540-5069 and make your Grand Prairie, Texas car donations!
or Call Us Now at 866-540-5069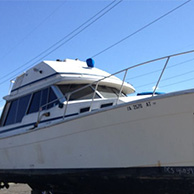 Excellent customer service!