El Paso, Texas Car Donations
Donate Your Vehicle and Save Lives!
El Paso, Texas Car Donations: Be a Hero to Breast Cancer Victims Without Spending a Dime
You don't have to possess superhuman qualities to be a superhero to needy people struggling with breast cancer in El Paso, Texas. You don't have to be exceptionally strong or powerful to extend a helping hand to fellow humans crying out for help. All it takes to become a hero, to find your life's essential meaning, is to have a sympathetic heart.
With minimal effort and zero cost to you, you can become a person that cancer patients would look up as their champion when you donate your old battered car to the Breast Cancer Car Donations' El Paso, Texas car donations program.
We will use the proceeds from the auction of your donated vehicles to fund the various programs of our two nonprofit organization partners that are dedicated to providing assistance to uninsured and underserved breast cancer patients and their families.
Where Proceeds from Your Donations Will Go
We transfer all the funds we collect to the American Breast Cancer Foundation (ABCF) and the Women Involved in Nurturing, Giving, Sharing, Incorporated (WINGS, Inc.). These two reputed charity organizations, in turn, provide direct assistance to cancer patients who cannot afford the high cost of treatment and who are not covered by the government healthcare insurance program. With your support, these patients will be able to gain access to medical procedures and treatment that only the rich can afford.
Our two charity partners also use the funds to finance more studies on faster and more effective breast cancer cure. With your car donations in the city, they will also be able to launch more public information campaigns to educate the people on the causes, prevention and early detection of breast cancer.
In most charity works, the only reward for the donors is the inner joy they feel for having done something good for others. The El Paso, Texas car donations program also produces that same reward – and more!
Rewards for Your Charitable Donations
By donating your old car, you help others and yourself as well! First, you stand to gain a sizeable tax deduction out of your car donation. In effect, you will actually get back a portion of the cash value of your donated vehicle.
You will also save a lot of money since you do not have to spend any more for the repair or maintenance of your car. You also don't have to pay for your car insurance anymore. You also don't have to spend a dime for the towing of your car since that will be on us.
Moreover, you will find satisfaction in seeing your old unwanted car not anymore occupying space in your garage and at the same time serving as a valuable instrument to help needy people.
Thus, it is no exaggeration to say that participating in the El Paso, Texas car donations is a win-win proposition for you.
Your Car Donation Process in 3 Quick and Easy Steps
If you're fully sold on this idea, you need to know the three quick and easy steps for us to start your car donation process. First, call our hotline number 866-540-5069 now and tell our front desk officer that you are donating your car to the El Paso, Texas car donations program of the Breast Cancer Car Donations. Inform our staff of the make and model of your car, your preferred pick-up date and time, and where your vehicle is located. Instead of making a phone call. You can also visit our website and just fill out the online donation form. We will then be the one to call you.
Second, after we verified the information you provided, we will make arrangements with a local tow company for your vehicle's free pick-up and tow. No need to worry that your old car might not qualify for the El Paso, Texas car donations program. We assure that we accept almost all kinds of vehicles regardless of their age and even if they are not running anymore.
We can arrange nationwide pick-ups for free. You can either be at home or not during the pick-up time, Breast Cancer Car Donations in El Paso, Texas handles pick-ups like these all the time.
Third, your car will be picked up within 24 to 48 hours after you agree to make your El Paso, Texas car donations. The local tow company will hand you a receipt to release you from liability. You may use the receipt to file your top tax deduction.
Choose to Save Lives of Cancer Victims!
Your car will then be auctioned with the proceeds going directly to our charity partners. You will then receive a letter and tax receipt from us via mail or email. You can use the receipt to claim your top tax deduction when you file your itemized personal income tax returns.
Choose to save lives today with minimal effort! Call Breast Cancer Car Donations now at 866-540-5069 and donate to our El Paso, Texas car donations program.
or Call Us Now at 866-540-5069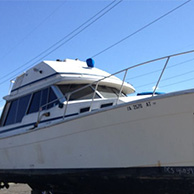 Excellent customer service!