Amarillo, Texas Car Donations
Donate Your Vehicle and Save Lives!
Amarillo, Texas Car Donations: Let's Do Something Meaningful that Will Extend Lives of Breast Cancer Patients
Participating in our Amarillo, Texas car donations program is one of the very best moves you'll ever make. Unlike selling or trading in your shabby old clunker, donating your car would be the safest, fastest and most convenient way of getting rid of it. Not only that: Car donations also give you the opportunity to touch the lives of individuals with breast cancer within your community. Donating your unwanted vehicle would benefit you and the people around you.
Fast Facts about the 'Crossroads of the Panhandle'
If you're a local, you probably know these amazing facts:
Amarillo's nickname, the "Crossroads of the Panhandle" was coined because of the city's close location to the geographic center of the Texas
You can find Palo Duro Canyon, the second largest in the country next to the Grand Canyon, in Amarillo. In fact, "Indiana Jones and the Last Crusade" was filmed in the city's surrounding landscape.
All steak lovers know that the only place they could find a whopping 72-ounce steak is at Amarillo's Big Texan Steakhouse.
It's called the Helium Capital of the World because most of the world's helium supply can be found within 250 miles within Amarillo.
Lacey Brown of "American Idol" fame was born and raised in Amarillo.
What you may not be aware of is the fact that the U.S. Census Bureau released a report in 2016 stating that Amarillo's estimated total number of residents is at 199,582. Females constitute more than half of the population.
What You Need to Know About Breast Cancer
Breast cancer commonly affects women whose parent or sibling has been previously diagnosed with the disease. Older women ages 45 years old and above are also predisposed to breast cancer. Breast cancer occurs when an uncontrollable cell growth in the breast tissues form a malignant tumor.
Based on the U.S. statistics reported by the National Breast Cancer Foundation, one in eight women will be diagnosed with breast cancer within her lifetime. Research also shows that on average, one woman is diagnosed with this disease every two minutes, and another woman loses her life to it every 13 minutes. Breast cancer remains the second leading cause of cancer deaths among women in the United States.
As alarming as these numbers may seem to be, those with breast cancer can still have a chance to survive it if they obtain an early diagnosis and receive prompt treatment.
What Your Car Donation Can Do for People with Breast Cancer
We at Breast Cancer Car Donations have partnered with certified 502(c)3 nonprofit organizations that are continuously battling breast cancer across all states. We operate vehicle donations on their behalf to raise funds for the breast cancer programs that these charities run. Proceeds of all our Amarillo, Texas car donations will be used to sustain and improve these existing services:
Raising public awareness on breast cancer prevention, diagnosis, and treatment
Providing financial assistance to aid in early detection, treatment of breast cancer patients, covering their surgery, oncology services, consultation, hospital fees and outpatient medication
Connecting all affected individuals regardless of gender, socioeconomic and ethnic background, to local facilities that offer free and accessible resources, information and other comprehensive breast health services
 We Accept Almost All Types of Vehicles
We think that our Amarillo, Texas car donations are awesome. However, if what you have in mind to donate happens to be another type of vehicle, don't worry! Breast Cancer Car Donations would gladly accept almost all kinds of vehicles — from motorized wheelchairs to personal watercraft and airplanes!
Did your vehicle fail the state emissions test? No problem! You can still donate it!
Has your vehicle been sitting idly in your garage for a long time since you last used it? Not an issue at all! Chances are, we'd still take it!
Are you thinking about donating more than a single vehicle? Go ahead and do it! Multiple Amarillo, Texas car donations can provide us more weapons to fight breast cancer!
Don't forget to present your proof of ownership once you donate because we can't sell your vehicle at auction without it. If you've lost your title, our title clerks will readily assist you in getting a replacement title. Go for Amarillo, Texas car donations today by calling 866-540-5069!
Meanwhile, skim through the vehicles on the list below to check if your clunker type is on it. These are the common types we accept from our donors:
Cars: sedans, vans, SUVs, trucks, motorcycles
Boats and watercraft: pontoon boats, houseboats, personal watercraft (like jet skis), sailboats, motorboats, fishing boats, yachts
RVs: recreational vehicles, pop-up trailers, five-wheelers, motorhomes, campers, travel trailers
Specialty vehicles: ATVs, riding lawn mowers, tractors, farm equipment, snowmobiles, motorized wheelchairs,
Fleet vehicles: cars, SUVs, pickups, trucks, buses, passenger vans, cargo vans,
Donating Your Clunker is as Easy as Pie!
Donating through Breast Cancer Car Donations is practically effortless! You don't have to spend more than five minutes to get started! Once you've done all three simple steps, you'll be an instant local hero!
Letting us know that you want to donate your clapped-out car is the first step. We'd need your personal contact details, your vehicle's year, make, model, mileage, availability of a title, and overall running condition as well.
Have your vehicle picked up for
After we go through step 1, you can give us your vehicle's location and your preferred time and date for its pickup. We'll coordinate with a local professional towing company to do the job, and we'll be the one to pay for this. Your presence is not required on the day of pickup if you just let us know where we could locate your vehicle's title and keys inside your car.
Within days after we sell your car at the best auction houses within our network, we'll send you your tax-deductible receipt by mail. This document bears the actual sale price of your vehicle. You'll need this to cancel your car's insurance and registration, and to claim your maximum tax deduction once you itemize your deductions on your federal tax return.
Let's Help People Outlive Breast Cancer!
While we're busy with the hustle and bustle of our daily lives, an uninsured woman in Amarillo with Stage 2 breast cancer decides to forego chemotherapy and radiation treatment because of financial constraints. We can do something to help her live long enough to see her kids grow up if we work together to give her the assistance that she needs. With your car donation, she may even have a real chance of surviving breast cancer.
Decide to do something meaningful today. Contact us at 866-540-5069 and get free towing services for our Amarillo, Texas car donations!
or Call Us Now at 866-540-5069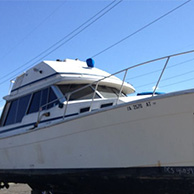 Excellent customer service!