Corpus Christi, Texas Car Donations
Donate Your Vehicle and Save Lives!
Corpus Christi, Texas Car Donations: Show Compassion and Charity to Struggling Breast Cancer Victims in Your City
You can now extend your support to financially struggling breast cancer patients and their families in Corpus Christi, Texas in the most convenient, simplest, and quickest way possible. We at Breast Cancer Car Donations have set up our Corpus Christi, Texas car donations program to make it easier for you to show your compassion to fellow city residents who are waging a valiant fight for their lives against breast cancer.
Through our car donations program, we generate funds for our non-profit organization partners to support their multi-pronged campaign against breast cancer. We have partnered with two charity organizations: the American Breast Cancer Foundation (ABCF) and the Women Involved in Nurturing, Giving, Sharing, Incorporated (WINGS, Inc.). These two non-profits are currently implementing programs that are aimed at achieving these objectives:
Help uninsured and underserved breast cancer patients gain access to medical screening, diagnosis, and treatment
Provide financial assistance to breast cancer patients, survivors, and their families
Fund research on more effective breast cancer treatment and cure
Boost information campaign to educate the public on the causes, prevention, and detection of breast cancer
The Benefits of Car Donations
By taking part in our Corpus Christi, Texas car donations program, you will turn your old unwanted vehicle into an instrument that can potentially save lives of breast cancer patients.
At the same time, you stand to receive surprising benefits for your donation that you can't find anywhere else. Aside from the satisfaction you will feel for extending a lifeline to people whose very lives depend on it, you will also receive other attractive rewards for your generosity:
First, your car donation will entitle you to a hefty tax deduction when you file your itemized personal income tax return. You will get more or less $500 in tax cut depending on your vehicle's final selling price at auction. In effect, you get back a portion of the cash value of your donated car.
Second, you get to unclog your garage or backyard by getting rid of that old unwanted car – and you don't even have to lift a finger or open your wallet to do it since it's free with us!
Third, you will actually save money donating your car to us rather than trying to sell. Take note that selling the car would mean spending money for repairs and repaint since you can't possibly find a good buyer for a car that has mechanical defects and looks messy. You also don't have to pay any more for your car's maintenance, registration, and insurance coverage if you just donate it to us.
Our Fast and Simple Car Donation Process
You will spend just a few minutes of your time in the comforts of your home when you donate a vehicle to our Corpus Christi, Texas car donations program. There are three steps in the process, but you only need to do the first step:
Once you've made up your mind on donating a car to us at Breast Cancer Car Donations, pick up your phone and give us a call at 866-540-5069. You may also fill out our online donation form to begin the process. Expect out quick response either way. We may require you to present the title of your vehicle. State policies may vary on this requirement. Feel free to call us so we can clarify this point.
We will get back to you after we've gathered all the necessary information about your vehicle. We will then ask you to pick the most convenient date, time, and place for us to pick up your vehicle for free. We will issue you a tow receipt during the pick-up. This will relieve you from any liabilities on your vehicle and gives you the right to cancel and cease paying for your car registration and insurance coverage. The receipt is also a requirement for the processing of your top tax deductions.
This is one of the biggest benefits of our Corpus Christi, Texas car donations program. Within 30 days after the sale of your car at auction, we will send you by mail your tax-deductible sales receipt showing your car's final selling price. That amount will determine how much you can claim as your tax deduction when you file your federal tax return.
Types of Vehicles We Accept for Donations
We accept nearly all types of vehicles in our Corpus Christi, Texas car donations program as long as they come with proof of ownership in the form of a title. We need this document so that we could sell it at auction.
We gladly welcome multiple donations because they mean more funds to use for the benefit of our beneficiaries, the poor breast cancer patients in your city.
Here is a partial list of the vehicles we accept for donation:
Cars: sedans, vans, SUVs, trucks, motorcycles, buses, pickups
Boats and planes: sailboats, motorboats, fishing boats, yachts, pontoon boats, houseboats, jet skis, non-commercial airplanes
RVs: recreational vehicles, motorhomes, campers, travel trailers, pop-up trailers, fifth wheelers
Specialty vehicles: ATVs, snowmobiles, motorized wheelchairs, riding lawn mowers, tractors, farm equipment.
It's time to show compassion and charity to our poor fellow city residents afflicted with breast cancer and who are fighting for their lives. Contact us at 866-540-5069 today and take part in our Corpus Christi, Texas car donations program.
or Call Us Now at 866-540-5069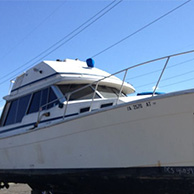 Excellent customer service!