Laredo, Texas Car Donations
Donate Your Vehicle and Save Lives!
Laredo, Texas Car Donations: Make a Difference in the Lives of Breast Cancer Sufferers
If you are looking for a way to dispose of your car without any hassle, you might want to donate it to our Laredo, Texas car donations program. Your donation to Breast Cancer Car Donations will surely be worth it because it will help save the lives of needy breast cancer victims.
Donating is easy and offers you plenty of benefits as well. You don't need to go anywhere or process any paperwork. All you have to do is give us a call or just fill out our online donation form.
We will forward the proceeds from your Laredo, Texas car donations to our two leading non-profit organization partners that are devoted to fighting breast cancer:
American Breast Cancer Foundation (ABCF) – This is an organization that is concerned with early detection and diagnosis of breast cancer. Its mission is to provide financial assistance for breast cancer screenings and diagnostic tests for uninsured individuals.
Women Involved in Nurturing, Giving, Sharing, Inc. (WINGS) – This organization covers the gap in services between diagnosis and treatment for uninsured breast cancer patients. It provides additional funding for the programs that are geared toward the prevention, screening, diagnosis, and treatment of breast cancer.
Breast Cancer: U.S. Data and Ancient History
Breast cancer is the second leading cause of cancer deaths among women in the United States. Thousands die each year because of breast cancer. About 12 percent of women in the United States are predicted to develop invasive breast cancer in their lifetimes. It is estimated that roughly 2,470 new cases of invasive breast cancer hit the country's male population as well.
Breast cancer was first recorded on papyrus in ancient Egypt. The famous papyrus that manuscript dealer Edwin Smith bought in 1862 contained the oldest known surgical records on various illnesses, including breast tumors. The earliest doctors who examined and attempted to cure the disease wrote that the disease had no cure.
The first successful treatment of breast cancer was made by Dr. William Halsted who performed the first radical mastectomy at Johns Hopkins Hospital in Baltimore, Maryland in 1882.  This surgical operation became a standard procedure until the 20th century. In 1895, the first x-ray was taken to detect breast cancer; it was later called as mammogram test.
Why Join Laredo, Texas Car Donations?
Donating your vehicle to our car donations program in the city will not only help our mission of saving lives of breast cancer patients. It will also make you eligible to receive certain benefits. One of the biggest benefits is your eligibility to receive a top tax deduction of more or less $500 depending on the sale price of your vehicle following its auction.
If you have an old clunker you want to get rid of, just donate it to us at Breast Cancer Car Donations and we will take it even if it's not in running condition. This saves you from repair, maintenance, and possible towing charges on top of storage fees.
We accept most types of vehicles, and here are some on our list:
Recreational vehicle
Automobiles
Riding lawnmowers
Trucks
Farm equipment
Airplanes
Boats
Motorcycles
Snowmobiles
Golf carts
Fleet vehicles
Campervans
3 Steps in Our Car Donations Process
Aside from the benefits stated above, donating your vehicle to our Laredo, Texas car donations program will entitle you to free pick-up and towing. The donation process only takes three steps:
Step 1: You may choose to fill out our online donation vehicle form or you can call us at 866-540-5069. You will be assisted by our friendly donations specialists. They will walk you through the process and provide all the necessary information about vehicle donation. They will require just a few details about your Laredo, Texas car donations, including:
Your vehicle's make and model
Your preferred time and date for pick-up
Your vehicle's location for pick-up and towing
Step 2: After we verify the information you shared, we will make arrangements with a professional tow company to collect your vehicle at the agreed time, date, and place for the pick-up.
Step 3: Your vehicle will be picked up by the tow company. You will be given a towing receipt that will release you from any liability. With this receipt, you are now free to discontinue payment for your car's insurance and registration, saving you money.
Your Laredo, Texas car donations will then be auctioned. At least 30 days after your vehicle is sold, we will send you a 100 percent tax-deductible sales receipt indicating the sale price of your vehicle. If your vehicle sells for less than $500, you can claim as a tax deduction the selling price or the vehicle's fair market value up to $500, whichever is higher.
If your vehicle sells for more than $500, you can claim only the exact amount for which it was sold, even if the fair market value is greater than the selling price.
Choose to make a difference in the lives of breast cancer sufferers and get your share of benefits by donating your car to our Laredo, Texas car donations program. Contact us at 866-540-5069 now.
or Call Us Now at 866-540-5069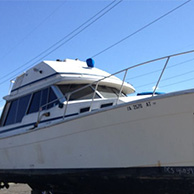 Excellent customer service!