Texas RV Donations
Donate Your Vehicle and Save Lives!
Join Texas RV Donations and Help Us 
Beat the Odds in the Battle against Breast Cancer
Are you stuck with an old RV? Are you having a hard time getting rid of it? We have a solution for you: Use it to join our Texas RV donations program? Don't think twice because this is your chance to finally get rid of that old RV sitting uselessly inside your garage. Not only that, you will also be supporting a great cause out of your RV donation: helping out the thousands of breast cancer victims in Texas.
Your RV donation to Breast Cancer Car Donations will help generate funds for America's most reliable and IRS-certified 501(c)(3) nonprofit organizations—the American Breast Cancer Foundation (ABCF) and Women Involved In Nurturing, Giving, Sharing, Inc. (WINGS). These two nonprofit partners share our mission of fighting the scourge of breast cancer and helping out its victims.
ABCF seeks to make breast cancer screening, diagnosis, and treatment accessible and available to uninsured and the underserved women all over the country. ABCF directs its efforts in giving education, medical access, and financial assistance to all individuals who need them, particularly the poor. Through its extensive link referral systems, people from various ethnic, socioeconomic and cultural backgrounds are connected to their local facilities that provide free and accessible resources, services and information.
On the other hand, WINGS provides financial assistance to indigent patients for their breast cancer treatment including surgery, oncology services, hospital fees, and outpatient medication as needed. It is also actively involved in outreach programs and is an advocate of raising public awareness for breast cancer prevention.
Breast Cancer Facts
Breast cancer is a disease caused by the rampant growth of cancerous breast cells. It happens due to abnormal alterations in the genes, which control the growth of cells and are responsible for keeping them healthy.
In its Cancer Facts and Figures 2018 report, the American Cancer Society estimates 266,120 new breast cancer cases and 40,920 deaths among U.S. women this year. Even though men rarely get the disease, the same source estimates 2,550 new breast cancer cases and 480 deaths among men in the U.S.
These numbers are very alarming indeed. However, you can help reduce these numbers and save the lives of thousands of breast cancer victims by taking part in our Texas RV donations fundraiser.
Why Choose Breast Cancer Car Donations?
When you participate in our Texas RV donations program, expect to get rewarded for your charitable contribution. Here are some of the perks you'll get:
Get a maximized tax deduction.
Enjoy our fast and free towing services.
Enjoy our easy, convenient, and stress-free donation process.
No need to do any paperwork.
You save money since you don't need to pay anymore for the cost of repairs and insurance and registration fees.
You get that great feeling of knowing that you are helping save the lives of breast cancer victims.
The Other Vehicle Types We Accept for Donation
You can donate to Breast Cancer Car Donations not just your rundown RV but all other unwanted vehicles that you may have. We welcome multiple donations since these would mean more funds for use in delivering vital services to our fellow Americans need breast health services. The condition of the vehicles you may donate is not much of an issue to us. Even if they're not in good running condition, for as long as we see that they have a good enough cash value, we'll take them.
Here's a list of the various types of vehicles we accept:
RVs: popup camper, travel trailer, teardrop trailer, 5th wheelers, toterhomes, and toy haulers
Common vehicles: cars, pickup trucks, vans or minivans, SUVs, and motorcycles
Boats and watercraft: Sailboats, fishing boats, motorboats, houseboats, pontoon boats, yachts, and jet skis
Specialty vehicles: snowmobiles, ATVs, golf carts, motorized wheelchairs, non-commercial airplanes and helicopters
Fleet vehicles: passenger vans, cargo vans, trucks and buses
How to Donate Your RV to Us
Once you commit to join our Texas RV donations fundraiser, we will provide you with a quick and efficient donation process. It's completely hassle-free and can be done without leaving the comforts of your home, requiring just a few minutes of your time. Here is a brief guide to our three-step donation process:
First:
Fill out our online donation form or call us through our hotline at 866-540-5069 where one of our donation specialists will guide and help you. We will need your personal contact information and your RV's year, make, model, mileage, general condition, and title availability.
Second:
We will then schedule your RV's pickup based on the date, time, and location most preferable to you. We will make arrangements with a licensed towing company to pick up your car. The towing fee is on us, and you don't have to pay for anything.
You don't have to be present during the pickup, and you can just assign anybody to represent you. During the pickup, the towing company will hand you or your representative a towing receipt. This releases you from all liabilities, enabling you to cancel and stop paying for your RV's insurance and registration.
Third:
Within 30 days after we auction off your RV, we'll send you your 100 percent tax-deductible sales receipt, indicating your donated RV's final selling price. This will serve as the basis of your tax deduction claim when you file your itemized federal income tax return for the next tax-filing season.
Let's Do It Together!
If we team up, we can beat the odds and make significant gains in the battle against breast cancer. Take part in our Texas RV donations program now. If you are ready to go, contact us right away at 866-540-5069! Donate your RV and help save lives!
or Call Us Now at 866-540-5069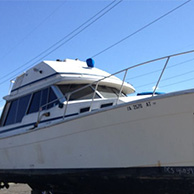 Excellent customer service!