Houston, Texas Car Donations
Donate Your Vehicle and Save Lives!
Join Us In Our Mission to Save Lives of Breast Cancer Victims!
The prevalence of breast cancer cases in Houston is one of the reasons why we at Breast Cancer Car Donations are intensifying our Texas car donations campaign. When you donate a car in Houston, you take part in the fight against this disease.
The number of breast cancer patients in the city is rising even as the funds to help these individuals are going down. As a result, many patients in Houston aren't getting the necessary treatment to fight the advance of the deadly disease.
Breast cancer affects both victims and their families. These people suffer emotionally, financially, and physically. This is one of the reasons why breast cancer is such a devastating disease.
The patient suffers to a great extent. As the disease worsens, the patient experiences emotional distress. This can be quite devastating when paired with physical pain.
The families of these patients go through an emotional roller coaster. Desperation often comes into play due to the impending loss of a loved one. It can be quite difficult to provide support to an individual when you are also mentally distressed.
Financial constraints also add to the family's misery. Breast cancer treatment is often expensive. The price of healthcare often bars poor families from getting such treatment.
Why We Are Here in Houston
Breast Cancer Car Donations is here to provide a convenient way to show compassion and generosity to fellow Houston residents who are waging a gallant fight for survival against breast cancer. Without financial support for their treatment, they cannot be expected to win the fight and beat the disease.
When you donate your car, however, you will give hope to these patients. A single car can make a big difference in the life of a breast cancer patient.
Our Convenient Car Donations Process
We designed our car donations program with the convenience of our donors in mind. It's a simple three-step process where the donor only has to take the first step, with us taking care of the rest.
Step 1:
Visit our website and fill out the online vehicle donation form. You may also contact us at 866-540-5069. One of our friendly donation specialists will assist you through the process. We will ask for your personal contact details, your vehicle's year, make, model, mileage, availability of a title, and overall running condition.
Step 2:
Allow us to pick up your vehicle for free and at your preferred time, date, and place. A local professional towing company will tow your car, and we'll be the one to pay for this. Your presence is not required on the day of pickup. However, please let us know where we could locate your vehicle's title and keys inside your car. Before we leave, we will give you a donation receipt that will free you from all liabilities on the car, which means you can now cancel and stop paying for your car registration and insurance coverage.
Step 3:
Receive your tax-deductible receipt by mail. Within 30 days after we sell your car, we'll send you this document that shows how much your vehicle was sold. You'll need this to claim your maximum tax deduction once you file your federal tax return.
Benefits that Await Our Car Donors
Aside from our donor's convenience, we also designed our Texas program in such a way that donors will be able to reap substantial rewards for their generosity. Here are the rewards that await our car donors:
Receive a hefty tax deduction for your donation.
We'll pay for the pick-up and towing of the vehicle you're donating.
Save money by not paying any more for car repair, registration, and insurance.
Avoid the hassles of selling your car.
No need to bother with paperwork – we do that for you.
More space in your backyard or garage to house your new car.
The donation process only takes a few minutes of your time.
Support a worthy cause that will give you a deep sense of personal satisfaction.
Types of Vehicles We Accept for Donation
We accept almost all types of vehicles in Houston, as long as they come with your proof of ownership. We need this document so that we can sell these vehicles at auction.
We also welcome multiple types of vehicles for donation, from motorcycles to boats to RVs, since they would generate more funds for the benefit of breast cancer patients.
Here is a list of the types of vehicles we accept for donation:
Cars: sedans, vans, SUVs, trucks, motorcycles, buses, pickups
Boats and planes: sailboats, motorboats, fishing boats, yachts, pontoon boats, houseboats, jet skis, non-commercial airplanes
RVs: recreational vehicles, motorhomes, campers, travel trailers, pop-up trailers, fifth wheelers
Specialty vehicles: ATVs, snowmobiles, motorized wheelchairs, riding lawn mowers, tractors, farm equipment.
Donate a car to charity to join us in our mission to save lives! Contact us at 866-540-5069 or fill out the form below to get started!
or Call Us Now at 866-540-5069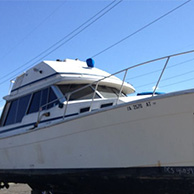 Excellent customer service!