https://www.cardonations4cancer.org/wp-content/themes/naked/img/banner-faq-01.jpg
Irving, Texas Car Donations
Donate Your Vehicle and Save Lives!
Irving, Texas Car Donations: Turn Your Vehicle into a Breast Cancer-Fighting Tool
You may not know it yet, but the little act of donating your car to our Irving, Texas car donations program can bring a meaningful difference for women struggling with breast cancer. Your idle or useless automobile can turn into a cancer-fighting tool when you donate it to Breast Cancer Car Donations. Here's what you need to know.
We have teamed up with reputed nonprofits that are devoted to supporting cancer patients and their families the best way they can. Not only that, these organizations also continuously strive to find ways to fight the life-claiming illness through early detection, improved treatment and, possibly in the near future, a guaranteed cure.
Breast Cancer Car Donations uses your donated vehicles to generate funds that serve to fuel cancer research. Through your Irving, Texas car donations, you'll help save many lives just by getting rid of an old car!
If you have any more queries about Breast Cancer Car Donations, take a look at our FAQs page here.
A Quick and Simple Donation Process Just for You
Admit it: Handling loads of paperwork can be a nuisance, especially if you don't have the time for it. Looking for an affordable towing company can also be exhausting. That's why we at Breast Cancer Car Donations make sure that you won't be going through any of these.
That's right. We care so much about your welfare that we don't want you to experience a troublesome donation process. Allow us to take care of everything once you inform us about your decision to donate.
All it takes is a phone call, or you may choose to fill out our online donation form, whichever you prefer. We'll need some information about the vehicle you plan to donate to our Irving, Texas car donations program. After that, we will arrange a date and time for the pick-up.
When we come to your home, or whatever pick-up place you prefer, the truck from the towing company we contracted will haul your car away. You don't even have to be around if you have to be somewhere else. The towing company will give you a towing receipt that will release you from all liability. You can now stop paying for your car's insurance and registration, saving you money.
Once your vehicle is in our possession, we will auction it off. The proceeds will go to our nonprofit partners, enabling them to push through with their cancer research.
Expect a 100 percent tax-deductible sales receipt in your mailbox at least 30 days after we sell your donated vehicle at its highest possible price. If your vehicle is sold for less than $500, you can claim the selling price or the vehicle's fair market value up to $500, whichever is higher. You can calculate the fair market value of your car by checking the prices online for vehicles of the same make, model, year and condition as your car.
If your vehicle sells for more than $500, you can claim only the exact amount for which it was sold, even if the fair market value is greater than the selling price. For more information on this, please call us at 866-540-5069.
With a donation process like this, you don't have to look for other car donation programs in the city anymore. What are you waiting for? Donate to us now.
Types of Vehicles for Our Irving, Texas Car Donations Program
Another good reason why you'll love working with us is the fact that we accept vehicles that are no longer in running condition. We will hire a tow truck to take it away.

Breast Cancer Car Donations is open to accept almost all kinds of vehicles, including aircraft and watercraft. To give you more ideas of what we usually qualify as Irving, Texas car donations, check out the list below:
Specialty vehicles: snowmobiles, tractors, motorized wheelchairs, riding lawnmowers
Motorcycles: cruisers, sports bikes, scooters, dirt bikes
Watercraft: boats, jet skis, cruise ships, yachts
RVs: pop-up trailers, travel trailers, 5th wheelers, motorhomes
Cars: minivans, trucks, SUVs, compact cars
We don't mind accepting multiple vehicle donations, in case you might ask. Also, don't hesitate to contact us if you're still uncertain about your car's eligibility for our Irving, Texas car donations program.
What Makes Breast Cancer Car Donations a Great Choice?
If you're planning to donate a car to our Irving, Texas car donations program, you're definitely in for a treat! Besides going through a donation process that's hassle-free and convenient, or possibly getting the chance for a top tax deduction, there's more to receive from your car donation. For sure, your good deed comes with more than just one reward!
Here's a list of great things that await when you collaborate with us in our fight against breast cancer:
Get rid of an unwanted or unneeded car at no cost
No need to go through the stressful process of selling or advertising
No need to make deals or negotiations with others
No need to manage documents
Be able to save money when you'll no longer pay for your car's insurance, maintenance, or repair fees
Give your garage or driveway more space or even a whole new look
Feel happy knowing that your Irving, Texas car donations will play a huge part in supporting breast cancer patients and their families
Help Breast Cancer Patients in Irving, Texas Today
Are you ready to make a change for cancer patients with your car donation? Make a donation to us today! Call Breast Cancer Car Donations at 866-540-5069.
or Call Us Now at 866-540-5069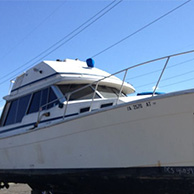 Excellent customer service!