McAllen, Texas Car Donations
Donate Your Vehicle and Save Lives!
Join Fight against Breast Cancer and Save Lives Through McAllen, Texas Car Donations
Did you know that every car donated to our McAllen, Texas car donations program can help save the lives of women suffering from breast cancer? If you seek to join the fight against this deadly disease and effectively help its victims, you can do so by donating a vehicle to us at Breast Cancer Car Donations. We will use your donated vehicle as a financial resource to fund our programs that help women overcome breast cancer.
Our donation process makes it easier for you to dispose of an old vehicle while helping out breast cancer patients who are in need of assistance. Though your old car may seem worthless to you now, for the people that will benefit from it, it could mean the world. All you need to do is to pick up your phone and your vehicle will be on its way to save the lives of breast cancer patients.
Breast Cancer Numbers in the U.S.
The number of breast cancer cases remains at a high level even with the improvement in technology. In fact, according to the recent statistical projections reported by Breastcancer.org, 266,120 people are going to be diagnosed with invasive breast cancer this year, and it is estimated that 40,920 will die because of it.
Despite the numerous efforts in eradicating this horrible disease, many are still suffering because of it. What's worse is that a lot of people diagnosed with breast cancer choose not to receive treatment mainly because they could not afford the costs. This is why Breast Cancer Car Donations works hard to help these women in their fight against this deadly disease by providing them with all kinds of support they need.
When you decide to participate in our car donations program in the city, you would be increasing the chances of survival of breast cancer patients by enabling them to gain access to health care facilities offering treatment.
The proceeds from the sale of donated vehicles will be used to fund our nonprofit organization partners: the American Breast Cancer Foundation and Women Involved in Nurturing, Giving, Sharing, Inc. (WINGS). These two nonprofits use the funding they receive from us to provide breast health services to all individuals who need them, particularly to uninsured and underserved women afflicted with the disease.
McAllen, Texas Car Donation Benefits
What's amazing about our donation program is that you don't only get to help breast cancer patients since you would also be doing yourself a huge favor with the amazing benefits you'll get to enjoy. These benefits include:
Easily get rid of a car that's just taking up space in your garage or driveway.
Avoid the difficulty, security risks, and waste of time, effort, and money in trying to sell an old car.
Get that garage space back and use it for something more useful.
Save the money intended for insurance payment and maintenance cost.
Get a handsome tax deduction.
Feel good knowing that you're donating for a great cause.
Want to know more about your car donation benefits? Inquire about our McAllen, Texas car donations program by calling 866-540-5069.
The Types of Vehicles We Accept for Donation
We will accept your vehicle in our McAllen, Texas car donations program whether it is perfectly working or not. The only vehicles we don't accept are those that are completely wrecked and the stolen or abandoned ones that have no title or proof of ownership.
Here are some of the vehicle types we accept for donation:
Common vehicles: cars, SUVs, pickup trucks, vans or minivans
Recreational vehicles: campers, trailers, five-wheelers, motorhomes, travel trailers, and toy haulers
Motorcycles: standard motorcycles, cruiser, touring, sports bikes and scooters
Watercraft: boats, fishing boats, pontoon boats, yachts, jet skis, sailboats, and motorboats
Specialty vehicles: golf carts, ATVs, snowmobiles, farm equipment, motorized wheelchair, and tractors
Just make sure that you have your title ready when you make a donation. If you lost your title, give us a call and we'll be happy to help you out in getting a replacement.
How to Donate a Vehicle to McAllen, Texas Car Donations
Another wonderful thing about our donation program is that it's quick and straightforward. To start donating, you can fill out our online donation form or better yet, call us at our toll-free 24/7 hotline 866-540-5069. We would need a bit of your personal information as well as your car's details. After that, we'd ask you to pick a convenient time and date for pick up.
After picking up your car, we will refurbish and display it at an auction house. Once it's sold to the highest bidder, we will send you by mail your 100-percent tax-deductible sales receipt. The receipt will show the price for which your car was sold. This would serve as the basis of your tax deduction claim when you file your itemized federal income tax return for the next tax-filing season.
If you have questions regarding our McAllen, Texas car donations process or any related matter, feel free to call us at 866-540-5069. You can also visit our FAQ's page or send us a message online.
Make a Difference Today!
If you're ready to participate in our McAllen, Texas car donations program, contact us right away and we'll be happy to offer assistance in any way we can. Call 866-540-5069 and start saving the lives of women afflicted with breast cancer in McAllen, Texas!
or Call Us Now at 866-540-5069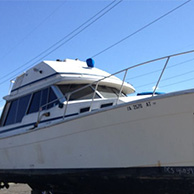 Excellent customer service!