Michigan Car Donations
Donate Your Vehicle and Save Lives!
Michigan Car Donations: Show Breast Cancer Sufferers That There's Still Hope
Did you know that a potential cure for breast cancer could be discovered when you make a car donation to our Michigan car donations program? As unbelievable as it may sound, it could be possible, especially with Breast Cancer Car Donations. A car that you consider useless can actually save and transform the lives of breast cancer patients and their families.
This form of cancer has taken the lives of countless women and even some men, with it being the second leading cause of cancer deaths in the country, next only to lung cancer. You can help us find a way to end it by giving us an old and unwanted vehicle of yours. Here's how.
Breast Cancer Car Donations works with well-known nonprofit organizations that seek to find a remedy for the deadly disease as well as help its victims. We convert your car donations in Michigan into a fund-generating tool that will allow these organizations to continue their fight against breast cancer.
Although there are lots of car donation programs in Michigan to choose from, partnering with Breast Cancer Car Donations seems to make the most sense. Why's that? Aside from getting tax deductions from us, you also get to experience a donation process that's completely void of complications.
Why Should I Work with Breast Cancer Car Donations?
We have the answer if you're wondering, "Why should I donate my car?" When you donate a car in the state, it's always a good decision to choose a program that provides the donors many benefits. With us, you'll definitely be in for a treat! Because you care a lot about breast cancer patients in the country, we show our gratitude by giving you several things to be happy about.
Your contribution to our Michigan car donations program not only helps cancer-stricken women; it also offers you different perks to enjoy, such as:
A possibility of receiving huge tax deductions
A quick and convenient donation process
Getting your vehicle towed for free
Freedom from paying your car's insurance and registration
No need to make negotiations with annoying hagglers
No need to advertise or look for buyers
Additional space for your yard, driveway or garage
With all these benefits waiting for you, we find no reason why you wouldn't want to take part in our Michigan car donations program. Give us a call now at 866-540-5069 and donate a car.
Enjoy a Stress-free Donation Process
Here at Breast Cancer Car Donations, we place your needs first before ours, which is why we try to make the donation process as fast and simple as possible. And what do we mean by that? We take care of everything — from the free towing of your vehicle to the paperwork processing, and to the delivery of your tax or car sales receipt.
So what's the only thing you'll be doing? Contact us. Once you're ready to part ways with an old car of yours, inform us through a phone call or by filling out our online donation form.
Before we set a schedule for your donated vehicle to be picked up, we need to know certain details about it, such as its manufacturer, model, and mileage. The tow truck we hired will come at a time that's convenient for you. You don't even have to be present when we haul your car away.
We'll be auctioning off your Michigan car donations as means of generating funds to support our partner nonprofits that are committed to putting an end to breast cancer. Your car or boat donation will enable these organizations to continue extending assistance to breast cancer victims and supporting research on the prevention, diagnosis, and treatment of the devastating disease.
After your vehicle has been sold, we will send you your 100 percent tax-deductible sales receipt indicating your donated vehicle's sale price. The indicated amount will serve as the basis of your tax deduction claim when you file your itemized income tax return.
That's pretty much the entire process of donating to our Michigan car donations program. Sounds ideal for everyone, don't you agree?
What Vehicles Usually Qualify as Michigan Car Donations?
Now that you're well aware of our donation process and the perks that go along when you make a donation to us, it's time that you know about the vehicle types we normally accept. We're happy to say that we accept almost all sorts of automobiles, including the ones that are not in running condition anymore. So if you're planning to get rid of a truck that's giving you all sorts of problems, don't hesitate to give it to us!
Check out the list below to get an idea of what vehicles we have in our Michigan car and boat donation program:
Cars: SUVs, convertibles, vans, buses
Motorcycles: cruisers, sports bikes, scooters, touring motorcycles
Watercraft: yachts, motorboats, catamaran boats, ski boats
RVs: folding and tent trailers, motorhomes, travel trailers, campers
Specialty vehicles: atvs, golf carts, snowmobiles, farm equipment
Aircraft: planes, helicopters, choppers
Do you some questions about your vehicle's qualifications for our Michigan car donations program? How about giving us a call and letting us know about your concern? Ready to donate a snowmobile or submit an RV donation or boat donation in Michigan? We'd love to hear from you.
You may also want to have a look at our FAQs page here.
Make a Car Donation With Us Today
Let's put that old van of yours to good use and help breast cancer patients in Michigan. Show these cancer victims that there's still hope! Contact us now at 866-540-5069 and donate your car.
Donate a Car to Michigan Breast Cancer Nonprofits Today!
Looking for more information about donating in a particular area of Michigan? Click on one of the cities closest to you from the list below.
or Call Us Now at 866-540-5069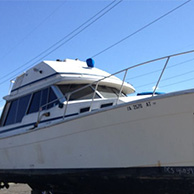 Excellent customer service!