Car Donations Dearborn, Michigan
Car Donations in Dearborn, Michigan: Teaming Up with Us Is a Classic Win-Win Deal!
Did you know that the longer you keep a car that you hardly use, the more you hurt yourself financially? When the vehicle's free maintenance and warranty periods are over, the costs of its general upkeep and repair can skyrocket over time. What's more, letting that eyesore clog up your driveway will annoy not just you and your household but your neighbors as well.
If you want to be nice to yourself and the people of Dearborn, Michigan, consider donating that vehicle to Breast Cancer Car donations today through our Dearborn, MI car donations program. Aside from enjoying the fastest, most convenient, and cheapest way to dispose of a vehicle, your donation will also help fund the life-saving programs of our charity partners.
How Your Car Donation Will Help Save Lives
Once we get hold of your Dearborn, MI car donation, we'll have it auctioned off and turn over the proceeds to our breast cancer-focused charity partners. These IRS-approved 501(c)(3) nonprofits use the funding that we provide them to deliver a range of breast health services to uninsured and destitute breast cancer patients. These services provide them easy access to top medical facilities and financial assistance to cover the cost of their treatments, physician visits, medications, and follow-up care. Other beneficiaries get to receive free breast cancer screening and prevention and education services.
Reasons Why Making a Dearborn, MI Car Donation Is the Right Choice
Still not convinced that donating your vehicle to Breast Cancer Car Donations makes sense? Check out the best reasons why handing it over to our Dearborn, MI car donations program is the right choice for you:
Receive the maximum tax deduction.
Since we're working with IRS-certified 501(c)(3) nonprofits, your donation will qualify you for a top tax deduction in the next tax season. We'll make sure that your vehicle is sold at its highest possible price so that you can enjoy the maximum tax deduction.
You'll get FREE car removal.
You don't have to pull out your credit card to pay for the cost of towing. With us, towing is absolutely free.
We'll handle all the paperwork for you.
Donating to us means leaving all the stressful paperwork-handling to our team of experts.
Save yourself from the hassles associated with selling a used car yourself.
It's tough to sell a beater that needs a lot of work. You may need to spend a small fortune on repairs and bodywork before you can make it sellable. If you decide to donate it to us, you won't need to spruce it up because we'll take it as it is!
Stop your financial hemorrhage.
With your vehicle safely in our hands, you no longer have to bleed yourself dry in paying off the costs of your clunker's repairs, maintenance, insurance, and other related expenses.
You'll feel good about yourself.
Perhaps the best thing about donating to Breast Cancer Car Donations is the fact that your old heap will turn out to be one of the reasons why an uninsured breast cancer patient in your area gets to receive the treatment that she desperately needs to survive.
How to Donate a Vehicle to Breast Cancer Car Donations
Breast Cancer Car Donations makes it extremely easy for you to impact the lives of breast cancer victims and their families in your city. Our simple and straightforward donation process guarantees a smooth giving experience for you — even if it's your first time to make a vehicle donation. To prove this point, here's a look at our 3-step Dearborn, Michigan car donation process:
1. Fill out our online donation form or call us at 866-540-5069.
You may choose to donate your vehicle through our website or over the phone. Simply give us your contact information and a few basic details about your vehicle such as its year, make, model, mileage, and working condition. You'll also need to confirm the availability of the title to your vehicle.
2. We'll haul off your vehicle.
We'll verify your information before we call you back to schedule your vehicle's free pickup based on the time, date, and location of your choice. We can also arrange a contactless pickup so that you don't have to be present when the tow truck comes to haul off your clunker. Just tell us where in your vehicle we can find your keys and title before the date of the pickup.
3. We'll mail you your tax-deductible receipt.
As soon as we receive your vehicle, we'll have it sold in one of the best auction houses within our network. Within 30 days after we process its sale, you can expect to receive your 100% tax-deductible sales receipt by mail.
For more information on our vehicle donation program, check out our FAQs page. If you have any concerns or questions, you may call us at 866-540-5049 or write to us here.
The Types of Vehicle You Can Donate
The best thing about donating to us is that we're willing to accept any type of vehicle in whatever condition it may be in — as long as it's not abandoned or stolen. To make it possible for us to sell a vehicle at auction, we need its title or proof of ownership, which abandoned or stolen vehicles do not have.
However, in case you've just misplaced your vehicle's title, call us at 866-540-5069 and we'll gladly help you secure a duplicate copy of your title quickly so you can proceed with your donation.
Look over this list of vehicles that we welcome in our Dearborn, MI car donations program:
Cars: sedans, compact cars, coupes, luxury cars, convertibles, hybrids, sports cars
SUVs: compact, mid-size, full-size, crossover versions
Vans: cargo vans, passenger vans, family vans, minivans
Trucks: mobile cranes, garbage trucks, refrigerator trucks, tank trucks, dump trucks, extended cabs, box trucks
RVs: toy haulers, folding and tent trailers, hybrid trailers, travel trailers, motorhomes, campers
Fleet vehicles: limousines, buses, minivans, vans, taxis, ambulances
ATVs: three-wheelers, four-wheelers
Motorcycles: scooters, mopeds, choppers, touring bikes, sports bikes, dirt bikes, off-road bikes, cruisers
Specialty vehicles: motorized wheelchairs, ATVs, golf carts, snowmobiles, riding lawnmowers
Work vehicles: landscaping vehicles, tractors, farm equipment, construction vehicles
Aircraft: gliders, noncommercial planes, helicopters
Water vessels: cruise ships, yachts, pontoon boats, catamarans, tugboats, sailboats, speedboats, fishing boats, motorboats
What Are You Waiting For?
For breast cancer patients in your city who are fighting for their lives, time is of the essence. Help them beat this disease by taking part in our Dearborn, MI car donations program. Call us at 866-540-5069 or fill out our online donation form to get started!
or Call Us Now at 866-540-5069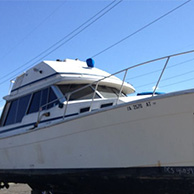 Excellent customer service!