Car Donations Ann Arbor, Michigan
Your Clunker Can Give New Hope to Struggling Breast Cancer Patients
If you'd like to make a difference in the lives of the struggling breast cancer patients in Ann Arbor, Michigan, without spending a single dime, you can do that by simply calling us at Breast Cancer Car Donations and handing over to us any vehicle that you no longer need. We will use your donation to improve the chances of survival of needy breast cancer patients in your city.
A Closer Look at Breast Cancer and Your City
Did you know that breast cancer affects 1 in 8 American women? According to the estimates of the American Cancer Society for breast cancer in the U.S. for 2021, about 281,550 women will be diagnosed with invasive breast cancer and about 43,600 will die from the disease. A number of these breast cancer victims reside in Ann Arbor, a city where half of its 119,980 population was classified as females as of July 2019, according to the U.S. Census Bureau. About 22.6% of the city's population comprised of persons in poverty while 3% comprised of persons under 65 years who had no health insurance.
Whether you're an Ann Arbor local or a visitor who has fallen in love with the city and its people, you can choose to help ease the burden of those who have been diagnosed with breast cancer by participating in our Ann Arbor, MI car donations program.
How Vehicle Donations Benefit Needy Breast Cancer Patients
Breast Cancer Car Donations is the online vehicle donation platform of reputable IRS-determined 501(c)(3) nonprofit organizations that are battling breast cancer in communities across the United States. We sell at auction all vehicles donated to our Ann Arbor, MI car donations program.
We then transfer the proceeds to our charity partners. They make use of the funding to provide their beneficiaries with financial assistance and easy access to chemo, radiation, and other forms of treatment. They also offer free consultations, labs, and mammogram tests five years after cancer remission as well as counseling for breast cancer patients and their families.
Reasons Why Making an Ann Arbor, MI Car Donation Makes a Lot of Sense
Donating an unneeded vehicle to Breast Cancer Car Donations is one of the smartest decisions you can ever make in your life. We've rounded up this list of reasons why participating in our Ann Arbor, MI car donations program makes a whole lot of sense:
You can substantially reduce your tax burden in the next tax season because your gift is 100% tax-deductible.
Vehicle pickup is always free with us.
Our team will handle all the logistics.
We'll collect your vehicle from any location of your choice at a time and day convenient for you.
Donating your clunker to us means freeing yourself from any responsibility related to your vehicle's repairs, maintenance, storage, and insurance.
You'll feel great, knowing that you'll be helping save the lives of destitute women afflicted with breast cancer.
Our Donation Process is as Easy as 1-2-3!
With Breast Cancer Car Donations, we can guarantee you a most pleasant giving experience. Our donation process is seamless and you won't have any trouble going through it. Plus, our team is always ready to assist your every step of the way. Here's a look at what you can expect when you make a car donation to us in Ann Arbor, Michigan:
1. Give us your contact information and a few basic details about your vehicle.
You can choose to provide us with the details that we require over the phone by calling us at 866-540-5069 or by filling out our donation form here.
2. Schedule your 100% FREE contactless vehicle pickup.
Once we've verified your information, we'll contact you to arrange the schedule of your fast and free contactless pickup. You just have to tell us where we can locate your keys and vehicle title inside your vehicle.
3. Receive your tax-deductible receipt by mail.
Within a few days after your vehicle gets auctioned off, we'll send you by mail its 100% tax-deductible sales receipt.
If you're interested to learn more about our vehicle donation program, feel free to visit our FAQs page. Should you have any concerns, don't hesitate to call us at 866-540-5069 or write to us here.
You Can Donate Nearly Any Type of Vehicle
One of the best things about donating to Breast Cancer Car Donations is that we take almost all types of vehicles. What's more, we're willing to accept vehicles that are no longer in good working condition.
The only vehicles that we cannot accept are those that are abandoned because we can't sell a vehicle that doesn't have a title. Should you find an abandoned vehicle somewhere, don't donate it to us — notify the local police instead.
Furthermore, if you're thinking about clearing your garage by getting rid of all your unwanted vehicles, don't hesitate to donate them all to us. Our team is equipped to haul off multiple donations.
Check out this list of vehicles that we welcome in our Ann Arbor, MI car donations program:
Cars: sedans, compact cars, luxury cars, convertibles, sports cars, hybrids, coupes
SUVs: compact, mid-size, full-size, crossover versions
Vans: cargo vans, passenger vans, family vans, minivans
RVs: pop-up campers, 5th wheels, diesel motorhomes, Class A motorhomes, Class B motorhomes, Class C motorhomes, toy haulers, teardrop campers, horse trailers, folding and tent trailers, hybrid trailers
Trucks: mobile cranes, garbage trucks, refrigerator trucks, tank trucks, truck campers, travel trailers, dump trucks, extended cabs, box trucks
Fleet vehicles: limousines, buses, minivans, ambulances, vans, taxis
Motorcycles: scooters, mopeds, choppers, touring bikes, sports bikes, dirt bikes, off-road bikes, cruisers
ATVs: three-wheelers, four-wheelers
Specialty vehicles: motorized wheelchairs, riding lawnmowers, ATVs, golf carts, snowmobiles
Work vehicles: tractors, farm equipment, construction vehicles, landscaping vehicles
Water vessels: cruise ships, yachts, pontoon boats, catamarans, tugboats, sailboats, speedboats, fishing boats, motorboats, Boston whalers, center console boats, bowrider boats, Chris-Craft boats, Jet Ski
Aircraft: gliders, planes, helicopters
Help Save Lives Today!
Why hold on to a useless vehicle when you can use it to help save the lives of uninsured and underserved breast cancer patients in your city? Jumpstart your Ann Arbor, MI car donations process by calling us at 866-540-5069 or filling out our online donation form today!
or Call Us Now at 866-540-5069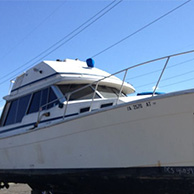 Excellent customer service!