Detroit, Michigan Car Donations
Donate Your Vehicle & Transform Lives!
Help Save Lives of Destitute Breast Cancer Patients in Your City
Detroit, Michigan is well known for being the motor capital of the United States. With three of the leading car manufacturers based in the city, it comes as no surprise that nearly two-thirds of Detroiters own a car.
Because of the huge number of vehicle owners in the city, local officials have been working to lower the cost of auto insurance and improve the road conditions in the city. As a result, more locals are finding it more practical to drive their own cars than take public transport to reach their destinations.
However, if you own an old and unreliable car, you might find driving it more of a challenge than commuting. Aside from the constant worry about when your auto will conk out, you also have to deal with the high cost of maintenance and spare parts.
When you finally decide to let go of your clunker, you may be faced with yet another dilemma of what to do with it. Selling it entails additional expenses because you need to repair and refurbish your auto to make it marketable. Sending it to the junkyard would set you back hundreds of dollars for towing and you'd only get peanuts from the junk shop owner in return.
The good news is that you can flip your situation into a win-win scenario. All you got to do is donate that car to Breast Cancer Car Donations through our Detroit, Michigan car donations program.
When you do so, you'll convert your problematic car into an instrument of hope and relief for the destitute individuals struggling with breast cancer in your community. At the same time, you'll experience the quickest, most convenient and hassle-free way of getting that clunker off your hands at no cost to you.
Why Are We Here?
We at Breast Cancer Car Donations operate and manage vehicle donation programs in various cities and towns throughout the country to add to the financial muscle of our IRS-certified 501(c)3 nonprofit partners. These nonprofits offer critical programs and services for the benefit of uninsured individuals from low-income families. They provide low-cost or no-cost breast cancer screening, diagnosis, and treatment services to their beneficiaries.
With your car donation to us in Detroit, MI, you'll help provide comprehensive breast health services to all deserving individuals in your city.
The Amazing Rewards You'll Get from Your Car Donation
You'll enjoy huge perks when you donate a car to Breast Cancer Car Donations. You can count on us to make everything easy for you.
Here are some of the rewards you'll get when you take part in our Detroit, Michigan car donations program.
1. You'll receive a top tax deduction in the next tax season.
2. You'll get free vehicle pickup and towing.
3. Our donation process is simple and straightforward and our customer service is superb.
4. We'll take care of all the logistics and the paperwork concerning your car donation.
5. Quit paying for your unwanted car's insurance coverage, registration, storage, maintenance, and repairs.
Supporting Detroit, Michigan Car Donations Is Easy
In just a matter of minutes, the car that you no longer need or want can become a tool for delivering life-saving assistance to cash-strapped breast cancer patients. Our Detroit, MI car donations process comprises of only three simple steps:
Fill out our donation form on this website. You can also choose to donate your clunker over the phone by calling us at 866-540-5069. We'll ask a couple of questions about the vehicle you're donating such as its year, make, model, mileage, etc.
Schedule your free car removal.
We'll get in touch with you as soon as we verify the information you provided. We'll then ask about your preferred time and day for the pickup of your car, as well as its pickup location. We'll assign a licensed towing company to collect your donation for free. The driver will hand you a towing receipt before hauling off your vehicle. The receipt will release you from all liabilities on your vehicle from that point onward. With this receipt, you're now free to cancel your vehicle's DMV registration and insurance coverage.
Receive your tax-deductible receipt by mail.
After we thoroughly assess your donation, we'll coordinate with one of our vehicle liquidation vendors to have it auctioned off at its highest possible price. This way, you can claim the maximum tax deduction from your donation. Once your vehicle is sold, we'll have your 100% tax-deductible sales receipt delivered to your given address by mail or email. You'll need this receipt to claim your tax deduction when you file your itemized federal income tax return in the next tax season.
You can get more information about our vehicle donation program by visiting our FAQs page. You may also call us at 866-540-5069 or send us a message online.
The Types of Vehicles You Can Donate
When you participate in our Detroit, MI car donations program, you can easily get rid of not just your rusty car but any other type of unwanted vehicle that you have. You don't have to worry about the condition of your car because we'll take it as it is as long as it has its registration title and keys.
Check out this list of the different vehicle types that you can donate to us:
Cars: sedans, coupes, convertibles, wagons, luxury cars, sports cars, hybrids, hatchbacks
Trucks: box trucks, pickup trucks, extended cab pickup, panel trucks
SUVs: compact, midsize, full-size or crossover versions
Vans: cargo vans, passenger vans, camper vans, family minivans
Motorcycles: scooters, off-road bikes, cruisers, sports bikes, touring bikes
Recreationalvehicles: motorhomes, snowmobiles, jet skis
Aircraft: gliders, helicopters, private noncommercial planes
Boats: cruise ships, catamaran boats, sailboats, fishing boats, tugboats, speedboats, pontoon boats, yachts
Specialtyvehicles: ATVs, riding lawnmowers, motorized wheelchairs, golf carts
Fleet vehicles: ambulances, limousines, taxicabs
Work–relatedvehicles: buses, farm equipment, construction vehicles, landscaping vehicles
Get Rid of Your Clunker Today!
Now that you know how your old clunker can help save lives, don't waste time. Call us at 866-540-5069 or fill out our online donation form to take part in our Detroit, Michigan car donations program now!
or Call Us Now at 866-540-5069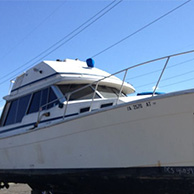 Excellent customer service!