Car Donations Flint, Michigan
Car Donation Flint, Michigan: Get Your Unwanted Vehicle Off Your Hands in the Most Sensible Way
If you've driven your vehicle into the ground, then we wouldn't be surprised if you're looking to find the best way to get it off your hands. Before you decide to sell it or pass it on to a friend or a relative, you might want to consider donating it to Breast Cancer Car Donations instead.
Your donation will not only entitle you to free towing and a chance to substantially reduce your taxable income in the next tax season but will also allow you to assist in saving the lives of needy locals stricken with breast cancer in Flint, Michigan.
A Closer Look at Breast Cancer
Next to skin cancers, breast cancer is the most common type of cancer that afflicts women in the United States, affecting 1 in 8 women, according to the National Breast Cancer Foundation, Inc. On average, an American woman is diagnosed with breast cancer every 2 minutes.
A woman's risk of contracting breast cancer nearly doubles if any of her first-degree relatives — such as her mother, sister, or daughter — has been diagnosed with the disease.
About the People in Flint, Michigan
Based on the latest data from the United States Census Bureau, the city of Flint in Michigan had an estimated population of 95,538 as of July 2019, 51.9% of which comprised of women. The data also show that 8.8% of those under the age of 65 had no health insurance while 38.8% of the city's residents were classified as persons in poverty.
Judging from these numbers, it's easy to deduce that some of those classified as persons in poverty and living without health insurance are individuals afflicted with breast cancer.
For this reason, we at Breast Cancer Car Donations have launched our Flint, Michigan car donations program to raise money for our charity partners so they can provide comprehensive breast health services to needy breast cancer patients in your city.
You can help these patients by donating to us any vehicle you no longer need.
How We Will Use Your Flint, Michigan Car Donation to Help Save Lives
We'll have your vehicle auctioned off, with the proceeds going straight to our charity partners working in Flint, Michigan. These IRS-certified 501(c)(3) nonprofit organizations use the funding that we provide them to achieve the following objectives:
Provide financial assistance to uninsured and underserved individuals so they can have access to breast cancer screening, diagnosis, treatment, and follow-up care;
Establish and improve link and referral systems for breast cancer patients to gain free access to local resources, services, and information that are customized according to each person's ethnic and linguistic needs; and
Raise public awareness of the nature of breast cancer, how to prevent it, and the importance of early detection.
Reasons Why Donating a Vehicle to Us Makes a Lot of Sense
Nothing can ever compare to the deep sense of personal fulfillment and satisfaction you'll feel upon knowing that you've done something that can help save lives.
Aside from this, there are other reasons why donating a vehicle to us in Flint, Michigan makes a lot of sense. Check them out here:
Since we work with IRS-certified 501(c)3 nonprofit organizations, your donation is 100% tax-deductible. To make sure that you get the maximum tax deduction, we'll have your vehicle sold at its highest possible price.
We'll pick up and tow your vehicle at no cost to you.
No need to swipe the plastic because towing's on us! A licensed towing company will show up at the location of your choice to pick up your vehicle.
We'll handle all the paperwork for you.
With us, you won't have to go through the tedious process of sorting out your vehicle's documents. We'd be more than happy to do this for you.
Say goodbye to repairs and upkeep expenses.
The cost of vehicle ownership increases over time because when your car's free maintenance period and warranty is over, you have no choice but to cover the cost of its repairs and maintenance.
No need to sell your used car yourself.
Selling your vehicle yourself means spending a lot of time and money on advertising, showing, and transporting your vehicle, haggling with potential buyers, and refurbishing your car to make it sellable.
Our Quick and Easy Donation Process
Our vehicle donation process is made up of three incredibly easy steps. It assures zero stress on your part while we do the heavy lifting. Take a look at the donation process we follow in our Flint, MI car donations program:
1. Contact us.
Give Breast Cancer Car Donations a call at 866-540-5069 or fill out our donation form here.
2. We pick up your vehicle.
Provide us with the basic details about yourself and your vehicle. We'll verify your given information and make the necessary arrangements for your vehicle's fast and free pickup. A tow truck from an affiliate licensed towing company will collect your vehicle and hand you a donation receipt that releases you from all liability on your vehicle from that point onward.
3. You receive your tax-deductible receipt.
We'll sell your vehicle at an auction and send you your 100% tax-deductible sales receipt via mail within 30 days following the sale. You'll need this receipt when you claim your tax deduction in the next tax season.
If you want to know more about our vehicle donation program, call us at 866-540-5069 or write to us here. You can also check out our FAQs page for more information.
We Accept Nearly All Types of Vehicles
Although it's awesome when we receive relatively new vehicles in good running condition, we're also happy to take those that need a lot of work or aren't running. If the car you're planning to donate to us needs a new battery or a paint job, or if its air conditioning isn't working, don't think that we might not accept it. We'll gladly call it our own once you turn it over to our Flint, MI car donations program.
Check out this list of vehicle types that our donors have been handing over to us:
Cars: sedans, luxury cars, coupes, convertibles, hybrids, sports cars, wagons, hatchbacks
Vans: family minivans, camper vans, cargo vans, passenger vans
SUVs: compact, midsize, full-size, or crossover versions
Motorcycles: touring bikes, cruisers, scooters, off-road bikes, mopeds, sports bikes, choppers
Trucks: box trucks, pickup trucks extended cab pickup, panel trucks, refrigerator trucks, tank trucks
Specialized vehicles: riding lawnmowers, motorized wheelchairs
Fleet vehicles: SUVs, pickups, trucks, buses, cars, passenger vans, cargo vans, limousines, ambulances, taxicabs
Recreational vehicles: campers, travel trailers, motorhomes, pop-up trailers, snowmobiles, Jet Skis, ATVs
Work-related vehicles: construction vehicles, tractors and farm equipment, buses, large trucks, landscaping vehicles
Boats: fishing boats, sailboats, tugboats, speedboats, houseboats, cruise ships, catamarans, pontoon boats, yachts
Aircraft: non-commercial planes, helicopters
Help Save Lives Today!
Don't miss this chance to save lives! Donate your unwanted vehicle to Breast Cancer Car Donations through our Flint, MI car donations program by calling 866-540-5069 or filling out our online donation form now!
or Call Us Now at 866-540-5069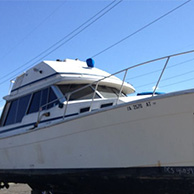 Excellent customer service!