Car Donations Sterling, Michigan
Car Donations in Sterling, Michigan: Bring Hope and Happiness to Breast Cancer Sufferers
If it's time to part ways with that old tin can of yours, why not put it to good use by donating it to us at Breast Cancer Car Donations? Your participation in our Sterling, MI car donations program will bring hope and happiness to struggling breast cancer patients in your area since it can help save their lives.
Breast Cancer Car Donations serves as the online vehicle donation platform of reputable nonprofit organizations that are focused on fighting breast cancer and helping its victims. These IRS-certified 501(c)(3) nonprofits provide comprehensive breast health services to all who need them, with uninsured and underserved breast cancer patients as their primary beneficiaries. These patients are given easy access to medical facilities where they can undergo all types of treatment, including surgery, chemotherapy, and radiation treatment.
These nonprofits also provide breast cancer survivors with follow-up care, including laboratory work, annual mammograms, and free medical checkups five years after breast cancer remission. Other beneficiaries get to receive free breast cancer screening and prevention and education services.
We'll use your donation as a fundraising tool by selling it in one of the best auction houses within our network and handing over the proceeds generated from its sale to our charity partners. The more vehicles you donate, the more lives you'll touch in your area.
The Benefits of Making a Sterling, MI Car Donation
Getting your hands off a no-longer-needed vehicle is a breeze with Breast Cancer Car Donations. We make sure that you'll have the best giving experience you could possibly have. Look over this list of benefits that you'll enjoy once you take part in our Sterling, MI car donations program:
Thanks to our partnership with IRS-certified 501(c)(3) nonprofit organizations, our donors get the highest possible amount of tax deductions for their donations. Just wait for the 100% tax-deductible sales receipt of your vehicle in your mail within a few days after its sale.
You don't have to worry about how you're going to bring your non-functioning vehicle to our warehouse. Just tell us where it is located and we'll have a team pick it up — free of charge.
All you need to do is to call us at 866-540-5069 and surrender the keys and the title of your vehicle. We'll handle all the rest.
Donating your vehicle to us means you no longer need to pay for the costly repairs and `  maintenance of your old clunker as well as its registration and insurance fees.
Feel awesome for helping save lives!
You'll experience utmost satisfaction, knowing that your donation will help have the lives of breast cancer sufferers in your area.
How to Donate to Breast Cancer Car Donations
Your convenience is our priority when you take part in our Sterling, MI car donations program. Expect to go through a seamless donation process that takes less than a few minutes to begin. Here's how you can make your Sterling, MI car donation:
1. Reach out to us.
If you want to process your donation over the phone, give us a call at 866-540-5069. If you prefer to donate your vehicle online, all you have to do is to fill out our donation form here. We'll ask for your contact information, as well as your vehicle's year, make, model, mileage, VIN, and other basic details.
2. Schedule your free contactless pickup.
We'll arrange for a licensed towing company to pick up your vehicle for free on your preferred date, time, and location. Although we won't require you to be present when the tow truck comes to haul off your car, we recommend that you coordinate with our team before the date of the pickup so that you can tell us where we can find your keys and title inside your vehicle.
3. Receive your tax-deductible receipt.
We'll sell your vehicle at an auction and send you your tax-deductible sales receipt via mail within 30 days following the sale. You'll need this receipt when you claim your tax deduction in the next tax season.
If you want to know more about our vehicle donation program in Sterling Michigan, call us at 866-540-5069 or write to us here. You can also check out our FAQs page for more information.
We Accept Nearly All Types of Vehicles
Breast Cancer Car Donations will never say no to any type of vehicle donation as long as the vehicle comes with a donor's proof of ownership. It doesn't matter if your vehicle is in dire need of a big repair or if it's as good as new — we'll take it. The only vehicles that we don't find acceptable are those that are abandoned or stolen. It's because we won't be able to sell vehicles that don't have titles.
If you plan on making multiple donations, please don't hesitate to do so. The more vehicles you donate, the more lives you'll save and the bigger tax deductions you'll get. Check out this comprehensive list of vehicles that we welcome in our Sterling, MI car donations program:
Cars: sedans, luxury cars, coupes, convertibles, hybrids, sports cars, wagons, hatchbacks
Vans: family minivans, camper vans, cargo vans, passenger vans
SUVs: compact, midsize, full-size, or crossover versions
Motorcycles: touring bikes, cruisers, scooters, off-road bikes, mopeds, sports bikes, choppers
Trucks: box trucks, pickup trucks extended cab pickup, panel trucks, refrigerator trucks, tank trucks
Boats: fishing boats, sailboats, tugboats, speedboats, houseboats, cruise ships, catamarans, pontoon boats, yachts
Specialized vehicles: riding lawnmowers, motorized wheelchairs
Fleet vehicles: SUVs, pickups, trucks, buses, cars, passenger vans, cargo vans, limousines, ambulances, taxicabs
Recreational vehicles: noncommercial planes; campers, travel trailers, snowmobiles, Jet Skis, RVs, motorhomes, pop-up trailers, ATVs
Work-related vehicles: construction vehicles, tractors and farm equipment, buses, large trucks, landscaping vehicles
Donate Your Vehicle and Help Save Lives Today!
Breast Cancer Car Donations makes it easy for you to get rid of a vehicle you no longer want and, at the same time, help save the lives of those who are battling breast cancer. Fill out our online donation form or call us at 866-540-5069 to get started with your Sterling, Michigan car donation today!
or Call Us Now at 866-540-5069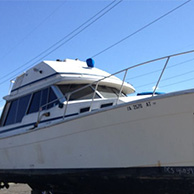 Excellent customer service!