Car Donations Grand Rapids, Michigan
Car Donation Grand Rapids, Michigan: Donating an Unwanted Car Can Help Save Lives
If the idea of saving lives while getting rid of an unwanted vehicle sparks your interest, then you might want to consider donating your clunker to us at Breast Cancer Car Donations. When you take part in our Grand Rapids, Michigan car donations program, you'll set yourself up for the easiest, fastest, and most convenient way to dispose of that tin can of yours without spending a dime on towing. What's more, your donation will qualify you for a top tax deduction in the next tax season.
Best of all, you'll be helping our IRS-determined 501(c)(3) nonprofit partners in providing comprehensive breast health services to uninsured and underserved individuals in your city, thus saving their lives.  That will leave you with a sense of fulfillment and satisfaction you've never experienced before.
What You May Not Know About Grand Rapids, Michigan
Grand Rapids is the second-largest city in the state of Michigan. It's the boyhood home of former U.S. President Gerald Ford. Grand Rapids is also the center of office furniture manufacturers in the country and an ideal destination for fishing enthusiasts and mountain bikers. What's more, since Grand Rapids offers the nation's best beer scene, it's also known as the "Beer City".
As of July 2019, the United States Census Bureau estimates that the city had a population of about 201,013. with 20.4% of its residents classified as persons living in poverty and 9.5% as persons under the age of 65 without health insurance.
Some of these impoverished residents without health insurance are suffering from breast cancer. That's why we at Breast Cancer Car Donations are here: to extend lifelines to these breast cancer patients through our Grand Rapids, MI car donations program.
How Your Grand Rapids, MI Car Donation Can Help Needy Breast Cancer Patients
By donating a vehicle to Breast Cancer Car Donations in Grand Rapids, MI, you'll help us generate the money that our charity partners need to cover the cost of their operations. We'll sell your donated vehicle through an auction and use the proceeds to support the comprehensive breast health services that our charity partners provide to uninsured and underserved individuals in your city.
These nonprofits provide their beneficiaries with the following services:
Easy access to chemo, radiation, and other forms of treatment for uninsured breast cancer patients;
Financial assistance for breast cancer screening;
Free consultations, labs, and mammogram tests five years after remission;
Counseling for breast cancer patients and their families; and
Breast cancer prevention and education services for the public.
A Closer Look at Our Vehicle Donation Process
You'll be happy to know that taking part in our Grand Rapids, MI car donations program is quick and simple. To show you how ridiculously easy it is for you to donate your unwanted vehicle to us, check out this step-by-step guide:
1. Contact us.
You may choose to donate your clunker over the phone by calling 866-540-5069 or online by filling out our donation form here. You only need to give us your contact information and a few basic details about your vehicle such as its year, make, model, mileage, etc.
2. Schedule your fast, free, and contactless pickup.
Once we've gathered the information that we need about you and your vehicle, we'll ask you to pick the best time, date, and place for your vehicle's fast and free pickup. You have the option to arrange a contactless pickup. In such cases, you just need to tell us where in your vehicle we can find your keys and title.
3. Receive your 100% tax-deductible receipt.
As soon as you hand over your vehicle to us, we'll auction it off in one of the best auction houses within our network. You can count on us to sell it at its highest possible price so you can enjoy a maximum tax deduction in the next tax season. Within a few days after we process the sale of your vehicle, we'll send you your tax-deductible sales receipt by mail.
You Can Donate Nearly Any Type of Vehicle
We're willing to take whatever type of vehicle you may want to donate. It doesn't matter if you're giving away a gas guzzler that needs a lot of work or a vehicle that's still in good working condition.
Here's a comprehensive list of the different types of vehicles that we welcome in our Grand Rapids, MI car donations program:
Cars: sedans, luxury cars, coupes, convertibles, hybrids, sports cars, wagons, hatchbacks
Vans: family minivans, camper vans, cargo vans, passenger vans
SUVs: compact, midsize, full-size, or crossover versions
Motorcycles: touring bikes, cruisers, scooters, off-road bikes, mopeds, sports bikes, choppers
Trucks: box trucks, pickup trucks extended cab pickup, panel trucks, refrigerator trucks, tank trucks
Specialized vehicles: riding lawnmowers, motorized wheelchairs
Fleet vehicles: SUVs, pickups, trucks, buses, cars, passenger vans, cargo vans, limousines, ambulances, taxicabs
Recreational vehicles: campers, travel trailers, motorhomes, pop-up trailers, snowmobiles, Jet Skis, ATVs
Work-related vehicles: construction vehicles, tractors and farm equipment, buses, large trucks, landscaping vehicles
Boats: fishing boats, sailboats, tugboats, speedboats, houseboats, cruise ships, catamarans, pontoon boats, yachts
Aircraft: non-commercial planes, helicopters
Help Us Fight Breast Cancer in Grand Rapids, Michigan!
You can become an instant hero in your city when you take part in our Grand Rapids, MI car donations program. Thanks to you, breast cancer patients who don't have the financial means to pay for their treatment can now gain access to health care facilities that offer various types of treatment modalities at no cost to them. What are you waiting for? Fill out our online donation form or call Breast Cancer Car Donations at 866-540-5069 so we can process your donation today!
or Call Us Now at 866-540-5069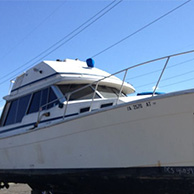 Excellent customer service!