Car Donations Clinton, Michigan
You Can Help Save Lives of Breast Cancer Victims
You may not realize this yet, but making car donations in Clinton County, Michigan is like throwing lifelines to breast cancer patients who are desperately trying to survive. You'll be amazed at how your rusty old car can help give their stories a happy ending if you donate your unwanted vehicle to us at Breast Cancer Car Donations through our Clinton, MI car donations program.
What You Need to Know About Breast Cancer
Breast cancer affects 1 in 8 women in the United States. It is the most common type of cancer in American women after skin cancers. According to the National Breast Cancer Foundation, Inc., an American woman gets diagnosed with breast cancer every 2 minutes. Furthermore, the American Cancer Society estimates that approximately 281,550 women are expected to develop invasive breast cancer in 2021. The same source states that about 43,600 women will lose their battle against this disease this year.
The latest breast cancer statistics are nothing short of depressing. However, the good news is there's something you can do to turn this situation around.
We're Here to Save Lives
We at Breast Cancer Car Donations operate vehicle donation programs on behalf of reputable breast cancer nonprofit organizations that are in partnership with us. Our job is to raise the money that our charity partners need to carry out their life-saving programs and services. These nonprofits provide uninsured and underserved breast cancer patients with easy access to top medical facilities and financial assistance to cover the cost of their treatments, physician visits, medications, and follow-up care.
Your Clinton, MI car donation will thus make it possible for needy breast cancer patients in your area to survive this terrible disease.
How You'll Help Yourself with Your Clinton, MI Car Donation
Helping breast cancer patients who are in need will give you a rewarding feeling since you'll be giving them hope of beating the disease. Aside from that, you stand to receive valuable material rewards for your charitable contribution. Here are some of the rewards you'll get to enjoy once you decide to take part in our Clinton, MI car donations program:
Once your car is auctioned off, we will mail to you your 100% tax-deductible sales receipt. We will exert our best effort to sell your vehicle at its highest possible price so you can claim the maximum tax deduction.
Get free pickup and towing of your unwanted auto.
You'll get free car removal from any location of your choice and according to your preferred schedule.
No need to spend money on repairs and other car expenses.
When it comes to cars, the cost of ownership can skyrocket when your vehicle has thousands of miles on it.  On the other hand, if you simply donate your beater to us, you won't have to spend a fortune on auto repairs, maintenance, insurance, and registration.
Aside from the material rewards that you'll get from us, you'll find awesome satisfaction in knowing that your act of charity will be used to help save lives.
Our Donation Process is Quick and Painless
We at Breast Cancer Car Donations value our donors as much as our nonprofit partners and the breast cancer patients we serve. For this reason, we make sure that the process of donating a vehicle to us is as seamless and stress-free as possible. To give you an idea about how extremely easy it is to make a Clinton, MI car donation to us, check this out:
1. Reach out to us.
You may choose to donate your vehicle through our donation form here. If you prefer to process your donation over the phone, simply call us at 866-540-5069 and give us your contact information, your vehicle's year, make, model, and a few other basic details. You may also give us your preferred time, date, and place for your vehicle's pickup.
2. Allow us to pick up your vehicle for free.
You won't have to drive your vehicle to our nearest facility because we'll pick it up for free. If you plan to arrange a contactless pickup of your vehicle, all you have to do is tell us where in your vehicle we can find your keys and title.
3. Receive your tax-deductible receipt.
After we auction off your vehicle, you can count on us to send you by mail your vehicle's 100% tax-deductible sales receipt. This receipt will entitle you to claim your tax deduction when you file your itemized federal income tax return.
If you have any questions or concerns about our donation program, including our donation process, feel free to contact us at 866-540-5069. You may also write to us here.
The Vehicles that You Can Donate
One of the best things about Breast Cancer Car Donations is the fact that we're not picky. Whether you choose to donate a car that has a big repair looming on the horizon or a still shiny vehicle that's almost as good as new, we won't hesitate to take it.
Keep in mind that the only vehicles that we can't accept are those that don't have titles because we won't be able to sell such vehicles. However, in case you've just misplaced your vehicle's title, call us at 866-540-5069 and we'll gladly help you secure a duplicate copy of your title quickly so you can proceed with your donation.
Feel free to donate any of the following types of vehicles in our Clinton, MI car donations program:
Cars: sedans, compact cars, coupes, luxury cars, convertibles, hybrids, sports cars
SUVs: compact, mid-size, full-size, crossover versions
Vans: cargo vans, passenger vans, family vans, minivans
Trucks: mobile cranes, garbage trucks, refrigerator trucks, tank trucks, dump trucks, extended cabs, box trucks
RVs: toy haulers, folding and tent trailers, hybrid trailers, travel trailers, motorhomes, campers
Fleet vehicles: limousines, buses, minivans, vans, taxis, ambulances
ATVs: three-wheelers, four-wheelers
Motorcycles: scooters, mopeds, choppers, touring bikes, sports bikes, dirt bikes, off-road bikes, cruisers
Specialty vehicles: motorized wheelchairs, ATVs, golf carts, snowmobiles, riding lawnmowers
Work vehicles: landscaping vehicles, tractors, farm equipment, construction vehicles
Aircraft: gliders, non-commercial planes, helicopters
Water vessels: cruise ships, yachts, pontoon boats, catamarans, tugboats, sailboats, speedboats, fishing boats, motorboats
Turn Your Clunker into an Instrument of Hope Today!
Now is the best time to save lives in Clinton, Michigan. Decide to turn that old gas guzzler of yours into an instrument of hope to those who have been diagnosed with breast cancer. Call Breast Cancer Car Donations at 866-540-5069 or fill out our online donation form now!
or Call Us Now at 866-540-5069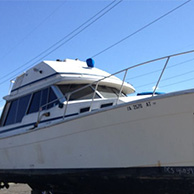 Excellent customer service!