Car Donations Warren, Michigan
Car Donations in Warren, Michigan: Use Your Unneeded Car to Help Save Lives!
Did you know that breast cancer affects 1 in 8 American women and that for 2021, about 281,550 women are expected to be diagnosed with invasive breast cancer, with about 43,600 of them expected to die from the disease before the current year is over?
Some of those who have been diagnosed with this life-threatening disease may be uninsured and may not have the means to pay for the high costs of breast cancer treatment.
Some of these unfortunate breast cancer victims are residing in Warren, Michigan, and they badly need help.
You can help save the lives of destitute breast cancer sufferers in Warren, and doing this is not hard at all. All you have to do is contact us at Breast Cancer Car Donations and turn over to us any vehicle you no longer need to our Warren, MI car donations program.
How Your Warren, MI Car Donation Can Help Save Lives
We'll sell your vehicle at a top auction house in your city to generate funding for our nonprofit partners. These IRS-certified 501(c)(3) nonprofits are committed to saving the lives and improving the overall well-being of breast cancer patients, particularly those who are uninsured and underserved.
The proceeds from the sale of your donated vehicle will go directly to these nonprofits to support their life-saving programs. Thanks to your Warren, MI car donation, our charity partners will be able to serve more of their beneficiaries, providing them with easy access to medical facilities where they can undergo all types of treatment, including surgery, chemotherapy, and radiation treatment.
These nonprofits also provide breast cancer survivors with free follow-up care, including laboratory work, annual mammograms, and physician visits after remission. Other beneficiaries get to receive free breast cancer screening and prevention and education services.
Experience Our Amazing Donation Benefits
Taking part in our Warren, MI car donations program will make a huge impact in your life as much as the lives of the needy breast cancer patients in your city. Here are some of the outstanding perks you'll get when you team up with us at Breast Cancer Car Donations:
When you hand over your unneeded vehicle to us, we'll make sure that it gets sold at its highest possible price so that you'll get to enjoy the maximum tax deduction come tax time.
You can count on our team to do the heavy lifting on your behalf. This means that we'll handle everything for you after you contact us to inform us of your donation offer. We'll handle all the paperwork and haul off your vehicle at no cost to you. Furthermore, if you've misplaced your vehicle's title, our title experts will make arrangements to help you get a replacement copy of your title so you can proceed with your donation.
Feel the joy and satisfaction of helping save lives.
Donating a vehicle to us will enable you to help save the lives of the destitute breast cancer patients in your city. The feeling of fulfillment that comes from that is priceless.
Our Quick and Convenient Donation Process
We've made it extremely easy for our donors to participate in our Warren, MI car donations program. Here's a look at our quick and painless donation process.
1. Get in touch with us.
You may process your donation online by filling out our donation form here or by calling us at 866-540-5069. Tell us your contact details and your vehicle's year, make, model, and mileage. We'll also ask you about your vehicle's general working condition and the availability of its title.
2. Schedule your FREE vehicle pickup.
We'll contact you as soon as possible to set a convenient schedule for your vehicle's free pickup and towing. You also have the option to arrange a contactless pickup so that you need not be present at the pickup site when the tow truck arrives. Just tell us beforehand where we can find your car's title and keys inside your vehicle.
3. Receive your tax-deductible receipt.
Within 30 days after your vehicle is auctioned off, we'll send you by mail its 100% tax-deductible sales receipt. You will need this to claim your tax deduction in the next tax season.
For more information, feel free to check out our FAQs page. If you have questions, call us at 866-540-5069 or leave us a message here.
The Types of Vehicles Acceptable to Us
With Breast Cancer Car Donations, you're free to donate any type of vehicle in whatever condition it may be in. In most cases, we even take those that need a lot of work.
Here's a list of the usual vehicle types that we welcome in our Warren, MI car donations program:
Standard vehicles
Cars: coupes, convertibles, hatchbacks, luxury cars, sports cars, hybrids, sedans, etc.
Trucks: pickup trucks, panel trucks, extended cabs, box trucks, refrigerator trucks, dump trucks, etc.
Vans: cargo vans, passenger vans, minivans, family vans, etc.
SUVs: crossover versions, compact, mid-size, and full-size
Fun vehicles
Motorcycles: touring bikes, dirt bikes, scooters, choppers, mopeds, off-road bikes, cruisers, etc.
ATVs: three-wheelers, four-wheelers
Boats: fishing boats, catamarans, cruise ships, yachts, tugboats, speedboats, sailboats, pontoon boats, etc.
Others: Jet Skis, RVs, noncommercial planes, gliders, golf carts, snowmobiles, campers, trailers, motorhomes, etc.
Work vehicles
Construction vehicles
Landscaping vehicles
Farm equipment
Other vehicles
Riding lawnmowers
Motorized wheelchairs
Impact Lives of Breast Cancer Sufferers Today!
It only takes an unwanted vehicle and a heart of gold to impact the lives of the suffering breast cancer patients in your city. Call Breast Cancer Car Donations at 866-540-5069 or fill out our online donation form to take part in our Warren, MI car donations program today!
or Call Us Now at 866-540-5069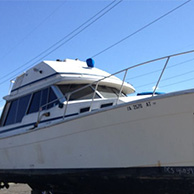 Excellent customer service!