Car Donations Lansing, Michigan
Car Donation Lansing, Michigan: You Can Help Reduce the Number of Breast Cancer Cases in Your City
Did you know that breast cancer affects 13% of America's female population? This means that 1 in 8 women is going to develop breast cancer at some point in her life. According to the National Breast Cancer Foundation, Inc., a woman in the United States is diagnosed with breast cancer every 2 minutes.
Although these numbers may be disheartening, we can still do something to increase the rate of breast cancer survivors in our country.
You can help bring down the number of breast cancer cases in Lansing, Michigan by donating any type of vehicle to us at Breast Cancer Car Donations.
How Your Donation Can Help Needy Breast Cancer Patients
We'll turn your Lansing, Michigan car donation into a fundraising tool for the benefit of our IRS-determined 501(c)(3) nonprofit partners. We'll have your donated vehicle auctioned off, with the proceeds going straight to these nonprofits. They use the funding we give them to provide their beneficiaries with the following services:
Easy access to chemo, radiation, and other forms of treatment for uninsured breast cancer patients;
Financial assistance for breast cancer screening;
Free consultations, labs, and mammogram tests five years after remission;
Counseling for breast cancer patients and their families; and
Breast cancer prevention and education services for the public.
About Lansing. Michigan
In its latest report, the United States Census Bureau estimates that Lansing had a population of 118,210 as of July 2019, with women comprising 52% of the state capital's population. The bureau also estimates that 8.2% of city residents had no health insurance while 24.6% lived in poverty.
Judging from the numbers mentioned here, it wouldn't take a rocket scientist to figure out that some breast cancer patients are among the destitute residents of the city who had no health insurance.
When you take part in our Lansing, MI car donations program, you'll be able to help these indigent patients.
How Your Lansing, MI Car Donation Will Help You
Helping those who are in need will give you a rewarding feeling, knowing that you'll be giving hope to breast cancer patients in Lansing, MI.
Aside from that, you stand to receive valuable material rewards for your charitable contribution to us. Here are some of them:
Once your car is auctioned off, we will mail you your 100% tax-deductible sales receipt, which you can use to claim your tax deduction in the next tax season. We will exert our best effort to sell your vehicle at its highest possible price so you can claim the maximum tax deduction.
You'll get our free towing service.
`     We'll collect your unwanted vehicle at your convenience, and this is absolutely at no cost to you.
You'll enjoy our quick and easy donation process.
We guarantee that our donation process won't take much of your time.  Our team will handle the heavy lifting, which includes the logistics and all the required paperwork.
The longer your unwanted vehicle stays with you, the more money you'll spend on car repairs, maintenance, insurance, and registration.  However, when you donate it to us, we will take this financial burden off your shoulders.
No stress in finding a car buyer.
Finding a buyer for your old car could be stressful and might take a long time.  Buyers would have to consider your vehicle's mileage, model, and physical appearance.  However, when you donate that vehicle to us, you won't have to go through the hassles associated with selling a second-hand vehicle yourself.
How to Donate a Vehicle to Breast Cancer Car Donations
Donating a vehicle to us is ridiculously easy — even for a first-time vehicle donor! All you have to do is to follow these three simple steps:
1. Reach out to us.
You may choose to jumpstart your donation process by filling out our donation form here or by giving us a call at 866-540-5069.
2. Set the schedule for your vehicle's free pickup.
As soon we receive your donation request, we'll make the arrangements for your vehicle's fast and free towing that's based on your preferred time, date, and location.
3. Receive your tax-deductible receipt.
Once you hand over your vehicle to us, we'll have it sold at an auction. After selling it for the highest price possible, we'll send you your 100% tax-deductible sales receipt via mail.
Almost Any Kind of Vehicle Is Acceptable to Us
We accept nearly all types of vehicles in our Lansing, MI car donations program.  You don't have to worry that your vehicle might not make the cut. We gladly take in vehicles of all shapes and sizes and regardless of their working condition.
Look over this list of vehicles that we've been receiving from our donors:
Cars: sedans, luxury cars, coupes, convertibles, hybrids, sports cars, wagons, hatchbacks
Vans: family minivans, camper vans, cargo vans, passenger vans
SUVs: compact, midsize, full-size, or crossover versions
Motorcycles: touring bikes, cruisers, scooters, off-road bikes, mopeds, sports bikes, choppers
Trucks: box trucks, pickup trucks extended cab pickup, panel trucks, refrigerator trucks, tank trucks
Specialized vehicles: riding lawnmowers, motorized wheelchairs
Fleet vehicles: SUVs, pickups, trucks, buses, cars, passenger vans, cargo vans, limousines, ambulances, taxicabs
Recreational vehicles: campers, travel trailers, motorhomes, pop-up trailers, snowmobiles, Jet Skis, ATVs
Work-related vehicles: construction vehicles, tractors and farm equipment, buses, large trucks, landscaping vehicles
Boats: fishing boats, sailboats, tugboats, speedboats, houseboats, cruise ships, catamarans, pontoon boats, yachts
Aircraft: non-commercial planes, helicopters
If you're planning to donate more than a single vehicle, don't hesitate to do so. We're equipped to handle multiple donations. The more vehicles you donate, the more lives we can touch!
Support Indigent Breast Cancer Patients Today!
If you have an unwanted vehicle that's just sitting in your backyard, donate it to Breast Cancer Car Donations to support the needy breast cancer victims in Lansing, Michigan. To get started, call Breast Cancer Car Donations at 866-540-5069 or fill out our online donation form now!
or Call Us Now at 866-540-5069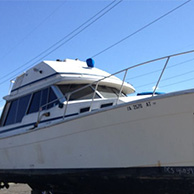 Excellent customer service!