Virginia Car Donation
Donating Your Vehicle In Virginia Is Quick & Simple!
Virginia Car Donation for Breast Cancer
When you donate a car to charity in Virginia, you make a powerful contribution to Breast Cancer research. Whether it's a beat-up vehicle that no longer runs or a car in good condition that you just don't need anymore, any car donation helps. Your vehicle can become funds that support charities battling Breast Cancer. That's why each and every vehicle donation in Virginia makes an impact.
Do you have a vehicle you no longer need or want? Is trying to maintain and insure that vehicle costing you more than the vehicle is worth? Are you ready to upgrade cars and want to give back to your community in the process? If any of these descriptions applies to you, consider making Breast Cancer car donations in Virginia.
Here's a look at what you need to know.
Accepted Vehicles
From cars to campers, many kinds of vehicles, in different ages and conditions, can be used to generate funds for the Breast Cancer cause. To demonstrate this, here are some examples:
How the Fast and Easy Donation Process Works
If you're wondering how to donate a vehicle in Virginia, the process couldn't be simpler. Fill out our online form or call us at 1-866-540-5069. Once we gather a little info about your vehicle (its make, model, year, etc.), we can schedule a time for a local towing company to get your vehicle.
Once your donated vehicle is sold, you'll get a receipt in the mail. That's all there is to it! If you're interested in making a donation that helps breast cancer charities succeed, get in touch with Breast Cancer Car Donations!
Donate a Car to Virginia Breast Cancer Nonprofits Today!
Looking for more information about donating in a particular area of Virginia? Click on one of the cities closest to you from the list below.
or Call Us Now at 866-540-5069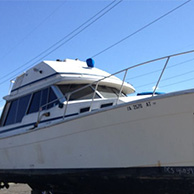 Excellent customer service!