Virginia Beach, Virginia Car Donations
Donate Your Vehicle and Save Lives!
Virginia Beach, Virginia Car Donations: Join Us in the Great Mission of Saving Lives
About one in every eight women in the United States will get afflicted with breast cancer during her lifetime. It is like one from your group of friends will get this deadly disease. This information based on verified statistics is a bit hard to digest, but it's the truth. Cases of this disease and the number of fatalities continue to remain high, and health experts don't see the numbers going drastically down anytime soon.
However, we can still do something to alleviate the problem. With your support, we at Breast Cancer Car Donations can generate more funds that will be used by our non-profit charity partners to provide assistance to financially challenged victims of breast cancer and to find new ways to deal more effectively with this devastating disease.
Do you want to become a part of something big, something that will help save the lives of your fellow Americans residing in your own city who are afflicted with breast cancer?  If yes, then join us in our Virginia Beach, Virginia car donations program. Donate to us your old unwanted cars and we will make sure the funds that we will generate from your donation will be used to provide assistance to needy women in your city.
Here's How to Join Our Car Donation Program
It takes only three simple steps for you to complete your Virginia Beach, Virginia car donations process.
You have two options here: Fill out our online donation form or call us. Give us some basic information about your car and yourself. You can then schedule your free car pick up.
Let's haul your car away.
You can expect us to show up on the scheduled date and time to do the towing! Remember that you won't have to pay even a single dime for this service, and you don't even have to be home when we arrive. We will give you a donation receipt that will allow you to de-register your vehicle, dispose of your license plates properly, and cancel your insurance coverage.
Wait for your tax-deductible receipt.
After your car gets sold at auction, we will mail you your 100 percent tax-deductible sale receipt, indicating your donated vehicle's final selling price. This will serve as the basis of your tax deduction claim when you file your itemized federal income tax return.
What You'll Get for Your Car Donation
By taking part in our Virginia Beach, Virginia car donations program, you'll get to enjoy the rewards that will come your way. Here are some of them:
Experience the easiest and fastest donation process
Never worry about paying for towing – we got this covered
We'll cover car insurance from the day of pickup
We handle everything for you – even the paperwork
Enjoy top tax deductions
Get back that garage space you've always wanted
Forget about maintaining and repairing your old car
Feel the joy that comes with giving back to the community
Types of Vehicles We Accept
We are not very choosy about the types and conditions of the vehicles offered to us for donation. We accept nearly all types of vehicles in our Virginia Beach, Virginia car donations program. We take even vehicles that are not in good running condition because every donation counts. The only vehicles we cannot process are the abandoned ones without titles and those that are total wrecks whose value is even less than the cost of towing.
Here are the common vehicle types we gladly accept for donation:
Cars: sedans, vans, SUVs, trucks, motorcycles, buses
RVs: recreational vehicles, motorhomes, campers, travel trailers, pop-up trailers, 5-wheelers
Specialty vehicles: ATVs, snowmobiles, motorized wheelchairs, riding lawn mowers, tractors, farm equipment
Boats: sailboats, motorboats, fishing boats, yachts, pontoon boats, houseboats, personal watercraft (like jet skis)
Non-commercial airplanes
About Virginia Beach, Virginia
Virginia Beach is located on the southeastern coast of Virginia. It is the largest city in the state of Virginia and the 41st most populous in the U.S.
It is known for its amazing parties. Aside from that, the city is also known for its cultural attractions. It has art, marine science, and military history museums.
Virginia Beach is also a resort city with miles of beaches, hotels, and restaurants along its oceanfront. The city is listed in the Guinness World of Records as the longest pleasure beach in the world. The beach is located at the southern end of the longest bridge-tunnel complex in the world — the Chesapeake Bay Bridge Tunnel.
All these attractions, however, don't mean a thing to breast cancer patients in the city whose only focus is how to survive the disease given their limited financial resources. With your Virginia Beach, Virginia car donations, financial assistance will come their way, boosting their hope of surviving the disease.
Give the Gift of Hope
Destitute breast cancer patients are counting on the support of people like you to help them beat the disease. Call us at 866-540-5069 and make your Virginia Beach, Virginia car donations. Give them the gift of hope and, hopefully, a new lease on life!
or Call Us Now at 866-540-5069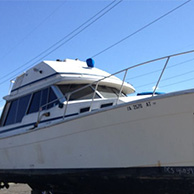 Excellent customer service!