Virginia Motorcycle Donations
Donate Your Vehicle and Save Lives!
Help Relieve Suffering of Breast Cancer Victims
Through Virginia Motorcycle Donations
You might not know it yet, but your participation in our Virginia motorcycle donations program can serve as a powerful tool for women struggling with breast cancer.
We at Breast Cancer Car Donations have a lifetime mission of supporting breast cancer patients and their families. By teaming up with reputable nonprofit organizations such as American Breast Cancer Foundation (ABCF) and Women Involved in Nurturing, Giving, Sharing, Inc. (WINGS), we give these women an opportunity to get the treatment and resources they need to survive.
If you have an old motorbike that you don't need any more, you can definitely use it to help cancer-afflicted women in Virginia. Donating it to our Virginia motorcycle donations program will provide our charity partners with additional funds to deliver various breast health support services, including financial assistance to destitute breast cancer patients to help them pay for their treatment including surgery, oncology services, hospital fees, and outpatient medication.
The proceeds from the sale of your donated motorcycle will also be used to provide individuals easy access to health facilities, clinics, and hospitals that provide breast cancer screening, diagnosis, and treatment.
Moreover, with your motorcycle donation, you will be helping efforts to raise public awareness of the signs and symptoms of breast cancer to promote early detection.
You will also be supporting breast cancer research to find new and better ways to prevent, detect, manage, and treat the disease with the ultimate objective of finding a cure for it.
Many families have been greatly affected by breast cancer. Your motorcycle donation would change their world for the better. Let's work together and show these people that we care.
Experience the Convenience of Our Donation Process
If you're thinking about donating a motorcycle in Virginia, you might as well do it with us. Here's why.
At Breast Cancer Car Donations, we care so much about our donors that we've made it a point to provide them with utmost convenience in our donation process. We'll be the ones to manage all related paperwork as well as the towing of your motorbike, which is absolutely free for you.
The only thing you'll be doing during the entire process is to initiate the call to us. Let us know that you've decided to take part in our Virginia motorcycle donations program. After you do, we take over and finish the rest.
Here's a quick guide on how our donation process works:
You may choose to call us or fill out our online donation form, whichever you prefer. Once we've obtained certain details about your motorbike, we agree on a time and date to pick it up.
We tow your motorbike away.
A licensed towing company will come to your designated place for picking up your motorcycle at a date and time of your own choosing. Before your motorcycle is hauled off, the towing company will hand you a towing receipt acknowledging your motorcycle donation and releasing you from all liabilities on your donated motorbike. Keep the receipt since you may need it for tax purposes.
You get your top tax deduction.
Within 30 days after we auction off your vehicle, we'll send you your 100 percent tax-deductible sales receipt, indicating your motorbike's final selling price. This will serve as the basis of your tax deduction claim when you file your itemized federal tax return for the next tax-filing season.
For more questions about us our donation process, check out our frequently asked questions page.
What We Accept as Virginia Motorcycle Donations
Do you have an idle motorbike that's been hanging around in your garage for ages? Why bother keeping it when you can just hand it over to us instead? We'd really love to have it with us!
Breast Cancer Car Donations accepts virtually all types of motorcycles, including scooters, cruisers, touring motorcycles, sports bikes, and dirt bikes. We can process for donation even those motorbikes that are no longer in good running condition. As long as they still have some cash value, we'll gladly say yes. If you have issues with the vehicle you plan to donate, just give us a quick call or reach us here.
You can also donate any other vehicle that you have that you don't use anymore. We're more than happy to accept multiple Virginia motorcycle donations! We accept nearly all types of vehicles, including cars, vans or minivans, trucks, RVs, toy haulers, snowmobiles, golf carts, farm equipment, jet skis, boats, and non-commercial airplanes.
Call us at 866-540-5069 if you're ready to donate!
Why Should I Choose Breast Cancer Car Donations?
There's a lot of reasons why donating to us makes a lot of sense. First, you have the opportunity to receive a maximum tax deduction based on the sales price of your donated motorcycle at auction. You also get free towing service. Moreover, we free you from the task of handling all related paperwork since we'll be the one to do this for you.
Here are some more perks you'll get for taking part in our Virginia motorcycle donations program:
You no longer have to pay for your motorbike's registration, maintenance, or repair fees.
You get rid of an unneeded vehicle without spending even a dime.
You save yourself the time, effort, and money it would take to advertise or sell your bike.
You don't need to deal with annoying potential buyers of your motorbike.
You regain driveway or garage space.
You get a sense of fulfillment knowing that you'll be making a difference in the lives of breast cancer patients.
Ease the Suffering of Breast Cancer Patients Now!
Your motorcycle donation will go a long way in relieving the suffering of breast cancer patients. Call us at 866-540-5069 and help save lives through our Virginia motorcycle donations program!
or Call Us Now at 866-540-5069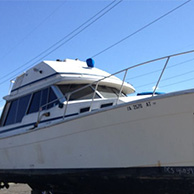 Excellent customer service!