Virginia RV Donations
Donate Your Vehicle and Save Lives!
Bring Hope to Breast Cancer Victims through Virginia RV Donations
Be a bringer of hope to those afflicted with breast cancer by taking part in our Virginia RV donations program. Your recreational vehicle may have already served your family well enough that you are now thinking of making an upgrade by purchasing a new one. If you wish to get rid of your old RV, consider donating it to charitable institutions such as the Breast Cancer Car Donations.
Rather than allowing your old RV to uselessly take up space in your yard, by donating it, you'll be able to help save the lives of fellow Americans in your state who have unfortunately been stricken with breast cancer.
The Scourge of Breast Cancer in Virginia
Breast cancer continues to afflict and claim more lives despite the advances in technology and new medical approaches. Worst, the primary cause of breast cancer remains unknown.
In its latest report, the American Cancer Society estimates that for 2018, Virginia will have 7,510 new breast cancer cases and 1,090 deaths.
Previously, in a report by the Virginia Breast Cancer Foundation, the estimate was that 6,620 women would be diagnosed with breast cancer in 2016 and that 1,080 would die from the disease. The latest estimate thus showed higher numbers for both new cases and new deaths in a year.
The Virginia Breast Cancer Foundation report further noted that 85 percent of women diagnosed with breast cancer have no family history.
The numbers all indicate the need for greater effort to fight the disease and help its victims.
Do you have an old RV that you wish to donate? Your generosity is critical to the success of our mission to save as many lives as possible. Call us today and take part in our Virginia RV donations fundraiser.
How Your RV Donation Will Benefit Breast Cancer Patients
When you donate your old and unwanted recreational vehicle to our Virginia RV donations program, we will sell it at auction, with the proceeds going straight to our two charity partners — the American Breast Cancer Foundation (ABCF) and Women Involved In Nurturing, Giving, Sharing, Inc. (WINGS). These reputable nonprofits will use the funding to deliver essential breast health services to all individuals who need them. The services include:
Financial assistance to uninsured and underserved breast cancer patients, covering their surgery, oncology services, consultation, hospital fees and outpatient medication;
Connecting these patients to local facilities that offer free and accessible resources, information, and other breast health services;
Raising public awareness on breast cancer prevention, diagnosis, and treatment;
Pursuing research on prevention, screening, diagnosis, and treatment of breast cancer; and
Sponsoring charity and outreach events for the benefit of breast cancer patients.
How You'll Benefit from Your RV Donation
By participating in our Virginia RV donations program, you will not only be taking part in charity works; you will also get to enjoy significant rewards, including huge tax deductions. You also become a source of empowerment for our fellow citizens suffering from breast cancer.
Here are the other perks you'll get for donating an RV to Breast Cancer Car Donations:
Avoid the difficulties of selling your RV.
No need to bother with paperwork – we do that for you.
Save money by not paying any more for RV repair, registration, and insurance.
We'll pay for the pickup and towing of the RV you're donating.
Remove an eyesore and gain more space on your property.
Give yourself a deep sense of personal satisfaction for supporting a noble cause.
The Types of RVs and Other Vehicles We Accept for Donation 
If you are concerned about what type of recreational vehicle is acceptable to us for donation, cast your worries away! We at Breast Cancer Car Donations accept all types of RVs, even those that are no longer in good running condition. You can donate to our Virginia RV donations program your campers, motorhomes, travel trailers, 5-wheelers, and pop-up trailers.
We love multiple vehicle donations because they translate to more funds that we can use to help breast cancer victims. If you have other unwanted vehicles, donate them as well to us! We accept nearly all types of vehicles. We welcome the following vehicles:
General vehicles: cars, vans, trucks, SUVs, trucks, pickups, and motorcycles
Specialty vehicles: ATVs, riding lawnmowers, snowmobiles, motorized wheelchairs, golf carts, tractors, and farm equipment
Fleet vehicles: buses, passenger vans, cargo vans
Watercraft: yachts, motorboats, fishing boats, pontoon boats, jet skis
Aircraft: private jets, planes, and helicopters
How to Donate an RV to Breast Cancer Car Donations
Our Virginia RV donations program follows a fast and easy three-step procedure designed to provide utmost convenience to our donors.
First step: Initiate contact.
Call us at 866-540-5069 or fill out our online donation form. Provide us all pertinent details regarding the RV you are giving away including its make, model, year, mileage, VIN, general condition, and title availability. A licensed towing company affiliated with us will call you to arrange the pickup based on the date, time, and place of your choice.
Second step: Your RV is towed.
Before the tow truck hauls off your vehicle, you will be given a towing receipt that releases you from all liabilities on your RV, giving you the right to cancel and stop paying for its insurance and registration.
Third step: Get your tax deduction receipt.
We'll send you by mail your 100-percent tax-deductible sales receipt after your RV is sold at auction.  The receipt shows your donated vehicle's final selling price. This will serve as the basis of your tax deduction claim when you file your itemized federal income tax return.
Make That Big Difference Now!
These are dark days for our fellow Americans suffering from breast cancer. But you can help brighten up their day by making just one phone call to us, telling us that you're joining our Virginia RV donations program. Contact us at 866-540-5069 and experience the wonderful feeling of making a big difference in the lives of others!
or Call Us Now at 866-540-5069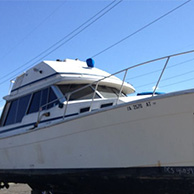 Excellent customer service!