Alexandria, Virginia Car Donations
Donate Your Vehicle and Save Lives!
Alexandria, Virginia Car Donations: Support the Battle Against Breast Cancer and Help its Poor Victims
Your unwanted car may just be a piece of junk to you that you want to get rid of. However, to us at Breast Cancer Car Donations, it can still generate funds to help in the treatment of underserved breast cancer patients here in Alexandria, Virginia.
We are thus appealing to your good heart to help the folks in your own city who are suffering from breast cancer by joining our Alexandria, Virginia car donations program.
We assure you that your car donation will make a big difference in the lives of struggling breast cancer patients and their families as well.
Our Alexandria, Virginia Car Donations Process
Our Alexandria, Virginia car donations process is quite simple and also very fast. We want your car donation to get through as quick as possible.
All it takes is a simple phone call to us, and we'll handle the rest for you. Call us at 866-540-5069 or else fill out our online donation form. We need just a few details about the car you're donating, like its make, model, and year. We also need a little personal information about yourself. Do not worry; your information is safe with us.
Next, we arrange a licensed towing company in your area to pick up your car for us. This will all be at no cost to you whatsoever. You don't even need to be there during your car's pickup. We will give you a donation receipt that you can use two ways – in claiming your tax deduction and in canceling your car's registration and insurance.
We will put your vehicle on the auction block. Once it is sold, we will send you by mail your tax-deductible sales receipt. With the amount indicated there, you will know how much to claim as your tax deduction when you file your itemized federal tax return. This is just one of the many benefits you will get for donating your car to our Alexandria, Virginia car donations program.
The Vehicles That We Accept
We accept most of the vehicles donated to our car donations program in the area. Almost any type of vehicle is acceptable to us, regardless of the vehicle's condition, as long as it is not a total wreck or an abandoned vehicle with no title.
Here are some of the vehicles we accept:
Cars
SUVs
Trucks
Pickup
Motorcycles
Boats
Jet Skis
Yachts
Buses
ATVs
Golf carts
Farm equipment
RVs
Campers
Trailers
Check out our accepted vehicles page to know more about other vehicles.
Where Your Car Donations Go
We have partnered with two of our country's most reliable non-profit organizations dedicated to fighting breast cancer.
The proceeds from your car donation will be used by these non-profits to support their various programs that provide assistance to breast cancer patients who badly need help. They also do breast cancer research that aims for better ways to prevent, diagnose and screen, treat and eventually find a cure for breast cancer.
These non-profits are untiringly putting their efforts to fight breast cancer. You can be a part of this massive undertaking with your Alexandria, Virginia car donations.
What You Can Get for Your Donation
Taking part in our Alexandria, Virginia car donations program will let you have some benefits, too. Here are some of them:
Handsome tax write-offs
Fast, easy, and convenient donation process
No paperwork
Free pickup and towing
Get rid of your unwanted car
Avoid hassle in selling your car
No more paying for repairs, insurance, registration of an unwanted car
The joy you get knowing you did something great for your fellow Americans
Things to Do In Alexandria, Virginia
The city of Alexandria is a part of the Commonwealth of Virginia in the United States. It is located alongside the western bank of the Potomac River and south of Washington, DC.
Here are some of the attractions in Alexandria:
Torpedo Factory Art Center – Coming from its name, it is a torpedo factory during World War I and II. After the facility closed, it was turned into an art studio by a group of local artists. You can visit and take a look at amazing local artworks and also take art classes there.
Dora Kelley Nature Park – It is a 50-acre nature sanctuary that is known for its amazing trails. The nature trails take you a mile through hills, wetlands, and streams. If outdoor activities are what you want, then you'll enjoy this.
Daingerfield Island – Located close to the Old Town of Alexandria, this place is popular for its local wildlife. Here you will find numerous species of colorful kingfishers, turtle, frogs, herons, snakes and many more.
Jones Point Park – If you want to go in the water or fishing, then this is for you. There are two fishing piers where you can fish for bass, catfish, eels, and more. There is also a canoe launching site that will take you all the way through the Potomac River.
Fort Ward Park – If you want to experience what happened during the American Civil War, then you would not want to miss this. This place has Union forts and batteries that have been restored. They were originally used to protect Washington, D.C. You can also enjoy the amphitheater where you can watch performances telling the stories about the fort.
Join the Fight against Breast Cancer
Donate your car now to join the fight against breast cancer and support needy breast cancer patients in Alexandria, Virginia. Contact us at 866-540-5069 and take part in our Alexandria, Virginia car donations program.
or Call Us Now at 866-540-5069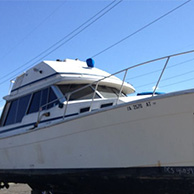 Excellent customer service!