Richmond, Virginia Car Donations
Donate Your Vehicle and Save Lives!
Richmond, Virginia Car Donations: Make a Difference in Breast Cancer Patients' Lives
If you live in Richmond, Virginia and own a non-functional vehicle taking all the space in your driveway, consider being a part of a greater cause and donate it to our Richmond, Virginia car donations program! Your vehicle may be worthless, but you know what they say, "One man's trash is another man's treasure."
Just like most cities, Richmond has a few interesting facts to throw in. Did you know that the famous poet, Edgar Allan Poe, grew up in Richmond? They even have a museum dedicated to him where you can find many of his works and other personal effects.
Another historically relevant fact about the Capitol of Virginia is that their capitol building was designed by the famous Thomas Jefferson.
Though these facts are intriguing, you probably don't need to know all that, but here's what you need to know about the area: We at Breast Cancer Car Donations accept car donations here in your city.
You can make a difference in someone else's life by donating your car to our Richmond, Virginia car donations program. Why? Because 100 percent of the proceeds from the sale of the car donations we receive go directly to funding the research and services of our reputable and IRS-certified non-profit organization partners.
We manage the car donation programs of our partner nonprofits on their behalf. We do this so they can exhaust all their time and effort into breast cancer research directed towards prevention, screening, diagnosis, treatment, and cure for the disease. If you're at the point where you've been thinking of ways to make a difference in people's lives, don't hesitate to add "donate a car" to your list.
Types of Accepted Vehicles
Do you own a vehicle you don't use or that's not functional? Is the cost of maintaining and insuring the car taking a toll on your finances? If so, then join our Richmond, Virginia car donations program.
We accept nearly all kinds of vehicles. We even take non-working vehicles on a case to case basis. Multiple donations don't faze us – we'd be more than happy to take them all!
Still not sure if we'll take yours? Here's a complete list of the vehicles we accept:
Cars: sedans, vans, SUVs, trucks, motorcycles
Boats: sailboats, motorboats, fishing boats, yachts, pontoon boats, houseboats, personal watercraft (like jet skis)
RVs: recreational vehicles, motorhomes, campers, travel trailers, pop-up trailers, 5-wheelers
Specialty vehicles: ATVs, snowmobiles, motorized wheelchairs, riding lawn mowers, tractors, farm equipment
Fleet vehicles: cars, passenger vans, cargo vans, SUVs, pickups, trucks, buses
The vehicles we won't be able to accept include the abandoned ones. Although we're pleased to know that you're interested in donating, you can't give away cars without showing a proof of ownership.
How to Donate a Vehicle
If you're interested in donating your vehicle but can't stand a long and tedious process, you're in luck because Breast Cancer Car Donations makes sure that you won't waste your precious time. Our Richmond, Virginia car donations process is fast and easy – you literally never even have to leave your home to donate your vehicle.
Here's how:
You can call us at 866-540-5069 and tell us more about your vehicle. When was it purchased? What's the brand and model? But if you're not in the mood to talk to someone, we completely understand! You can fill out the online donation form instead.
The minute we receive your request, we will reach out to a local towing company and have them go to your place and tow your vehicle for free. Just tell us the time and place and we'll be there – you don't even have to show up when we pick up your vehicle.
Wait for the IRS tax receipt.
Once we get your vehicle, we auction it off (this is how we get the funds). Within 30 days after your vehicle is sold, we will mail you your 100-percent tax-deductible sale receipt. You'll need it to claim your top tax deduction.
What You Get in Return
Now, for the fun part. Although you may not be expecting to get something in return for your charitable car donation, we still like to spoil you a bit. Here's a list of what you will enjoy upon donating your vehicle:
Finally getting rid of the car you never use and gaining the extra space you've always wanted!
Never worry about paying for towing – we got this covered!
Forget about storing, insuring, and caring for an old, rusty car!
Enjoy potential tax benefits!
Feel the joy that comes with giving back to the community!
We handle everything for you – even the paperwork!
Breast cancer gains a lot of attention during the Breast Cancer Awareness Month, but non-profit organizations work tirelessly all throughout the year to raise funds for research, prevention, and treatment of breast cancer. The proceeds from the donations will help them continue their meaningful work.
Are you ready to donate your vehicle to Breast Cancer Car Donations? Call us at 866-540-5069 and get free towing services for your Richmond, Virginia car donations!
or Call Us Now at 866-540-5069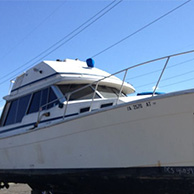 Excellent customer service!