Miami, Florida Car Donations
Donate Your Vehicle and Save Lives!
Car Donations in Miami: Save Lives of Breast Cancer Patients While Disposing of Your Old Car
Have you given up on your trouble-prone car after spending a fortune for its repairs and maintenance? Have you tried to sell it but have given up because of the many hassles involved in selling an old beat-up car? Do you want to dispose of it now but don't know how to do it in the best way possible?
We got good news for you: We guarantee your satisfaction if you just donate it to us at Breast Cancer Car Donations! By donating your car to our Miami, Florida car donation program, you'll hit not just the proverbial two birds with one stone but several birds! You dispose of your clunker for free and with very little effort on your part. You avoid the hassles of selling a rundown vehicle. You get to receive a substantial tax deduction out of your donation to charity.
But those are nothing compared to the biggest reward that awaits you — the uplifting sense of fulfillment you'll feel for contributing to a truly worthy cause: saving the lives of people afflicted with breast cancer! We serve the entire Miami metropolitan area, including (but not limited to) nearby cities such as Boca Raton, Fort Lauderdale, Hialeah, Pembroke Pines and Pompano Beach.
Miami, Florida: The Magic City
Miami, Florida is widely known for its nightclubs and beaches. But, Miami is more than that! As a major port city on the Atlantic coast of South Florida in the southeastern part of America, Miami has a rich history.
It got its name from one of the native tribes, the Mayaimi, who lived in the region in the 1600's and 1700's. By 1896, Miami officially became a city after Julia Tuttle, a local businesswoman, encouraged one railroad mogul to expand into the area. This made Miami as the only major U.S. city to be founded by a woman.
Greater Miami consists of large unincorporated areas, some of which are heavily populated. It also has 27 independent municipalities.
Miami, Florida has been given a nickname as "The Magic City." It earned such nickname after the city's rapid growth. From 1896 to 2006, a period of 110 years, Miami, and its metropolitan area grew from just over a thousand residents to almost 5.5 million residents!
Serving nearly five million passengers annually, the Port of Miami is widely known as the "Cruise Capital of the World."
The first Burger King was built and had its first operation in Miami in 1954. By 1957, the restaurant introduced "the Whooper," which is their iconic burger at present.
How Your Car Donation Will Benefit Breast Cancer Patients
After you donate your old and unwanted car to our Miami, Florida program, we will sell it at auction, with the proceeds going straight to our two charity partners — the American Breast Cancer Foundation (ABCF) and Women Involved In Nurturing, Giving, Sharing, Inc. (WINGS). These reputable non-profits use the funding that came from you to sustain and improve their existing programs and services such as:
Financial assistance to uninsured and underserved breast cancer patients, covering their surgery, oncology services, consultation, hospital fees and outpatient medication;

Connecting these patients to local facilities that offer free and accessible resources, information and other comprehensive breast health services;

Raising public awareness on breast cancer prevention, diagnosis, and treatment;

Pursuing research on prevention, screening, diagnosis, and treatment of breast cancer; and

Sponsoring charity and outreach events for the benefit of breast cancer patients
Our Fast and Easy Way of Donating Vehicles
Another feature of our Miami, Florida, vehicle donations program that makes donating to charity a pleasurable experience is our fast, easy, and no-hassles donation process. It takes three simple steps for you to reach out and extend assistance to fellow Americans suffering from breast cancer:
Get in touch with us either by filling out our 

online donation form

 or calling us at 866-540-5069. Tell us about the details of your vehicle – year purchased, model, brand, and a few more details. This will take just a few minutes.

After you notify us of your donation, you can schedule the fast and free pick-up of your vehicle at your earliest convenience. We'll immediately arrange for a local towing company to pick up and tow your vehicle. We will give you a donation receipt that releases you from all liabilities on your car, giving you the right to cancel and stop paying for your car insurance and registration.

Within 30 days after we auction off your vehicle, we'll send you your 100 percent tax-deductible sale receipt, indicating your donated vehicle's final selling price. This will serve as the basis of your tax deduction claim when you file your itemized federal tax return.
The Types of Vehicles We Accept for Donation
Are you ready to donate a car for cancer but still unsure of whether we will accept your vehicle? No need to worry: We accept almost all types of vehicles in our program.
It doesn't matter if the vehicle has been stuck in your garage for a long time. We only say no to stolen or abandoned cars since such vehicles obviously do not have titles or proof of ownership, which is a prerequisite for selling.
However, if you lost your title, you can still donate the vehicle. But first, you have to talk to us so we can help you find a replacement title for your vehicle.
If you intend to donate more than one vehicle, that's fantastic! The more vehicles you donate, the better of course since they would translate to more assistance for breast cancer patients.
Here's a partial list of common vehicles we accept for donation:
Cars:

 sedans, vans, SUVs, trucks, motorcycles

RVs:

 recreational vehicles, motorhomes, campers, travel trailers, pop-up trailers, 5-wheelers

Specialty vehicles:

 ATVs, snowmobiles, motorized wheelchairs, riding lawn mowers, tractors, farm equipment

Fleet vehicles:

 cars, passenger vans, cargo vans, SUVs, pickups, trucks, buses

Watercraft and aircraft:

 sailboats, motorboats, fishing boats, yachts, pontoon boats, houseboats, jet skis, non-commercial airplanes
Donate Now!
Are you ready to join us in our battle against breast cancer? Call us at 866-540-5069 and make your Miami, Florida donations! Be a hero to the breast cancer community in your city!
or Call Us Now at 866-540-5069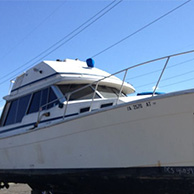 Excellent customer service!