Pembroke Pines, Florida Car Donations
Donate Your Vehicle and Save Lives!
Pembroke Pines, Florida Car Donations: Help Fellow Americans Struggling with Breast Cancer
Thousands of our fellow Americans who are uninsured are trying to stay alive as they grapple with breast cancer, one of the world's deadliest diseases. Unfortunately, most of them cannot afford the expensive medication and treatment procedures.
We at Breast Cancer Car Donations support these breast cancer patients by generating funds for programs geared to save their lives. Through your Pembroke Pines, Florida car donations, we will be able to transfer the proceeds from the sale of your donated vehicles to our two esteemed breast cancer non-profit organization partners: the Women Involved in Nurturing, Giving, Sharing, Inc. (WINGS) and the American Breast Cancer Foundation (ABCF). These leading non-profits provide financial assistance for diagnosis and breast cancer treatment of needy individuals. These breast healthcare services are made available to uninsured and underserved individuals regardless of their gender and age.
The proceeds from your Pembroke Pines, Florida car donations are also used to fund research on breast cancer cure and programs to enhance public awareness of breast cancer and its early detection. We serve the entire state of Florida, including nearby cities such as Fort Lauderdale.
Learn More About Pembroke Pines
Located in Broward County, Pembroke Pines boasts a friendly, small-town feel. This city was named "one of the best cities to live in America," and is just minutes from the beach. Fun attractions include camping at C.B. Smith Park, shopping at Pembroke Gardens and exploring wildlife at Chapel Trail Nature Preserve. You can even see the beautiful sights by taking a helicopter tour with a licensed pilot.
This area is also home to several cancer treatment centers. These include Memorial West Breast Cancer on N Flamingo Rd, GenesisCare on Pembroke Rd and the Southwest Florida Cancer Care on N Hiatus Rd.
Latest Breast Cancer Statistics in the United States
According to Breastcancer.org, one in eight female Americans has a chance of developing invasive breast cancer in her lifetime. Invasive cancer usually starts in the duct where milk passes to the nipples.
Breastcancer.org also noted that 85 percent of women with breast cancer have no relative with the history of that dreaded disease.
According to the National Cancer Institute, the most common type of cancer is breast cancer, with more than 255,000 new cases expected in the United States in 2017. Of these cases, the estimated deaths are 40,610 for women and 460 for men. The next most common cancers are lung cancer (222,500 cases with155,870 deaths) and prostate cancer (161,360 cases with 26,730 deaths).
How You Benefit From Pembroke Pines, Florida Car Donations for Cancer
Aside from the sense of fulfillment knowing that you will be helping save lives, you stand to receive more benefits by donating your car to our car donation program in the area. One of the best rewards is getting at least part of the cash value of your old car through the top tax deduction that you will be entitled to. The amount you can deduct from your tax payment can be more or less $500, depending on your vehicle's sale price.
Another perk you can get from donating to Pembroke Pines, Florida car donations is that you get free pick-up and towing. The process of donating is also quick. You can get your vehicle towed within 24 to 48 hours.
Car Donations Process in Pembroke Pines, Florida
The donation process to help breast cancer patients through Pembroke Pines, Florida car donations is guaranteed fast and easy.
Step 1: Visit our website and fill out the online vehicle donation form. You may also give us a call at 866-540-5069. Our donor specialists will be glad to assist you through the process. We will ask for your vehicle's information such as its make and model, your preferred time and date for pick-up, and your vehicle's pick-up location.
Step 2:  After verifying the information you provided, we will make arrangements with a professional tow company to pick up your car. The towing fee is on us.
Step 3: The tow company will then pick up your vehicle on the agreed date, time, and place. You will receive a towing receipt that releases you from all liability, which means you can now stop paying for your car's insurance and registration.
We will then auction off your car. We will try our best to get the highest selling price for it.  We will then send you a letter acknowledging your donation to our Pembroke Pines, Florida car donations program and informing you about your vehicle's sale price. Included in the letter will be your sale receipt or IRS form, which you will use when you file your income tax return.
If your vehicle is sold for less than $500, you can claim as your tax deduction the selling price or the vehicle's fair market value up to $500, whichever is higher. You can calculate the fair market value of your car by checking the prices online for vehicles of the same make, model, year and condition as your car.
If your vehicle is sold for more than $500, you can claim only the exact amount for which it was sold, even if the fair market value is greater than the selling price.
Join us in saving lives by fighting breast cancer. Donate a car for charity today and file your itemized income tax return with your top tax deduction. For more information, contact us at 866-540-5069.
or Call Us Now at 866-540-5069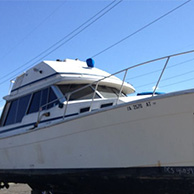 Excellent customer service!