Fort Lauderdale, Florida Car Donations
Donate Your Vehicle and Save Lives!
Fort Lauderdale, Florida, Vehicle Donations: Show You Care for People Suffering From Breast Cancer
Do you want to make a difference in the lives of people who are suffering from breast cancer here in Fort Lauderdale, Florida? Are you ready to become a part of something that's truly wonderful? Let's show you how we make this possible in our Florida car donation program.
Here at Breast Cancer Car Donations, we make use of your donations to generate funds for our non-profit organization partners that are dedicated to fighting breast cancer. Our vehicle donation program is operated on their behalf, providing additional funding so they can focus on their life-saving missions. Our charity partners — American Breast Cancer Foundation (ABCF) and Women Involved in Nurturing, Giving, Sharing, Inc. (WINGS) — use the funding to pursue the following objectives:
Provide financial assistance to uninsured and underserved Americans who are battling breast cancer

Conduct research on prevention, screening, diagnosis, and treatment of breast cancer

Boost public awareness campaigns on the causes, symptoms, prevention, and detection of breast cancer

Sponsor charity and outreach events for the benefit of breast cancer patients
Our Quick and Easy Donations Process
We made our Fort Lauderdale, Florida, breast cancer vehicle donation process as fast and simple as possible for the convenience of our donors.
Here's a quick guide to our three-step process:
Let us know that you want to donate your car. We'd need your personal contact details, your vehicle's year, make, model, mileage, availability of a title, and overall running condition as well.
Second, allow us to pick up your vehicle for free and at your preferred time and date.
A local professional towing company that we commissioned will tow your car, and we'll be the one to pay for this service. Your presence is not required on the day of pickup. However, please let us know where we could locate your vehicle's title and keys inside your car. During the pick-up, you will receive a towing receipt that will free you from all liabilities on the car, which means you can now cancel and stop paying for its registration and insurance coverage.
Third, receive your tax-deductible receipt by mail.
Within 30 days after we sell your car at auction, we'll send you your 100-percent tax-deductible sales receipt that shows how much your vehicle was sold. You'll need this to claim your maximum tax deduction once you file your itemized federal tax return
The Types of Vehicles We Accept
We accept an extensive range of vehicles in our Fort Lauderdale, Florida program. We welcome common vehicles such as cars, SUVs, trucks, vans or minivans, and motorcycles. We also accept recreational vehicles like campers, trailers, motor homes and more.
You can also donate water-borne vessels like all kinds of boats, yachts, jet skis, and more.
How about special types of vehicles? Yes, of course! We accept ATVs, snowmobiles, golf carts, tractors, farm equipment, and more! It's like any vehicle you name, we accept it!
We only say no to abandoned vehicles because they have no proof of ownership. We also cannot process vehicles that are a total wreck or those with little or no value.
We love multiple Fort Lauderdale, Florida donations because more individuals would benefit from them.
If you have certain concerns about the vehicle you intend to donate, please give us a call at 866-540-5069. We'd love to talk to you!
Benefits for Breast Cancer Car Donors
You will be receiving numerous benefits for working with us. Here are some of them:
Receive a 

hefty tax deduction

 for your donation

The donation process only takes a few minutes of your time

We'll pay for the pick-up and towing of the vehicle you're donating

Avoid the difficulties of selling your car

No need to bother with paperwork – we do that for you

Save money by not paying any more for car repair, registration, and insurance

More space in your backyard or garage to house your new car

That rewarding feeling inside knowing that you made an impact on the lives of many people suffering from breast cancer
Fort Lauderdale, Florida: The 'Venice of America'
The city of Fort Lauderdale in Florida is known for its beaches and boating canals. it is called the "Venice of America" due to its extensive canal systems. The city's economy greatly depends on tourism, but it is also a home to Fortune 100 companies while others are situated in nearby Miami.
The original settlers of Fort Lauderdale were Seminole Indians. In 1893, the first trading post was established, which not only served as a house but also as the place's first town hall, bank, and post office. Some18 years later, Fort Lauderdale was officially incorporated as a town.
Occasionally, the city has brief periods of cold during the winter season. Otherwise, it is warm or hot since it has a sub-tropical climate. This kind of climate makes it possible for the city to offer outdoor activities such as yachting and fishing. A lot of college students also spend time in the city during their Spring break.
One of the most attractive boat canals in Fort Lauderdale is the Strip. It is a promenade which runs along Oceanside highway A1A. It is lined with classy bars, outdoor restaurants, luxury hotels, and boutiques.
Fort Lauderdale offers other must-see attractions such as Hugh Taylor Birch State Park, which features a lagoon and some trails, and the International Swimming Hall of Fame, which has pools and a memorabilia museum.
Are You Ready to Donate for a Worthy Cause?
If you are ready to donate a car for breast cancer in Fort Lauderdale, Florida, just pick up your phone and contact us at 866-540-5069. We serve the entire Broward County area, including (but not limited to) nearby communities such as Pompano Beach and Pembroke Pines. Show that you care for the people in your city suffering from breast cancer. Donate now!
or Call Us Now at 866-540-5069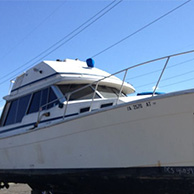 Excellent customer service!