Pompano Beach, Florida Car Donations
Donate Your Vehicle and Save Lives!
Pompano Beach, Florida Car Donations: Help us Save Lives of Breast Cancer Victims
Donating an old car to our Pompano Beach, Florida car donations program may mean little to you, but to women fighting breast cancer, it can be a life-saving instrument. How's that possible? We at Breast Cancer Car Donations can transform old or unwanted vehicles into fund-generating tools to support reputed nonprofit organizations that are devoted to fighting the deadly disease and helping its victims.
In case you didn't know, breast cancer is the second top cause of cancer deaths in the country, next only to lung cancer, taking the lives of tens of thousands of its victims yearly in the United States alone. Affected women have been struggling hard every single day, hoping that they can get through it. Sad to say, the disease remains uncurable for many patients.
With Pompano Beach, Florida car donations for cancer patients, these women get a brighter look at the future. An idle car of yours can become a source of fund for cancer-fighting organizations, fueling their efforts to further unravel the disease and find a cure through research and at the same time provide services to cancer victims and their families.
Moreover, working with Breast Cancer Car Donations is easy and beneficial for donors as well. First, you won't have to worry about going through a difficult process of donating. Second, you'll be receiving plenty of benefits while getting rid of a no-longer-needed automobile.
A Quick and Simple Donation Process for You
We see to it that the donors go through a hassle-free donation process, which is why the only thing they need to do to begin the process is to call us at Breast Cancer Car Donations. Don't stress yourself from thinking too much about the paperwork or the towing service, as we will take care of them. Just tell us that you're ready to donate a vehicle to charity through our program, and we promise to finish everything on our own.
To give you the complete picture, here's a quick sequential guide to our donation process in the area:
Once you've decided to donate your car, just call us or fill out our online form. Give us relevant details of your vehicle, including its make and model, after which we arrange a place and date to tow it away.

Our tow truck usually arrives a day or two after you've made the call. You're free to be somewhere else, so don't worry about missing an appointment. Don't worry about paying either – it's on us! You'll receive from us your donation receipt, which gives you the freedom to scrap your car's insurance and registration.

We'll put your Pompano Beach, Florida

car donations

up for auction. The proceeds will go directly to charities that specialize in fighting breast cancer.
Learn More About Pompano Beach
Broward County, where Pompano Beach is located, has a great need for charities geared to support cancer patients. The county's rate of all types of cancer deaths for women was roughly 122 per 100,000 people as of 2018. This is about the same as the rest of Florida as well as nationally. When you donate an unwanted vehicle through us, we make sure the proceeds from its sale go to groups that work to bring that number down and provide care for those suffering from breast cancer.
Types of Vehicles for Breast Cancer Car Donations
Another thing you'll love about working with us is the fact that you can donate an automobile that's no longer in proper running condition. Because we have our tow truck to do the hauling, you don't have a reason to feel uncertain about giving away a non-working car to us.
Breast Cancer Car Donations takes almost all kinds of vehicles — cars, trucks, minivans, RVs, campers or travel trailers, motorbikes, scooters, riding lawnmowers, ATVs, snowmobiles, any watercraft or aircraft. You name it, and we'll be glad to accept whatever you're offering.
We are also open to accept multiple donations.
Rewards That Await Car Donors
Donating your old automobile to us can provide you plenty of rewards. That's right. Cancer-stricken women will not be the only ones who will benefit from your car donation. As a matter of fact, you're also giving yourself the pleasure to enjoy several perks that go along with your donation.
By collaborating with us, you'll get a sizeable tax deduction. Days after selling your car, we will send you by mail your 100 percent tax-deductible sales receipt. If your vehicle was sold for less than $500, you can claim as your tax deduction your vehicle's selling price or your vehicle's fair market value up to $500, whichever is higher. You can calculate the fair market value of your car by checking the prices online for vehicles of the same make, model, year and condition as your car.
You can claim a bigger tax deduction if your vehicle was sold for more than $500. In this case, you can only claim the exact amount for which it was sold, even if the fair market value is greater than the selling price.
Here are the other benefits you'll be getting when you donate a car for charity through our program:
Free towing and pickup

No need to deal with paperwork

Freedom from paying for your car's insurance premium and maintenance fees

Extra space for your garage or driveway

Feeling of joy knowing that your

vehicle donations

will be playing a vital role in the fight against breast cancer
Make a Difference in the Lives of Breast Cancer Victims
Are you looking forward to making car donations for breast cancer programs? Help us save lives today by making a car donation. Pick up your phone and contact us at 855-540-5069. We serve the entire state of Florida, including nearby cities like Boca Raton and Fort Lauderdale.
or Call Us Now at 866-540-5069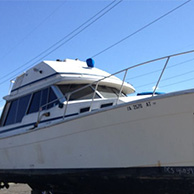 Excellent customer service!