Hialeah, Florida Car Donations
Donate Your Vehicle and Save Lives!
Boost Anti-Breast Cancer Campaign, Help Save Lives With Your Hialeah, Florida, Car Donation
Despite the gains made in the battle against breast cancer, the terrible disease continues to claim thousands of American lives, including here in Hialeah, Florida.
However, we are not powerless in fighting this monstrous health menace. With your participation in our Hialeah, Florida, vehicle donations program, we can somehow lessen the impact of this deadly disease on people as its needy victims get much-needed medical assistance. Donating your old and unwanted vehicles to Breast Cancer Car Donations will bolster the programs currently being implemented by our nonprofit partners that are mostly geared towards helping breast cancer patients and their families. We serve the entire region, including (but not limited to) nearby cities such as Boca Raton, Fort Lauderdale, Miami, Pembroke Pines and Pompano Beach.
Breast Cancer in America At a Glance
The number of breast cancer cases and the death toll remain high throughout the country. For 2018, the American Cancer Society estimates that 266,120 new cases of invasive breast cancer would be diagnosed in women and 2,550 new cases of the same type of cancer in men. This is aside from 63,960 new cases of non-invasive cancer, also known as carcinoma in situ or CIS, in women.
It warns that about 40,920 women and 480 men in the U.S. are expected to die this year from breast cancer.
The organization further states that about one in eight American women (or about 12.4 percent) will develop invasive breast cancer over the course of her lifetime.
About Hialeah, Florida
Hialeah is the sixth largest city in Florida. It's a part of Miami-Dade County and had a population of 236,387 as of the 2016 census. Of this number, 52.5 percent, or 124,103, are females—the prime target of breast cancer.
For this year, Florida is estimated to have 19,860 breast cancer cases with 2,940 deaths.
Hialeah has the distinction of being the city in the United States with the highest percentage of Cuban and Cuban American residents at 73.37 percent of the population. It's also one of the largest Spanish-speaking communities in the country with 96.3 percent of its residents speaking Spanish at home, according to a 2016 survey.
How We'll Use Your Donations to Fight Breast Cancer
With breast cancer continuing to cast a long shadow of death in our nation, we are working tirelessly to fight this scourge together with our certified 501(c)3 nonprofit organization partners. The proceeds from the sale of the Hialeah, Florida donations we received are used by our partners to fund programs that aim to give breast cancer patients the chance to live better and longer lives. When you donate your unwanted vehicles to us, you'll help our charity partners as they deliver vital breast health services to the people in your own city. The services include:
Financial assistance to uninsured breast cancer patients to help pay for their treatment including surgery, oncology services, hospital fees, and outpatient medication;

Easy access to health facilities, clinics, and hospitals for all individuals seeking breast cancer screening, diagnosis, and treatment;

Public information campaign on early detection and diagnosis of breast cancer as well as effective treatment and preventive measures;

Breast cancer research to find new and better ways to prevent, detect, manage, and treat the disease with the ultimate objective of finding a cure for it.
Here's How You Can Save Lives
Our Hialeah, Florida fundraiser gives you a convenient way to reach out to struggling breast cancer victims. A simple call to us can save the lives of many. Once you're ready to make a donation, pick up your phone and give us a call at 866-540-5069. You may also fill out our online donation form to begin the process. Tell us a few details about you and the vehicle you're donating such as its make and model, year, VIN, general condition, and availability of title.
After verifying the information you shared, we will ask you to pick the most convenient date, time, and place for the vehicle pickup. Please take note that the towing service is absolutely free!
Before we take your donated vehicle, we will issue you a tow receipt that will relieve you from any liabilities on that vehicle, giving you the right to cancel and stop paying for your vehicle's registration and insurance coverage. The receipt is also a requirement for the processing of your top tax deductions.
We will then auction off your vehicle. Once your vehicle is sold, we will mail to you the necessary documents, including the100-percent tax-deductible sales receipt of your car. You'll receive this within 30 days after your vehicle gets sold.
The Rewards You'll Get for Your Generosity
Many do not expect anything in return while donating. However, taking part in our Hialeah, Florida fundraiser will give you plenty of rewards. Here are some of them:
Get maximum tax deductions.
We work with IRS-certified 501(c)3 nonprofit organizations, that's why your car donation would qualify you for tax write-offs. We will exert our best efforts to help you maximize your tax deductions by ensuring that you would get top value for your donated car when we have it sold at auction.
Fast and free pickup and towing service.
We will pick up your car at no cost to you since we will be the one to pay the towing fee.
We'll handle everything from title transfer to sending you your tax-deductible receipt. After making your initial call to us, you can just sit back, relax and allow us to handle all the paperwork and everything else for you.
Reach Out Quickly Now!
There's no better time than now to reach out to our fellow Americans who have been stricken with breast cancer. The malignant disease moves fast in the bodies of its victims. Every minute counts. Contact us at 866-540-5069 right away to donate a car for cancer in Hialeah, Florida!
or Call Us Now at 866-540-5069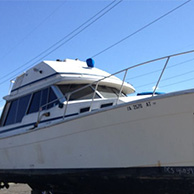 Excellent customer service!