Florida Golf Cart Donations
Donate Your Vehicle and Save Lives!
Save Lives in the Sunshine State through Florida Golf Cart Donations
Do you know that participating in our Florida golf cart donations program is an incredibly convenient way for you to convert your unwanted or extra golf cart into a tax-deductible donation that benefits the people in Florida who are suffering from breast cancer? Breast Cancer Car Donations manages vehicle donation programs on behalf of registered 501(c)3 nonprofits to raise funds for the breast health services that these charities provide to the public.
As you may know, breast cancer is an uncontrolled growth of cells in the breast. When left untreated, it may spread to other parts of the body, thereby increasing the severity of the disease. According to the National Breast Cancer Foundation, Inc., breast cancer is the second leading cause of cancer deaths in women and the second most common cancer type diagnosed among women in the United States.
In fact, The American Cancer Society has projected that this year, 2018, about 19,860 new female breast cancer cases will be diagnosed in Florida. It also states that 2,940 women will lose their lives to the disease. To bring these numbers down and increase the affected people's chances for survival, efforts must be exerted in intensifying critical breast cancer research that covers prevention, early detection, treatment, and cure.
How Can Breast Cancer Car Donations Help?
Upon the sale of your donated golf cart, Breast Cancer Car Donations will forward all the proceeds to our nonprofit partners to provide additional funds for their life-saving missions including:
Seeking new ways to enhance methods of breast cancer prevention, screening, and diagnosis;
Effective treatment and rehabilitation of men and women living with breast cancer;
Support for breast cancer patients' families;
Financial assistance to uninsured and underserved Americans who are grappling with breast cancer;
Funding breast cancer treatment research;
Enhancing campaigns for public awareness on the causes, symptoms, prevention, and detection of breast cancer.
Rewards for Your Generosity
Aside from the obvious reason that you're giving away your old vehicle because you find no more use for it, the fulfilling feeling of being able to help the people in your community who are fighting for their lives to beat breast cancer is a more compelling reason to opt for Florida golf cart donations. Just so you can further appreciate the perks you'll be having as a donor, let's dive in and explore the points below:
1: Hassle-free process
Instead of having to sell your property by yourself—which could be a huge headache—donating it to a worthy cause can be more convenient for you. You don't have to put up "For Sale" signs, scout for potential buyers, deal with a lot of paperwork, and even shell out money for the towing and moving of the vehicle.
With Florida golf cart donations, you only have to go through a few steps in the comfort of your home, and a licensed towing company will pick up your vehicle for FREE. You don't even have to be present during the pick-up process!
To reward you for your generous contribution, you will be able to enjoy maximum tax deduction benefits when you file your itemized income tax return for the next tax season. The amount will depend on your vehicle's selling price or fair market value based on certain conditions.
3: Avoid unnecessary expenses
Are you really willing to burn more cash for the insurance and maintenance of an unwanted golf cart? When you join our Florida golf cart donations, you won't have to spend thousands of dollars for unnecessary insurance and repairs, and you won't also have to repaint it either to make it look presentable to buyers.
With Florida golf cart donations, your vehicle will be received with open arms just the way it is. You can get rid of your unwanted golf cart today by calling us at 866-540-5069!
'Aside From My Golf Cart, What Other Vehicles Can I Donate?'
Almost all vehicles are welcome for donation. In most cases, we'd gladly receive vehicles that haven't been running for a long time. Even if they come off as a bit junky with some parts missing, we'll still think of them as gold. Other than golf carts, you can also donate the following:
Cars: sedans, vans, SUVs, trucks, motorcycles
Boat and other watercraft: sailboats, motorboats, fishing boats, yachts, pontoon boats, houseboats, jet skis and other personal watercraft
RV and campers: recreational vehicles, motorhomes, campers, travel trailers, pop-up trailers, 5-wheelers
Specialty vehicles: ATVs, snowmobiles, tractors, motorized wheelchairs, riding lawn mowers, farm equipment
Fleet vehicles: cars, passenger vans, cargo vans, SUVs, pickups, trucks, buses
'How Can I Donate?'
There are three simple steps in our Florida golf cart donations process:
1: Get in touch with us!
Simply fill out our online donation form or call 866-540-5069 to speak to one of our friendly receptionists. All you need to provide are a few key details of your golf cart like its year, make and model, its overall condition, your contact details and your most preferred date, time, and place for pickup and towing.
2: Wait for the FREE pickup service
We'll make an arrangement with a local professional towing company, and your vehicle will then be picked up at your convenience. This service will be free of charge and you don't even have to be present during the process! During the pickup, you would be handed a towing receipt that would release you from any liabilities from then on.
3: Enjoy tax-deductible benefits
After closing the sale of your vehicle, we will send you a receipt for your tax deduction via mail. That document will be useful when you file your itemized personal income tax return.
Help save lives in the Sunshine State within the comforts of your home! Contact us today at 866-540-5069 to join our Florida golf cart donations drive.
or Call Us Now at 866-540-5069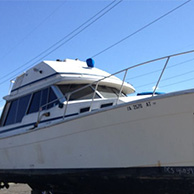 Excellent customer service!