https://www.cardonations4cancer.org/wp-content/themes/naked/img/banner-faq-01.jpg
Car Donations in Tampa, Florida
Donate Your Vehicle and Save Lives!
Tampa, Florida Car Donations: Help Save Lives of Breast Cancer Victims

Breast cancer patients together with their families face grim challenges as they confront a devastating disease. Their biggest problem is the lack of financial resources to pay for the cost of cancer treatment, which remains sky high.
According to data from the National Cancer Institute, the average cost of care for breast cancer in women age 65 and older is $23,078 for initial treatment and $2,207 for continuing treatment. However, the actual treatment cost could be higher than that, depending on the types and stages of the disease. Worse, a study showed that uninsured cancer patients pay up twice as much as their insured counterparts for doctors' visits and 43 times as much for chemotherapy drugs.
What happens is that breast cancer patients who could not afford the high treatment cost are bound to give up the fight and just wait for their final breath.
Why We Are Here in Tampa
We have set up our program for car donations Tampa to serve as a convenient platform for city residents to extend a helping hand to fellow Floridians afflicted with breast cancer and who are having difficulty in paying for their treatment. That old car gathering dust in your garage or backyard may be useless to you, but definitely not to these patients. If you donate a car in Tampa to us, we will transform it into a funding resource that will be used to help save the lives of the poor breast cancer sufferers in your own city.
Breast cancer is the most common form of cancer among women in Florida next to skin cancers. As of 2002, Florida ranked third among America's 50 states in terms of the most number of new breast cancer cases and deaths.
This is the reason why we at Breast Cancer Car Donations in Tampa, FL are intensifying our efforts to generate funds to save the lives of our fellow citizens suffering from this terrible disease. Whether you donate an old car or a new one, a big one or a small one, or instead make a truck or RV donation in Tampa, we will gladly accept it and convert it into a source of funds that we will use in supporting the screening, diagnosis, and treatment of those afflicted with breast cancer.
The latest U.S. Census Bureau estimates taken in July 2016 showed that Tampa, Florida has a population of 377,165. Women comprise about 51.1 percent of this number, or 192,731.
It has been established that about one in eight U.S. women (about 12.4 percent) will develop invasive breast cancer over the course of her lifetime. Using this percentage on the female population of Tampa, this could mean that more than 23,000 women in the city could be hit by breast cancer. The target group most in need of breast health awareness and education are African Americans, Hispanics, as well as the working poor.
If you have an old car that you do not want anymore, consider making a car donation in Tampa so we can use it to help save lives.
Tampa, Florida: Lightning Capital of the World?
Tampa, Florida is known as the jewel of Florida's west coast and 11th largest seaport of the United States. Located on the beautiful gulf coast, Tampa is one of Florida's major cities. It boasts of a great variety of attractions including the Busch Gardens, Waterside cafes, Channelside shopping, the Florida Aquarium as well as its infamous lightning.
Tampa has been called the "Lightning Capital of the World" or the Lightning Capital of America," but that is disputed by authorities, citing other places where lightning occurs more often. However, electrical storms do occur in Florida frequently, and the state leads the nation in fatalities and injuries caused by lightning.
What is indisputable is the fact that breast cancer continues to victimize more residents of Tampa and the whole state of Florida.
3 Simple Steps to Start Helping Others, and Yourself, Too

With breast cancer striking more people in Tampa than lightning, we are compelled to intensify our Tampa, Florida car donations program. We made it easier for you to make a car, truck, RV, motorcycle or boat donation in Tampa by simplifying the process. It takes just three quick and simple steps to start doing something great for others while also helping your own self as well.
Fill out our online Tampa car donation form or call us. You can schedule your free pick up and give us some basic information about your car in just a few minutes.
Let's haul your car away.
You can expect us to show up on the scheduled date and time to do the towing. Remember that you won't have to pay for this service and you don't even have to be home when we arrive. We will give you a donation receipt that will allow you to de-register your vehicle, dispose of your license plates properly, and cancel your insurance coverage.
Wait for your tax-deductible receipt.
After your car gets sold at auction, we will mail you your 100 percent tax-deductible sale receipt, indicating your donated vehicle's final selling price. This will serve as the basis of your tax deduction claim when you file your itemized federal tax return. You can either claim the indicated amount as your tax deduction if it's higher than $500. If your car's selling price is lower than that, you have the option to base your tax deduction claim on your vehicle's fair market value.
A Most Rewarding Experience Awaits You
Giving away an old car or a truck or any other vehicle to help save lives is one of the most rewarding experiences you'll ever have. Call us at 866-540-5069 and make your car donations in Tampa, Florida now!
Breast Cancer Car Donations: Tampa, Florida
8207 Cypress Breeze Way
Tampa, FL 33647
Phone: (866) 540-5069
or Call Us Now at 866-540-5069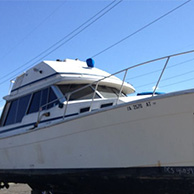 Excellent customer service!