Clearwater, Florida Car Donations
Donate Your Vehicle and Save Lives!
Donate a Car for Cancer: Take Steps to Save Lives of Breast Cancer Victims
Taking part in our Clearwater, Florida vehicle donation program is one big step in saving the lives of those afflicted with breast cancer in this city.
Known as an ideal travel destination, Clearwater, Florida offers miles of sugar white sand, crystal clear water and all the best attractions of living in a thriving beach community. Residents love having easy access to outdoor recreation, sporting, music and food, as well as being just 22 miles from big-city Tampa. Yet even here, many people are fighting the challenges of breast cancer. The community is home to Powell Cancer Center, West Florida Radiation Therapy and BayCare. When you donate a vehicle, you do something to help those battling cancer in this area.
We at Breast Cancer Car Donations are committed to pursuing our donations program since this is our way of supporting programs intended to help individuals obtain proper screening, diagnosis, and treatment of breast cancer. Screening is the most important part of every medical procedure because it is at this point when the illness is detected. If breast cancer is detected early enough in a patient, the chances of treatment and recovery are greatly enhanced.
While breast cancer death rates have gone down over the years because of early detection, increased awareness, and better treatments, thousands are still dying of the disease every year mainly because of the inadequate support for the treatment of patients.
With our Clearwater, Florida program, we hope to save lives by providing our non-profit organization partners with the financial muscle to serve more indigent breast cancer patients and pursue their research on more effective ways to fight this devastating disease.
We serve the entire state of Florida, including (but not limited to) nearby communities such as Sarasota.
Why Join Clearwater, Florida Vehicle Donations?
Giving away an old car to help save lives of breast cancer patients will give you immense joy and sense of fulfillment that no material thing can match. This is one of the many unforgettable experiences you will encounter when you join our program in the area.
That's not all. You will also receive material benefits for your generosity. Expect to receive these:
The sale value of your donated vehicle is deducted on your itemized tax return.
Effortless way to dispose of unwanted car
We will be the one to dispose of your car for free.
Stop paying for repairs, maintenance, and insurance on a vehicle you have not been using for a long time.
Types of Vehicles We Accept for Donation
We accept various types of vehicles in our Clearwater, Florida donation program with only very few exceptions. Your car's condition doesn't matter as long as it can still fetch a price when auctioned. Even if it has not run for years, we would still gladly accept it as your donation. We take care of refurbishing donated vehicles before sending to auction houses.
The only ones we cannot process are abandoned vehicles and those without titles or ownership. We cannot sell vehicles without titles. However, if you lost the title to the vehicle you're donating, we can help you find a replacement title so you can still donate it.
Here is a partial list of the vehicle types we accept for donation:
Cars

Vans or minivans

Trucks

Motorcycles

RVs

Boats

Jet skis

Yachts

Snowmobiles

Golf carts

Non-commercial airplanes

Farm equipment
Please check our vehicles accepted page for more information.
How to Donate Your Car
The steps involved in donating a car to our Clearwater, Florida program are as simple as 1–2–3, literally! The easy steps are:
Get in touch with us either by filling out our 

online donation form

 or calling us at 866-540-5069. Tell us about the details of your vehicle – year purchased, model, and brand – and your personal contact information as well so we can get back to you.

After we receive your request and process the information you provided us, you can schedule the fast and free pick-up of your vehicle at the date, time, and place of your convenience. Tell us about this and we will immediately arrange for a local towing company to pick up your vehicle. You don't have to be present during towing. We will give you a towing receipt that releases you from all liabilities on your car, giving you the right to cancel and stop paying for your car insurance and registration.

Lastly, you will receive your IRS tax-deductible receipt in the mail after your vehicle is sold at auction. You'll need the receipt to support your top tax deduction claim when filing your federal tax return. You will have the opportunity to enjoy a significant tax deduction. If your vehicle's selling price is $500 or less, you may claim either the selling price or the fair market value of your car, whichever is higher, as your tax deduction. On the other hand, if your car fetched a price higher than $500, you may claim that exact amount as your tax deduction. All proceeds will be used to provide assistance to those afflicted with breast cancer and to sustain the fight against the horrific disease.
Donate a Car Now and Make a Difference
There are hundreds of thousands of women suffering from breast cancer in the United States. No matter the odds, we can still do something to help the victims. Help spread the word and join the fight against breast cancer through your Clearwater, Florida donations.
Contact us at 866-540-5069 and help save lives by donating a car.
or Call Us Now at 866-540-5069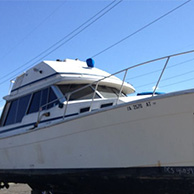 Excellent customer service!