Sarasota, Florida Car Donations
Donate Your Vehicle and Save Lives!
Sarasota, Florida Car Donations: Make a Difference in the Lives of Breast Cancer Patients
The simple act of donating your car can make a big difference in the lives of breast cancer patients and their families. If you have an old unwanted car that is just taking up space in your garage and of no use to you anymore, consider donating it to us at Breast Cancer Car Donations through our Sarasota, Florida car donation program.
We assure you that your donation will be used for the benefit of uninsured and underserved breast cancer patients in your city who otherwise could not afford the cost of their treatment.
We are the partner of two of the country's top non-profit organizations that are providing much-needed breast health services to individuals, particularly the poor, and waging a relentless campaign against breast cancer.
These 501 (c) (3) certified non-profit organizations – the American Breast Cancer Foundation (ABCF) and Women Involved in Nurturing, Giving, Sharing, Inc. (WINGS) — will use the proceeds from the sale of your donated vehicle to:
Provide financial assistance for breast cancer treatment including surgery, oncology services, hospital fees, and outpatient medication;

Raise public awareness on the signs and symptoms of breast cancer to promote early detection; and

Improve existing link referral systems to allow affected women free access to local resources, services, and
How Our Car Donation Process Works
Clearly, the most important part of our Sarasota, Florida vehicle donation program is the donation process. That's why we made sure that our donation process is convenient, quick, and simple. We don't want to inconvenience our donors. We go straight to the point because we don't want them to be waiting.
Here's a guide on our three-step donation process:
Just give us a call at 866-540-5069 or fill out our online donation form. We need only a little information about you and the car you're donating.
Schedule the vehicle pickup.
We will arrange for a licensed towing company near you to pick up and tow your vehicle at the date, time, and place of your own choosing. Take note that this is a free service. We will give you a donation receipt before your car is taken. The receipt will release you from any liability and allow you to de-register your vehicle, dispose of your license plates properly, and cancel your insurance coverage.
Receive a tax-deductible sale receipt.
A few days after your vehicle is sold at auction, you will receive a 100-percent tax-deductible receipt from us in the mail. The amount shown on the receipt is your car's final selling price, which can serve as the basis of your tax deduction claim when you file your itemized federal tax return.
We are not very choosy about the types and conditions of the vehicles offered to us for donation. We accept nearly all types of vehicles in our Sarasota, Florida vehicle donations program. Good condition or not, we take them in because every donation counts. The only vehicles we have to say "no" to are the abandoned ones without titles and those that are a total wreck whose value is even less than the cost of towing.
Here are the common types of vehicles we gladly accept:
Cars

SUVs

Vans or minivans

Trucks

RVs

Trailers

Boats

Jet skis

ATVs
If you want to know more about the types of vehicles we accept, click here.
The Benefits That Await Car Donors
One of the best features of our Sarasota, Florida car donations program is that it offers a lot of benefits not only to breast cancer patients but to donors as well.
Here are some things you can take advantage of:
Getting rid of a vehicle that is of no use to you anymore

You don't have to pay any more for registration and insurance fees

Stop spending on costly vehicle repairs for maintenance

Enjoy our easy and quick donation process

Free towing and pickup of your car

Tax deductible donation

The immense joy of giving, knowing that your donation will make a huge difference in the lives of breast cancer patients
About Sarasota, Florida
Surrounded by equally interesting cities to the north and south, Sarasota is located on the west coast of Florida. It is widely known for its remarkable beaches. Not only that, it is also a cultural center of the west. It is an attractive clean city, maintaining Florida's charm while growing into a mid-size city.
Did you know that Sarasota has 13 public beaches and over 35 miles of powder-soft sand along its beachfront? This is one of the many reasons why this city welcomes 4 million visitors per year! Majority of these people include retirees who love the water and the sunshine. No wonder it is a tourist haven and a wonderful place to visit and live!
Unfortunately, not all residents of Sarasota can enjoy the natural beauty of their city. They include the bed-ridden breast cancer patients and their families who are at their wit's end on how to continue with the treatment regimen with no more money to pay for it.
But with your car donations for breast cancer, they just might be able to do so, eventually leading to the patients' full recovery.
Join Us in Saving Lives!
Do you want to be part of something big? Join us in saving lives and fighting breast cancer!  Call us at 866-540-5069 and donate a car for charity in Sarasota, Florida! We serve the entire region, including nearby Bradenton, Clearwater, Tampa and St. Petersburg.
or Call Us Now at 866-540-5069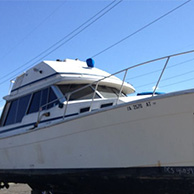 Excellent customer service!