St. Petersburg, Florida Car Donations
Donate Your Vehicle and Save Lives!
St. Petersburg, Florida, Vehicle Donation Program: Help Us Win the War Against Breast Cancer
Breast cancer may seem unstoppable as the dreaded disease continues to afflict thousands of women across the nation, claiming mostly the lives of those who had no financial resources to pay for the cost of treatment.
But no matter how devastating this disease looks like, we at Breast Cancer Car Donations continue to remain hopeful that the day will come when giant strides will be made in the battle against breast cancer, resulting in lower mortality rates.
This can only happen with strong public support to those who are in the forefront of the war against this deadly disease. That is why we are relentlessly pursuing our car donation programs everywhere in the nation for the benefit of breast cancer sufferers.
In this city, we have set up our St. Petersburg, Florida donations program to encourage residents to join our cause by donating their old and unwanted cars and other vehicles.
When you donate a car to breast cancer with us, the proceeds from the sale will be used by our non-profit partners to:
Help uninsured and underserved breast cancer patients gain access to medical screening, diagnosis, and treatment;

Provide financial assistance to breast cancer patients, survivors, and their families;

Fund research on more effective breast cancer treatment and cure; and

Boost information campaign to educate the public on the causes, prevention, and detection of breast cancer.
About St. Petersburg, Florida, the 'Sunshine City'
St. Petersburg is a city located on Florida's Gulf coast and on the west side of Tampa. Residents and visitors know the city because of its sun, sand, and beach.
St. Petersburg is known as the "Sunshine City." Per year, it has an average of 361 sunny days. The city holds the Guinness World Record as it has 768 consecutive days of sunshine.
Did you know that it only had 300 residents when it was officially incorporated on Feb. 29, 1892? Initially, it was co-founded by John C. Williams and Peter Demens. The former purchased the land in 1876 and the latter brought the railroad to the city 12 years later. St. Petersburg was named after the place where Demens lived as a child: St. Petersburg, Russia.
St. Petersburg is home to the third-largest waterfront public park system in America and the Western hemisphere's largest suspension bridge – the Sunshine Skyway Bridge – which is 4.1 miles long and 19 stories high. It ranks third in the "10 Best Bridges of the World."
'Sunshine' of Benefits Awaits Our Car Donors
Our St. Petersburg, Florida program brings not only the "sunshine" of hope to indigent breast cancer patients in the city but also the "sunshine" of benefits to our generous car donors. Those who donate vehicles to support our cause get to receive the following perks:
Handsome tax deduction

Avoid the difficulties of selling your car

No need to bother with paperwork – we do that for you

Save money by not paying any more for car repair, registration, and insurance

We'll pay for the pick-up and towing of the vehicle you're donating

More space in your backyard or garage to house your new car

Give yourself a deep sense of personal satisfaction for supporting a noble cause
Our Quick and Easy Car Donation Process
Our process to donate a car for cancer is quick and easy, so you save time and effort. There are only three easy steps to get your car towed at no cost to you
Step 1:
Give us a call at 866-540-5069. Provide us your contact information and a few details about the vehicle you're donating like its make and model, mileage, and vehicle identification number. Another option would be for you to fill out our online donation form.
Step 2:
Once we have verified the information you provided, we will make arrangements with an affiliate tow company from your area to pick up your car. The towing fee is on us, and you don't have to pay for anything. The tow truck will pick up your vehicle at your preferred time and date or as early as 24 to 48 hours after we make the towing arrangement. We will hand you a donation receipt, a document that releases you from all liabilities on the car you donated, allowing you to de-register your vehicle, dispose of your license plates properly, and cancel your insurance coverage. Keep the receipt since you may need it for tax purposes.
Step 3:
After we auction off your car, we will send you your 100-percent tax-deductible receipt by mail, indicating your donated vehicle's final selling price. This will serve as the basis of your tax deduction claim when you file your itemized federal tax return. If you have questions, please visit our FAQ's page or simply call us.
The Vehicles We Accept for Donation
We accept numerous types of vehicles in our St. Petersburg, Florida donations program with only very few exceptions. The condition of the vehicle you're donating doesn't matter – if it's not a total wreck, of course! But even if it has not run for years, we would still gladly accept it as your donation.
The only vehicles we cannot process are those that have been abandoned and without titles or ownership. We cannot sell vehicles without titles. If you lost the title to the vehicle you're donating, don't worry. We can help you find a replacement title.
Here is a partial list of the vehicle types we accept for donation:
Vans or minivans

Trucks

Motorcycles

RVs

Toy haulers

Jet skis

Yachts

Snowmobiles

Golf carts

Farm equipment

Non-commercial airplanes
Please check our vehicles accepted page for more information. We serve the entire state of Florida, including (but not limited to) nearby communities such as Tampa.
Donate Now!
Make a lot of breast cancer patients in your city happy with your St. Petersburg, Florida donations. Call us at 866-540-5069 and donate your car now!
or Call Us Now at 866-540-5069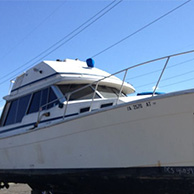 Excellent customer service!