Bradenton, Florida Car Donations
Donate Your Vehicle and Save Lives!
Bradenton, Florida Car Donation Service: Save Lives, Get Rid of Unwanted Vehicles, and Get Tax Rewards!
 Is there an old car, or van, or camper, or SUV, or motorcycle in your garage that you don't use anymore and is just gathering dust? Do you want to get rid of it and get more space for a new vehicle you're planning to buy?
Well, let Breast Cancer Car Donations help you. If you decide to donate that unwanted vehicle to us, we will take it and put it to good use. We will not only help you get rid of that vehicle; we will use that vehicle to save the lives of breast cancer patients in Bradenton, Florida.
If you want to know more about our Bradenton, Florida car donation program, here are the things you need to know.
Our Bradenton, Florida Car Donations Process
We made the process of donating a vehicle to our Bradenton, Florida auto donation program as simple, quick, and convenient as possible. Our goal is to get your donation done straight away. The process only has three basic steps:
Fill out our 

online donation form

 or call us at 866-540-5069. Tell us that you want to donate your car. Share with us your personal contact details and your vehicle's year, make, and model. Let us know if you have the title to the vehicle and the latter's running condition. Advise us also on your preferred time, date, and place for picking up your vehicle.
A licensed towing company from your area will pick up and tow your car. This is on us, so you don't have to pay for this. We do not require your presence on the day of pickup, but please don't forget to put the vehicle's title and keys inside the vehicle. Before we leave, we will give you a donation receipt that will free you from all liabilities on the car, which means you can now cancel its registration and insurance coverage.
We will then sell your car at auction. Within 30 days after your car is sold, we'll send you your tax-deductible sales receipt that shows your vehicle's final selling price. You'll need this to claim your 

maximum tax deduction

 once you file your federal tax return
The Types of Vehicles We Accept for Donation
We accept various types of vehicles for our Bradenton, Florida vehicle donation program. We accept even vehicles that are not in running condition. We only say no to abandoned vehicles since they don't have a title, which is a prerequisite for selling. We also cannot accept vehicles that are a total wreck or those with little or no value.
If you've misplaced your title and can't find it anymore, it's alright. We'll help you get a replacement title.
We also gladly accept multiple Bradenton, Florida car donations since more donations mean more benefits for breast cancer patients.
Here are some of the vehicles we accept for donation:
Cars:

 sedans, vans, SUVs, trucks, motorcycles
Watercraft:

 sailboats, motorboats, fishing boats, yachts, pontoon boats, houseboats, personal watercraft (like jet skis)
RVs:

 recreational vehicles, motorhomes, campers, travel trailers, pop-up trailers, fifth wheelers
Specialty vehicles:

 ATVs, snowmobiles, motorized wheelchairs, riding lawn mowers, tractors, farm equipment
Fleet vehicles:

 cars, passenger vans, cargo vans, SUVs, pickups, trucks, buses
Why Donate to Breast Cancer Car Donations
By choosing us, you will get numerous benefits. In addition to helping people in your city who are suffering from breast cancer, you will also receive some substantial benefits as well. Here are some of them:
Our Bradenton, Florida car donations process is fast, simple, and convenient.
We pay for the pick-up and towing of the vehicle you're donating.
You will receive a substantial tax deduction.
You avoid the hassles of selling an old car.
You don't need to bother yourself with paperwork because we will do that for you.
You save money by not paying any more for car repair, registration, and insurance.
You support a worthy cause that will give you an immense sense of personal satisfaction.
You will have more space in your backyard or garage to house your new car.
Where Funds from Your Donations Will Go
We have partnered with certified 501(c)3 non-profit organizations dedicated to fighting breast cancer. They are the American Breast Cancer Foundation (ABCF) and the Women Involved in Nurturing, Giving, Sharing, Inc. (WINGS).
The proceeds of your car donation will go straight to these charities' programs that provide free and accessible comprehensive breast health services to indigent breast cancer patients. These services are geared towards breast cancer prevention, early detection, treatment and/or cure.
Bradenton, Florida: Where There's Sunshine All Year Long
We serve the entire state of Florida, including nearby communities such as Sarasota. The city of Bradenton is in Manatee County, Florida and is the seat of the county. It's located on the Gulf and includes Palmetto and the barrier islands of Anna Maria and Longboat Key.
Bradenton, which was previously spelled as "Bradentown," was founded in the 1840s. The city was named after its early settler Joseph Braden.
The city is bounded by waterways and basks in sunshine all year long — perfect for people to enjoy its excellent beaches. Bradenton also boasts of numerous quality golf courses, including the River Run Golf Links.
If you want to see an abundance of wildlife and rare species of birds, come and visit Myakka River State Park. Moreover, you can enjoy seeing manatees, egrets, dolphins, and other kinds of wildlife at the nearby Ana Maria Island.
Bradenton is home to famous companies such as Champs Sports headquarters, a sports clothing chain, and Tropicana, a major orange juice producer. The corporate offices of Beall's Department Stores are also located in the city.
Join Bradenton, Florida Car Donations Now!
Help out your fellow Americans suffering from breast cancer in Bradenton, Florida with your car donations for breast cancer. Contact us at 866-540-5069 and donate now!
or Call Us Now at 866-540-5069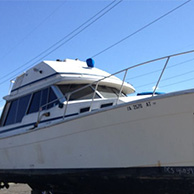 Excellent customer service!