Jacksonville, Florida Car Donations
Donate Your Vehicle and Save Lives!
Jacksonville, Florida Car Donations: Be the Bringer of Hope for Breast Cancer Victims
Is there a car you own that you're not using anymore because it malfunctions every now and then? Is it already becoming a burden because of the costly repairs it is bringing you? Perhaps the total cost of the series of repairs your car has undergone already exceeds its purchase price?
If so, it's time to get rid of it – obviously. However, don't just throw it away. What you can do instead is to donate it to Breast Cancer Car Donations through our Jacksonville, Florida car donation program. We are a fund-generating non-profit organization that supports two well-known nonprofits—the American Breast Cancer Foundation (ABCF) and Women Involved in Nurturing, Giving, Sharing, Inc. (WINGS). These two registered 501(c)3 nonprofit organizations are committed to saving lives of breast cancer victims and fighting breast cancer through research and education campaigns. Our vehicle donation drive is operated on their behalf.
These nonprofits provide comprehensive breast health services across the country, giving breast cancer patients a lifetime access to comprehensive treatments including surgery, radiotherapy, chemotherapy, lab tests, and physician visits. They also conduct education and outreach programs as part of their mission to provide quality care to women with breast cancer.
Here in Jacksonville, residents enjoy a mild climate, a reasonable cost of living and the convenience that comes from a continually growing, expanding community. At the same time, the prevalence of local cancer treatment centers — Mayo Clinic Cancer Center, Florida Cancer Center and Southside Cancer Center — show that there's a great need here for helping cancer patients. You can make a difference through donation! We serve the entire state of Florida, including nearby communities such as Ponte Vedra and St. Augustine.
The Benefits of Working with Us
When you donate a car for breast cancer to our Jacksonville, Florida, vehicle donation program, you'll be getting loads of benefits.  Let us go check them out:
Get maximized tax deductions.
We send your unwanted vehicles to the best auction houses where they would be sold for the top dollar. The result would be maximized tax deductions on your federal tax return based on your car's full selling price or the fair market value, whichever is greater.
Avoid the hassle of selling
If you donate your car to us, you won't have to suffer the hassles of trying to sell your car such as running ads, dealing with phone calls or emails, showing vehicle to potential buyers, and haggling over the sales price.
We handle all the paperwork from beginning to end — from handling the title transfer to the documentation required in receiving your charitable tax deduction.
Save money intended for repairs and insurance and registration payments
No more need to pay for car repairs and maintenance and the cost of registration and insurance coverage.
Support a worthy cause that you believe in.
Donating your car for a noble cause will give you a deep sense of personal satisfaction.
More space in your garage or driveway.
Getting rid of your clunker would mean having room for a new car in your garage or driveway.
Our Car Donation Process
Participating in our car donations services in the area is a breeze – no twist and turns, just a straight path ahead. Here is our Jacksonville, Florida, car donations process:
Tell us details about your car and your contact information. If you opt to call, you can ask whatever questions you have in mind. We will set a convenient schedule for your car's pick-up.
Second, we haul away your car for free.
The licensed towing company that we hired will give you a towing receipt that will release you from any liabilities on your car. This means you can now cancel and stop paying for your car's registration and insurance coverage.
Third, we will sell your car at auction.
Within 30 days after your car gets sold, we will send you by mail your tax-deductible sale receipt that shows your car's final selling price. If your car was sold for $500 or higher, you can claim that exact amount as your tax deduction. If below $500, you have the option to base your tax deduction on your car's fair market value not exceeding $500 if the latter is higher than the selling price.
The Types of Vehicles We Accept for Donation
We accept numerous types of vehicles in our Jacksonville, Florida car donations program. You don't have to think twice before donating your vehicle to us because we accept all vehicles donated to us with only very few exceptions. Your car's condition doesn't matter. Even if it has not run for years, we would still gladly accept it as your donation.
The only vehicles we cannot process are those that have been abandoned and without titles or ownership. We cannot sell vehicles without titles. If you can't find the title to the vehicle you're donating, don't worry. We can help you find a replacement title.
We also cannot accept severely damaged vehicles whose value is less than the cost of towing them.
Here is a partial list of the vehicle types we accept for donation:
Vans or minivans

Trucks

Motorcycles

RVs

Toy haulers

Jet skis

Yachts

Snowmobiles

Golf carts

Non-commercial airplanes

Farm equipment
Please check our vehicles accepted page for more information.
Donate and Spread the Info about Us
Have you already made up your mind on donating to our Jacksonville, Florida donations program? Contact us at 866-540-5069 and extend a helping hand to our fellow Americans grappling with breast cancer. If you have friends in other parts of the United States, please spread the information that we are conducting car donations programs all over the country. Be the bringer of hope for those afflicted with breast cancer!
or Call Us Now at 866-540-5069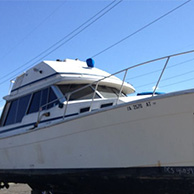 Excellent customer service!