Ponte Vedra Beach, Florida Car Donations
Ponte Vedra Beach, Florida Car Donations: Donate Your Car to Help Others Live
We're here to tell you why Ponte Vedra Beach, Florida car donations would not only keep you from burning massive holes in your pockets, it would also cause you to save countless others from surrendering their lives to breast cancer.
It's a perfect day to do some yardwork – the weather's nice and you've got nothing else to do the whole morning. You've finally decided to declutter your backyard so you could maximize available space. The problem is, you couldn't quite knock off this item in your "to-do" list because the biggest clutter of all – your ancient Cadillac that you haven't been using for the past couple of months — is still uselessly taking up the space you wanted.
Aside from the fact that it's been sapping the life out of your wallet for maintenance and repairs, you just don't love it anymore. You want it off your property – fast. If this is you, then maybe it's time to donate it for a cause you believe in.
Ponte Vedra Beach Fast Facts
Ponte Vedra Beach is a beautiful seaside community in the state of Florida that was discovered by Ponce de Leon, a Spanish explorer, in his quest to conquer Florida for Spain. This upper-income tourist resort area is also one of the top locations for championship golf tournaments.
As of 2015, Ponte Vedra Beach's total estimated population is at 29,495 – 52 percent of whom are females. U.S. breast cancer statistics show that that average risk of an American woman developing breast cancer at some point in her life is at 12 percent. That means one in every eight women!
What Is Breast Cancer and What Can We Do to Beat It?
Breast cancer is a life-threatening disease characterized by the uncontrollable growth of cells in the breast tissues, leading to the formation of a malignant tumor. It's been ranked as the second leading cause of cancer death among women across the nation. On the average, a woman is diagnosed with breast cancer every two minutes. Every 13 minutes, another woman dies because of the disease.
A woman's risk to develop breast cancer doubles if she has a first-degree relative such as a mother, a sister or a daughter, who's been diagnosed with such a disease. The risk for a woman who doesn't have such a relative is less than 15 percent.
Chances of surviving breast cancer are often linked to early detection of the disease where it's most treatable. Aside from raising public awareness on breast cancer prevention strategies, provision of accessible breast cancer diagnostic tests for every individual regardless of age, gender, and socioeconomic background, is highly critical.
With our combined efforts, we can address these concerns and help increase the chances of breast cancer survival in Ponte Vedra Beach, Florida!
Why Breast Cancer Car Donations?
Breast Cancer Car Donations works with well-known certified 501(C)3 non-profit organizations that work hard to ensure comprehensive breast health services for everyone who needs them across the country. We want our charity partners to focus on their life-giving missions. That's why we operate vehicle donation programs, such as our Ponte Vedra Beach, Florida car donations program, to raise funds for these non-profits. We are in proud partnership with the following:
American Breast Cancer Foundation (ABCF)
ABCF is committed to diminishing disparities in access to breast cancer diagnosis and treatment, especially among the uninsured and underserved. With their extensive link and referral systems, those affected by the disease will have access to local resources, services, and information that are linguistically and ethnically appropriate according to their particular needs. They also provide education, resource access, and financial assistance to aid in the early detection and treatment of breast cancer and survival of the patient.
Women Involved in Nurturing, Giving, Sharing, Inc. (WINGS)
WINGS was founded in 1999 by a breast cancer patient and her breast surgeon who realized that chances for breast cancer survival are bleak for people who have no insurance. Believing that "everyone deserves a lifetime," they sought to fill the vacuum that exists between breast cancer detection and treatment. Beyond this, the people behind WINGS are actively involved in raising breast cancer awareness and outreach.
'How Can I Donate My Car?'
Our Ponte Vedra Beach, Florida car donations process is so easy, we guarantee that you'd have the most hassle-free giving experience ever! In just a matter of minutes, you can be a hero to our nation's heroes in Ponte Vedra Beach! Just follow these three simple steps and you're all set:
Fill out our online donation form or call us at 866-540-5069 to let us know that you want to donate. We'd need a few important details like your personal contact information, your vehicle's year, make, model, mileage, VIN, and your general comments on its running condition.
Get your vehicle towed away for FREE!
We'll arrange your fast and FREE pickup and towing once you give us your preferred time, date and location of your vehicle. If you tell us where we could find your title and keys inside the vehicle, you're not required to be present on the day of pickup. We will give you a donation receipt that will allow you to cancel and stop paying for your car registration and insurance coverage.
When you donate a vehicle to our service, you'd qualify for a healthy tax write-off. As soon as we sell your donated vehicle at auction, we'd mail you your tax-deductible receipt. You'll use this when you itemize your deductions on your federal tax return.
'How Do I Know If My Vehicle is an Acceptable Donation?'
Breast Cancer Car Donations accepts almost all types of vehicles – sedans, trucks, boats and even planes – in our Ponte Vedra Beach, Florida car donations program. On a case-by-case basis, we even accept those you haven't used in a long time! We only require our donors to present proof of ownership so we could sell their vehicles at auction.
Should you have any title issues (e.g. lost title, title in deceased person's name, etc.), our title clerks would readily address any of your concerns. We welcome multiple donations as well.
Here's a good list of vehicle types that we won't refuse:
Cars: sedans, vans, SUVs, trucks, motorcycles
Boats: sailboats, motorboats, fishing boats, yachts, pontoon boats, houseboats, personal watercraft (like jet skis)
RVs: recreational vehicles, motorhomes, campers, travel trailers, pop-up trailers, 5-wheelers
Specialty vehicles: ATVs, snowmobiles, motorized wheelchairs, riding lawn mowers, tractors, farm equipment
Fleet vehicles: cars, passenger vans, cargo vans, SUVs, pickups, trucks, buses
Non-commercial airplanes
Do More for Others!
Booker T. Washington, who was a dominant leader in the African-American community in the 20th century, once said that those who are the happiest are those who do the most for others. No words would ever express the deep sense of fulfillment that overflows into the heart of a person who has helped others outlast breast cancer. Be that person today!
Call us at 866-540-5069 and get free towing services for your Ponte Vedra Beach, Florida car donations!
or Call Us Now at 866-540-5069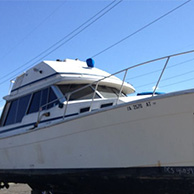 Excellent customer service!