St. Augustine, Florida Car Donations
Donate Your Vehicle and Save Lives!
St. Augustine, Florida Car Donations: Be a Hero to Breast Cancer Victims
Deep inside you, do you have a heart that beats for fellow St. Augustine, Florida residents who are afflicted with breast cancer and you want to help them? Do you know that you can play the role of hero without sacrificing too much and without hurting your pocket?
That is now possible with the St. Augustine, Florida vehicle donations for cancer patients in your locality. We, the Breast Cancer Car Donations, have joined other non-profit organizations in a massive campaign to fight the scourge of breast cancer in various ways, including extending help to breast cancer sufferers.
However, we cannot succeed without your help. We need your St. Augustine, Florida car donations to fund programs for research for breast cancer cure. When you donate your old, unused and unwanted vehicle to us, you would be helping save the lives of countless breast cancer sufferers.
The proceeds from the sale of your donated car would enable us to continue implementing the following programs:
Manage unwanted side effects of breast cancer treatments

Provide funding for research and development of breast cancer cure

Help breast cancer patients have access to screening, diagnosis, and effective treatment

Raise awareness about breast cancer prevention and early breast cancer detection

Empower breast cancer survivors, patients, as well as their families
St. Augustine: America's Oldest City
The City of St. Augustine in Florida is America's oldest permanently occupied European settlement, having been founded by Spanish colonists in 1565. On Sept. 8, 1565, Don Pedro Menendez de Aviles came ashore and named the land in honor of Augustine, a Roman Catholic saint on whose feast day — Aug. 28 – the land was sighted.
Before the European settlers arrived, the place was inhabited by Timucuan Indians. Spain ruled the land from 1565 to 1763. Britain took control from 1763 to 1784 when it once again fell under Spanish rule. In 1819, Spain surrendered the territory to the United States. It then became the capital of Florida under the Adams-Onis Treaty of 1821.
One of the best places to visit in St. Augustine is the Castillo de San Marcos in South Castillo Drive. It is the oldest masonry fort in the country, located on the western shore of Matanzas Bay. The word "Castillo" translates to castle in English.
If you want to enjoy the day near St. Augustine's shore, you might want to visit Anastasia Park. The park is 1,600 acres of land with abundant wildlife and four miles of pristine beach. You can rent bicycles, kayaks, boats, and canoes for a very reasonable price.
St. Augustine is also home to historical attractions and monuments, including Fort Matanzas National Monument, which is located at the north end of Rattlesnake Island. Back in 1742, it was used to help guard the Matanzas Inlet. Additionally, you can visit the St. Augustine Lighthouse & Maritime Museum. This black and white striped building includes artifacts and exhibitions about the history of the lighthouse.
The city is also home to several cancer treatment centers, such as Cancer Specialists of North Florida, St. Augustine on Whitehall Dr. and Flagler Cancer Center on Health Park Blvd. In 2018, St. Augustine had 511 cancer deaths. 
What Makes St. Augustine, Florida Car Donations More Appealing
Breast cancer patients are not the only ones benefitted when you donate your car to fund breast cancer programs. What makes the St. Augustine, Florida car donations more appealing is that the vehicle donor themselves get benefits from their act of charity. Here are few of the benefits donors get when they donate their car:
No need for paperwork, which you would have to do if you were to sell your car. The St. Augustine, Florida

car donations program

would process everything for you.

No need to spend money on costly repairs since your defective vehicle is already out of your hands.

St. Augustine, Florida car donations accept almost all types of vehicle in running or non-running condition.

The vehicle towing costs you nothing.

Get your money back

 when you file for a top tax deduction. Don't forget to itemize your taxes to be able to avail yourself of this tax deduction.
3 Quick and Easy Steps to Get Your Benefits
You are only three quick and easy steps away from getting those benefits. Check out the steps below:
Step 1:
Visit our website and fill our online vehicle donation form. You can also call St. Augustine, Florida car donations at 866-540-5069. Our helpful phone representative will walk you through the process and provide all the information you need about the donation process.
You may need to prepare and provide our phone representatives details such as:
Your preferred time and date for pick-up and tow

Your car's make and model

Your vehicle's location for pick-up
Step 2:
The details you provided will be checked and verified by Breast Cancer Car Donations in St. Augustine, Florida. After the details are verified, we will make arrangements with the local tow company for your free pick-up and tow. Within 24 to 48 hours, the local tow company will give you a call.
Step 3:
Your vehicle will be picked up and towed. The local tow company will then give you a receipt that releases you from liability on your vehicle. You may use the receipt to file for your top tax deduction.
Choose to save and transform the lives of cancer victims through the St. Augustine, Florida car donations. Call 866-540-5069 now to donate a car for charity. We serve the entire Jacksonville metropolitan area.
or Call Us Now at 866-540-5069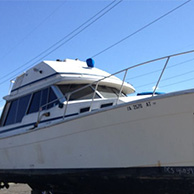 Excellent customer service!