Car Donations in Orlando, Florida
Donate Your Vehicle and Save Lives!
Join Us in Helping Save Lives!
If you believe as we do that breast cancer is an enemy that we could defeat, then donate your car in Orlando, Florida and let's all fight together to try and save the lives of those who have been afflicted by this disease.
We at Breast Cancer Car Donations are committed to supporting certified 501(c)(3) nonprofit organizations that are engaged in an all-out battle against breast cancer by managing car donation programs on their behalf. That way, they could devote more of their time and effort at providing accessible and comprehensive breast health services in your community.
It is well known that breast cancer is the most common form of cancer among American women next to skin cancers. Based on U.S. breast cancer statistics, it has been established that one out of eight women will develop invasive breast cancer at some point in her life. Breast cancer is the second leading cause of cancer death in women, next to lung cancer. The chance of a woman dying from breast cancer has been placed at about 2.37 percent.
When you donate a car in Orlando, we take it to the best auction houses within our network to be sold. Proceeds from the sale will be used to generate funding for financial assistance to uninsured and underserved individuals seeking breast cancer screenings and diagnostic tests in Orlando. Our non-profit partners will also use the funding to finance critical, groundbreaking research on breast cancer prevention, screening, diagnosis, treatment and/or cure.
Donating your car to help save lives would make you a champion of your community. We make sure that breast cancer patients in Orlando will be connected with local facilities so that they can easily access the services and resources that they so desperately need.
Our Simple 3-Step Car Donation Process
We have simplified our process for car, truck, RV and boat donations in Orlando for the convenience of our donors and to generate the funds as quickly as possible. We follow a three-step process:
A simple call from you can transform the lives of many. Once you're ready to donate, give us a call at 866-540-5069. You may also fill out our online donation form to begin the process. We will respond promptly either way. We may require you to present the title of the vehicle you're donating.
After verifying the information you shared with us, we will ask you to pick the most convenient date, time, and place for your free vehicle pick-up. We will then arrange with an affiliate towing company in your area to pick up and tow away your car. We will issue you a donation receipt before we leave. That document will relieve you of any liabilities on your vehicle, giving you the right to cancel and stop paying for your car registration and insurance coverage. The receipt is also a requirement for the processing of your top tax deduction.
Receive your tax deduction.
This is one of the biggest perks of donating a car to Breast Cancer Car Donations. Within days after we auction off your vehicle, we'll send you your 100-percent tax-deductible sale receipt, indicating your donated vehicle's final selling price. This will serve as the basis of your tax deduction claim when you file your itemized federal tax return.
More Rewards on Your Way!
Getting a maximized tax deduction is just one of the many rewards you will get for making a vehicle donation to our program in Orlando. Here are some more:
The donation process takes only a few minutes of your time.

We'll pay for your vehicle pickup and towing.

Avoid the hassle of selling.

No need to bother with 

the paperwork

.

Save money on repairs, other payments.

Declutter your garage or backyard.

Support a worthy cause that brings out the best in you.
Types of Vehicles Donations We Accept in Orlando
We accept nearly all types of vehicles and vessels in Orlando.
On a case-by-case basis, we accept even vehicles that are not in running condition or those that have dents or scratches or a few missing parts. We even accept cars that have failed emissions testing! You can donate that very old car that you inherited from a deceased loved one.
The only vehicles we have to say "No" to are the stolen ones or those that have been abandoned. This is simply because they have no title or proof of ownership, which is a requirement for selling vehicles. If you only happen to lose your title, that's a totally different matter. You can still donate that vehicle to us after we help you secure a replacement title.
Here's a list of the common vehicles we accept for donations:
Cars: cars, minivans, SUVs, trucks, motorcycles

Boats: Sailboats, motorboats, fishing boats, yachts, pontoon boats, personal watercraft (like jet skis)

RVs: motorhomes, campers, travel trailers, pop-up trailers, 5th wheels

Specialty Vehicles: ATVs, snowmobiles, tractors, golf carts, farm equipment

Fleet Vehicles: Cars, passenger vans, cargo vans, SUVs, trucks, buses
If you aren't sure whether we accept your type of vehicle, contact us.
Donate and Help Save Lives Now!
We believe breast cancer can eventually be tamed and the cases and deaths from breast cancer can be significantly cut down. We can do in three ways: Providing assistance to breast cancer patients, conducting more intensive research on the disease, and intensifying our education campaign to make people become more aware of the signs and symptoms of breast cancer.
If you want to join us in our mission, call us at 866-540-5069 or fill out the form below to donate your car in Orlando today. Help save lives!
Breast Cancer Car Donations: Orlando, Florida
12137 Ashton Manor Way
Orlando, FL 32828
Phone: (866) 540-5069
or Call Us Now at 866-540-5069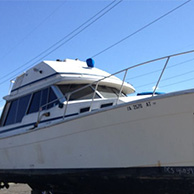 Excellent customer service!