San Diego, California RV Donations
RV Donation San Diego: An Excellent Way to Make an Impact
Impact the lives of women suffering from breast cancer by going for an RV Donation San Diego! Once you donate an RV to charity, you'll turn it into an instrument of hope and endless possibilities.
We at Breast Cancer Car Donations will auction off your unwanted vehicle and invest the proceeds in the programs being carried out by our IRS-certified 501(c)3 nonprofit partners in San Diego, CA, that cater to needy individuals seeking comprehensive breast health services in your area. Thanks to your donation, those diagnosed with breast cancer will be provided with assistance on their treatment, giving them a second chance in life.
According to the National Breast Cancer Foundation, Inc., breast cancer is the most commonly diagnosed cancer in women and the second leading cause of cancer death in women in the United States. Each year, it is estimated that 252,710 new cases will be diagnosed with the life-threatening disease and more than 40,500 will succumb to the disease.
The High Cost of Breast Cancer Treatment
The sad truth about having breast cancer is the fact that it can be emotionally and financially draining. Each stage has a different cost for treatment. As it advances to the later stages, the treatments become more and more expensive. That's why many women—especially those who are uninsured—prefer not to seek treatment anymore because they couldn't afford the cost of treatment.
What Our Nonprofit Partners Do to Fight Breast Cancer
There is no known cure for cancer as of the moment. However, when breast cancer is diagnosed at its earliest stages, the patient generally responds well to treatment. That's why early detection is key to breast cancer survival.
Meanwhile, the nonprofit organizations that we at Breast Cancer Car Donations are in partnership with, work tirelessly as they organize and facilitate programs and services that focus on:
Financial assistance for treatments, medicine, and transportation;

Providing funds for breast cancer research;

Establishing and cultivating a strong and supportive community for those who have the disease;

Educating the public about the importance of early detection and how this disease claims thousands of lives each year.
You can make all these programs available to more individuals in your community by donating your RV. Call 866-540-5069 and make a huge difference in the lives of breast cancer patients in your community today!
Breast Cancer Cases in San Diego, California
San Diego is known mostly for its warm climate and beautiful beaches. The city's estimated population of 1.37 million makes it the eighth largest city in the United States and the second largest in California.
Among many others, one of the problems that San Diego faces is the increasing number of breast cancer cases. With 253,000 new cases each year, 26,000 are estimated to be diagnosed in California, and about 9% of the patients will be from San Diego.
Located on the Pacific coast of California, San Diego boasts pristine beaches, beautiful parks and a warm climate. This waterfront city is a popular tourist destination and is home to many family-friendly attractions including San Diego Zoo, SeaWorld San Diego, LEGOLAND California, Sunset Cliffs Natural Park and Pacific Beach. Balboa Park is another popular spot that features beautiful gardens and numerous museums. 
Those who are sports fans may enjoy catching a San Diego Padres baseball game at Petco Park. This stadium is considered one of the best in Major League Baseball, as it has panoramic water and skyline views. 
Additionally, San Diego has some local cancer treatment centers. These include Scripps MD Anderson Cancer Center on John J. Hopkins Drive and UC San Diego Medical Center on W Arbor Drive. Nationally, men are more likely to pass away from cancer than women. Moreover, the poverty rate for residents with income below the poverty level is 11.0% in San Diego. The poverty rate is 5.5% for those with income below 50% of the poverty level. These individuals may have trouble with properly funding their cancer treatments. Fortunately, Breast Cancer Car Donations works to help these individuals through our vehicle donation program. 
The city is committed to providing new opportunities and top-quality service to all communities. This includes helping women in San Diego who have been diagnosed with breast cancer.
Donating Your RV Is Ridiculously Easy!
Why go through the hassles of reselling your old RV when you can simply donate it? Deciding to donate a travel trailer to charity allows you to go through a quick and painless donation process.
You can give your RV a quick goodbye kiss after you do the first of these three easy steps:
1. Reach out to us.
To donate your motorhome to charity, fill out our secure online donation form or better yet, give us a call at 866-540-5069. Tell one of our donors' reception officers that you want to make an RV donation in San Diego. You'll need to provide your contact details, your RV's basic info, and the ideal time, place and date for your RV's pickup. After that, you're good to go.
2. Have your RV towed away for FREE!
Once we are done reviewing and verifying the information you provided, we'll arrange with a local towing company to pick up your RV at its location. Upon pickup, the towing company will hand you a receipt releasing you from any liabilities on your vehicle from then on.
3. Receive your tax-deductible receipt by mail!
Your RV will then be auctioned off to the highest bidder. Once your RV is sold, we'll send you a 100% tax-deductible receipt showing your RV's final selling price. Be sure to keep this receipt because you'll need it in claiming your tax deductions when you file your federal income tax returns in the next tax season.
Help Save Lives Today!
Instead of the usual "how-to-get-rid-of-your-RV" options like selling it or trading it in, why don't you choose to let the goodness in you flow out freely by donating your vehicle? It only takes a call to rid yourself of the eyesore that's sitting idly in your backyard AND to leave a lasting impact in the lives of those who are battling breast cancer in San Diego!
Call 866-540-5069 and help save lives with your RV Donation San Diego today! We serve the entire state of California, including nearby Carlsbad and Chula Vista.
or Call Us Now at 866-540-5069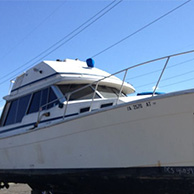 Excellent customer service!