Florida RV Donations
Donate Your Vehicle and Save Lives!
Let's Beat Breast Cancer Together With Your Florida RV Donations
Do you have an RV, camper or trailer that you don't use anymore? Why not donate it to charity? Put it to good use by donating it to our Florida RV donations program for the benefit of breast cancer patients in the state.
We at Breast Cancer Car Donations will make it easy for you to dispose of your unwanted vehicle. We offer you fast and easy processing of your RV donation. You don't have to worry about any paperwork or expenses. We take care of everything.
After your RV is sold, we will use the proceeds to provide much-needed breast health services to individuals who need them, especially uninsured and underprivileged breast cancer victims who don't have the money to pay for the high cost of treatment.
All About Florida: The Sunshine State
Florida is recognized as the flattest state in the country. It is also known as the "Sunshine State" where it has 300 days of sunshine in a single year! No doubt, Florida has a lot of things to brag about.
Here are other facts about the Sunshine State:
It is the only state that has two rivers of the same name—Withlacoochee. The first is located in central Florida while the other is in the north-central area.
Approximately 1,000 people choose to pack their bags and migrate to Florida – every single day! Most of them are retirees coming from all over the world who prefer great weather all year-round. Florida would be their best pick considering its sunny days, hot weather, and temperate winters.
Did you know why experts can't seem to dig up any dinosaur bones in Florida? Well, it's because during the dinosaur age, Florida didn't exist as a land mass – the whole peninsula was underwater!
University of Florida Gators is where the famous energy sports drink Gatorade was invented and named after.
It's only in Florida where you can see alligators and crocodiles wander around in the same habitat.
The Kinds of RVs We Accept for Donation
We generally accept all kinds of RVs in our Florida RV donations program. It does not even matter if the vehicle you're donating is not in good running condition. We'd still gladly accept it because every donation counts. Saving lives is our utmost priority, and that's what we do.
Here's a list of RVs that we commonly accept:
Campers
Motorhomes
Travel trailers
Pop-up trailers
5th wheel trailers
Folding and tent trailers
Toy haulers
Toterhomes
We also accept other vehicles for donation. For a list of the other vehicles that you can donate to us, please check our Accepted Vehicles page. If you have questions on this subject, our donation process, and anything else about Breast Cancer Car Donations, call us at 877-594-5822.
How to Donate an RV in Florida
We offer effortless, easy, and simple Florida RV donations process. Just give us a call, and we'll take care of the rest.
Here's a guide on how it works:
You first need to reach out to us by giving us a call at 877-594-5822 or filling out our online donation form. Tell us a few details about yourself and the RV you're donating.
We'll arrange for a licensed towing company in your area to pick up your RV at no cost to you and at your preferred date, time, and place. You don't even need to be there at the scene during the pickup as long as you can tell us where you place the vehicle's keys and title. Before your RV is hauled off, we will give you a towing receipt that will free you from all liabilities on the vehicle you donated, which means you can now cancel and stop paying for its registration and insurance coverage.
Within days after your RV is sold at auction, we'll send you by mail your 100-percent tax-deductible sales receipt, indicating your donated vehicle's final selling price. This will serve as the basis of your tax deduction claim when you file your itemized federal tax return for the next tax season.
How Your RV Donation Will Help Breast Cancer Patients
The proceeds of your Florida RV donations will go straight to our two IRS-certified 501(C)3 nonprofit organization partners — the American Breast Cancer Foundation (ABCF) and Women Involved In Nurturing, Giving, Sharing, Inc. (WINGS). These are two of the nation's most trusted nonprofits that provide essential breast health services to all who need them. They use the funding we give to them to sustain, improve, and expand their existing services, such as:
Providing financial assistance to uninsured and underserved breast cancer patients, covering their surgery, oncology services, consultation, hospital fees and outpatient medication;
Connecting these patients to local facilities that offer free and accessible resources, information and other comprehensive breast health services;
Raising public awareness on breast cancer prevention, diagnosis, and treatment;
Pursuing research on prevention, screening, diagnosis, and treatment of breast cancer; and
Sponsoring charity and outreach events for the benefit of breast cancer patients.
The Benefits You'll Get for Your RV Donation
Breast cancer patients in Florida will not be the only ones who'll benefit from your RV donation. You can also gain something for yourself once you take part in our Florida RV donations program. Here are some of the perks that await our donors:
No more long hours and tiresome work spent in trying to sell your RV
Save money as you no longer have to pay for campground fees, insurance, registration, repairs, maintenance, and more
Effortless donation process
That feeling of joy, knowing that you'll be helping save the lives of breast cancer patients in Florida
Help Us Save Lives!
Donate your unwanted RV and other vehicles to Breast Cancer Car Donations. With our combined efforts, we can beat breast cancer and give financially challenged breast cancer patients in Florida a fighting chance to survive the disease. Contact us at 866-540-5069 and get free towing services and hefty tax deductions for your Florida RV donations.
or Call Us Now at 866-540-5069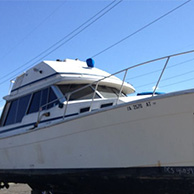 Excellent customer service!