Tallahassee, Florida Car Donations
Donate Your Vehicle and Save Lives!
Join the Fight Against Breast Cancer With Your Tallahassee, Florida Car Donations
Do you want to join the fight against breast cancer? If so, taking part in our Tallahassee, Florida vehicle donations program is the way to go. Donating a car to us at Breast Cancer Car Donations is a simple yet highly effective way to fight this deadly disease.
If your car is no longer useful to you, or if it's giving you tons of headaches because of frequent breakdowns, consider donating it to us This way, you free yourself from costly car repairs and the trouble of getting stranded on the road due to car malfunctions. At the same time, your car donation will definitely impact on the lives of needy women suffering from breast cancer. It will give them hope of surviving the disease and getting a new lease on life.
The proceeds from the sale of your donation will be used by our non-profit organization partners — the American Breast Cancer Foundation (ABCF) and Women Involved in Nurturing, Giving, Sharing, Inc. (WINGS) — to sustain and improve these existing services, such as:
Providing financial assistance to aid in early detection, treatment of breast cancer patients, covering their surgery, oncology services, consultation, hospital fees and outpatient medication;

Connecting all affected individuals regardless of gender, socioeconomic and ethnic background, to local facilities that offer free and accessible resources, information and other comprehensive breast health services; and

Raising public awareness on breast cancer prevention, diagnosis, and
Charity With Perks
Working with Breast Cancer Car Donations through our car donations program in the area will truly be worth your while. You will be making a charitable donation that will not only be a big help to people with breast cancer but one that will also be beneficial to yourself! Here are some perks that await you:
You get to experience the easiest and fastest donation process.

Never worry about paying for towing since this is on us.

We cover car insurance from the day of pickup.

We handle everything for you – even the paperwork

You'll enjoy a maximized tax deduction.

You gain extra garage space.

You stop losing money and patience in maintaining and repairing your old problematic car.

You feel that kind of joy that comes with giving aid to people who badly need it.
Our Simple and Convenient Car Donations Process
If you are looking for a car donation program that is simple and convenient for you, then you have come to the right place. Our Tallahassee, Florida car donations process consists of just three easy steps:
Let us know you wish to donate a car for charity.
You have a choice to either fill out our online donation form or simply call us at 866-540-5069 and give us your personal contact details as well as a few basic information about your preloved car – its year, make, model, mileage, and VIN.
Schedule your free vehicle pickup and towing.
After you confirm your intent to donate, you can give us your preferred time, date and place for your vehicle's fast and free pickup! That's right: You don't have to spend a single dime on towing! We will arrange for a professional towing company in your area to do the job. We will give you a donation receipt before we leave. This will allow you to cancel your car's insurance and registration.
Receive your tax-deductible sale receipt.
Within 30 days after your car is sold at auction, we will send you by mail your 100-percent tax-deductible receipt that shows you your car's final selling price, the amount where you will base your tax deduction claim when you file your itemized federal tax return.
Learn More About Tallahassee
Tallahassee differs from other cities in the Sunshine State, as it has rolling hills and oak-canopied roads instead of beaches. It's also the capital of Florida and has many historical and interesting attractions. These include the Mission San Luis de Apalachee, St. Marks Lighthouse, Challenger Learning Center, Bradley's Country Store and Tallahassee Antique Car Museum. 
The area also has local cancer treatment centers, including Tallahassee Memorial Colleague Health Services on Medical Dr., HCA Florida Capital Hospital Breast Center on Care Dr. and Tallahassee Memorial Cancer Center on One Healing Place. In 2018, there were 387 cancer deaths in Tallahassee. 
The Types of Vehicles We Accept for Donation
We accept almost all types of vehicles for Tallahassee, Florida car donations as long as they come with your proof of ownership. We need this document so that we could sell it at auction.
We also welcome multiple donations. So, if you have more than one vehicle you're willing to donate, let's have them.
Here are the common types of vehicles we gladly accept for donation:
Cars:

 sedans, vans, SUVs, trucks, motorcycles, buses, pickups

Boats and planes:

 sailboats, motorboats, fishing boats, yachts, pontoon boats, houseboats, jet skis, non-commercial airplanes

RVs:

 recreational vehicles, motorhomes, campers, travel trailers, pop-up trailers, fifth wheelers

Specialty vehicles:

 ATVs, snowmobiles, motorized wheelchairs, riding lawn mowers, tractors, farm equipment.
On a case-to-case basis, even if your car doesn't run anymore or its headlights aren't working, it can still be donated! The only instance wherein your donation cannot be processed is if the vehicle is stolen or abandoned.
Are You Ready to Join the Fight?
Are you ready to join the fight against breast cancer? If yes, call us now at 866-540-5069 and make your Tallahassee, Florida car donations! Do you have friends in other areas of Florida and elsewhere in the United States? Let them know we do car donations in virtually all places in the United States! We serve the entire state of Florida, including nearby communities such as Betton Hills, Frenchtown, Golden Eagle, Killearn Estates, Los Robles and Summerlake.
or Call Us Now at 866-540-5069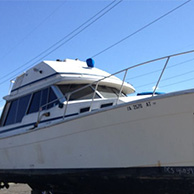 Excellent customer service!